Four-pronged approach to deal with US
Share - WeChat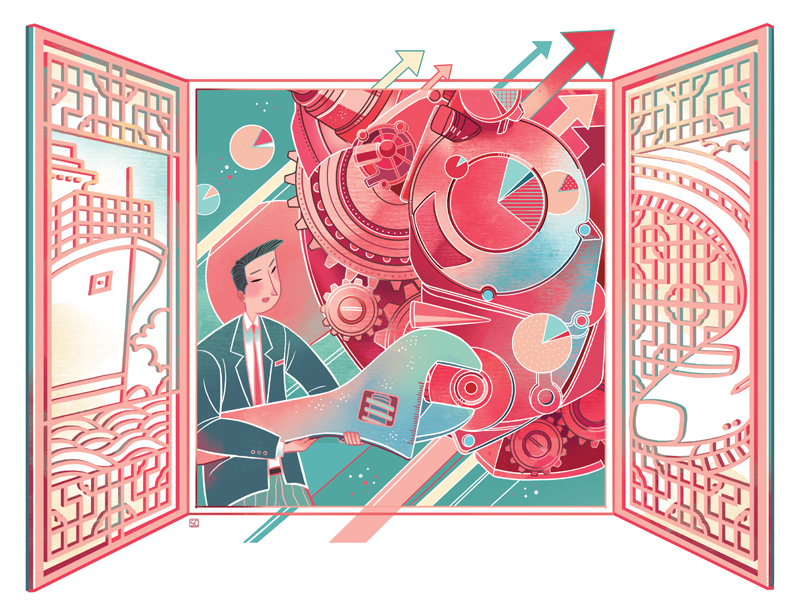 The Sino-US relationship is one of the most important in the world. But a trade war, which US President Donald Trump seems determined to pursue with China, will damage this vital relationship and, equally importantly, push the global economy toward chaos and stunt global growth.
The Trump administration is using the US trade deficit as an excuse to impose additional tariffs on Chinese imports, and has accused China of economic aggression, using unfair practices to acquire foreign technologies, and violating intellectual property rights.
But the fact that it also demands that China further open up its manufacturing and service industries to US enterprises, while restricting Chinese enterprises' investment in the US, shows the core issues of the trade dispute are China's opening-up policy and technology competition between the two sides.
The Trump administration has taken several measures to force China to accept its demands. For example, in November 2017, it issued a report refusing to acknowledge China's market economy status. In December, its National Security Strategy report labeled China a "strategic competitor". And on March 16, Trump signed the "Taiwan Travel Act" that blatantly violates the one-China principle, which the US agreed to follow by signing the Shanghai Communiqué of 1972.
Apart from taking a tough stance against China-which has forced Beijing to fight back-Washington has also stretched the trade dispute to geopolitical issues, including cross-Straits relations, the Korean Peninsula nuclear issue and the Iran nuclear deal, from which the US withdrew on May 8. What Trump refuses to realize is that a Sino-US trade war will hurt not only China and the US, but also the global economy as a whole.
Since the US' goal is to maintain its hold on high-end manufacturing, it doesn't want China to upgrade its manufacturing sector. Why? Because the US fears, that by doing so, China could threaten its top position in high-end manufacturing. Which makes Trump's actions nothing more than an attempt to maintain the US' hegemony in vital trade and political fields, and contain the rise of emerging powers such as China.
To counter the US' attempts to block or contain China's exports, foreign investment and technology development, and destabilize China's financial sector by launching a full-fledged trade war, China should further deepen reform and opening-up.
To begin with, China should expedite the process of preparing a negative list for market access, take measures to liberalize high-level trade and investment, build a fair and competitive market environment and inject new vitality into the market.
Second, it should take measures to streamline the administration and develop a business environment conducive to the development of the service sector, as well as deepen supply-side structural reform, in order to reduce the taxation and non-taxation burdens of enterprises, and enhance the financial sector's capacity to better serve the real economy.
Third, China should explore establishing a new international cooperation platform to give a shot in the arm of the Belt and Road Initiative.
And fourth, it should accord priority to people's interests, by taking measures that would help increase their incomes and sense of gain, strengthen the social security net and make economic development more sustainable.
As China's comprehensive strength increases, the ups and downs in Sino-US relations will continue. Trump's attempts to ignite a trade war with China and the loss of mutual trust suggest the existing Sino-US interactive mode is no longer working. So the two sides have to re-adapt to the changing situations and build a bilateral mechanism that can help them settle the mutual differences and reach consensuses on contentious issues.
But it is essential that China remains calm in the face of US threats and its attempts to contain China's rise, while adhering to its independent and win-win development path, because that is the best way to deal with the loose cannon that the Trump administration has become.
The author is a researcher at the International Trade and Economic Cooperation Institute of the Ministry of Commerce.
Most Viewed in 24 Hours
China Views