China, Vietnam border policy drives tourism
Share - WeChat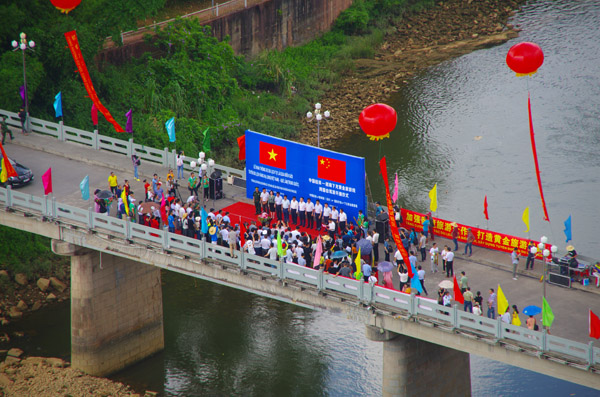 Proximity to Vietnam, well-developed tours and convenient policy are fueling cross-border tourism in Dongxing.
The city in South China's Guangxi Zhuang autonomous region connects the country with Vietnam via both land and sea.
Since 2013, Chinese travelers have been allowed to take group trips to Vietnam's Mong Cai even without a passport, being able to just use their ID card.
As a result, cross-border Chinese travelers have increased over time.
Tang Lin from Nanning, capital of Guangxi, drove three hours to Dongxing with seven of his family members earlier this month.
His family came to enjoy the sea and the beach in the city and then decided to visit Vietnam since the procedure of crossing the border from Dongxing to Vietnam is simple.
"Our ID cards alone would do, and the group tour cost is relatively cheap," Tang says.
It took his family two hours to get everything done. They paid 200 yuan ($29) each for a day trip to Mong Cai.
According to reports by the local public security exit and entry authority, roughly 130,000 Chinese made trips to Vietnam through Dongxing during the first six months of this year, up 50.7 percent compared to the same period last year.
More than 206,000 Chinese tourists crossed the Dongxing border to Vietnam last year, up 17.7 percent year on year.
That figure is expected to surge further as a new self-driving tour from Dongxing to Halong Bay in Vietnam's northern Quang Ninh province has been an option for Chinese travelers since June.
More than 75 self-driven vehicles, carrying more than 230 tourists, crossed into Vietnam through the Dongxing border in the first month of the policy coming into effect, says Xu Junting, an official at the exit and entry authority.
"Neighboring provinces are a major source of tourists," Xu says.
As people become more aware of the policy over time, she expects that number to grow considerably.
Unlike a day trip to Mong Cai, passports and a visa application are required for self-driving tourists, while their vehicles will undergo a standard inspection as well, Xu explains.
At the reception hall near the border, more than 20 travel agencies have set up shops to help travelers cross the border.
"Our customer bookings surged by 60 percent in June as compared with the previous month," says Tang Guoyong, general manager of Fangchenggang Youth International Travel Service.
The local government's active promotion of the favorable border tourism policy across the country has helped to bring in travelers to Dongxing.
"We found out that people weren't aware of how close Dongxing is to Vietnam," Tang says.
Things continue to look up for businesses like Tang's, as the local authority is organizing tour operators to promote tourism in such Chinese provinces as Hunan and Guizhou.
Tang's agency could take in 1,500 to 1,600 tourists on a busy day.
A tour guide and a free pickup service from the local high-speed railway station is also available.
Guangxi is also exploring ways to promote incoming border tourism.
Currently, Vietnamese travelers are allowed to take self-drive tours to Guangxi's Guilin via Dongxing.
The autonomous region's Fangchenggang has also recently been approved to become a national border tourism pilot zone, which would provide faster customs clearance and a more convenient service for travelers.
Policies on tourism investment and financing, land and human resources will continue be improved and implemented, according to China's Ministry of Culture and Tourism.
Guangxi is the only part of China that connects to ASEAN countries via both land and sea, which provides great potential to develop border tourism, according to Guangxi tourism development commission.
The region's landscape and scenery, featuring mountains and lush forest, a rich ethnic minority culture, coastal vistas, and ancient villages have attracted visitors from both home and abroad.
Guangxi welcomed 5.12 million international travelers in 2017, a massive growth compared with 40 years ago and the 54,200 visitors the autonomous region received in 1978.
The financial benefits are obvious, with international tourist consumption reaching $4.33 million last year, up 17.6 percent as compared with 2016, according to the Guangxi tourism development commission.
Zhang Li contributed to this story.