Chinese medics offer vision of hope overseas
A group of volunteers is providing free treatment for people with cataracts. Honey Tsang reports from Kampong Cham, Cambodia.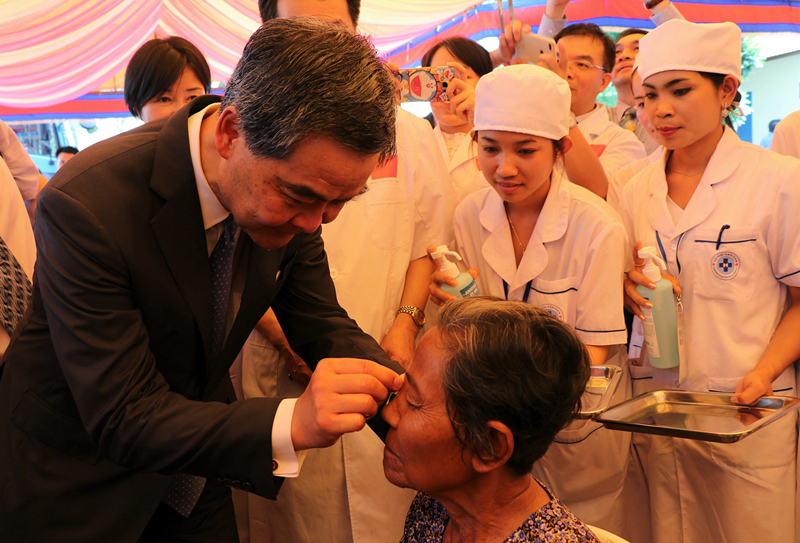 It was a big day for Om Saroeun, because the doctors she had consulted at the Kampong Cham Provincial Hospital in Cambodia had promised that she would soon regain her vision.
The 74-year-old went blind in her left eye four years ago and a cataract meant she could barely see with her right.
When she learned she could have the operation, Om Saroeun was nervous but elated. "If I could see again, I would no longer be a burden on my niece, who has cared for me over the years," she said.
Two days later, a volunteer medical team from the Guangxi Zhuang autonomous region in southern China performed cataract surgery on her right eye.
The operation, which was provided free of charge, was performed in one of two mobile operating rooms. The units assembled in Foshan, Guangdong province, and then crossed the border, stopping just a few kilometers from the hospital's ophthalmology unit, which is located in a dilapidated cottage.
When Om Saroeun entered the mobile operating room, she was asked to lie on a surgical table. A nurse injected anesthetic into her right eye before a physician extracted the opaque lens and replaced it with an artificial one. Om Saroeun was only conscious of the low hum of the surgical instruments, and within 15 minutes of the surgery starting, she was ready to leave.
A few days later, she could see clearly again through her right eye. "I could not afford the surgery, so I am grateful to the Chinese doctors," she said.
A preventable problem
Cataracts are an age-related degenerative condition that affects seniors across the world. They cause clouding of the lens, resulting in impaired vision and even complete blindness.
The condition is considered the leading cause of visual impairment in many developing countries, accounting for 47.9 percent of all cases. Southeast Asia, including Cambodia, has the highest rate of preventable blindness, about 28 percent of the world's visually impaired people, according to World Health Organization estimates.
In developed countries, cataracts are preventable and readily treatable because the surgery is relatively inexpensive, but in Kampong Cham, the most populous area of Cambodia, most seniors are unable to afford the operation.
Now, the problem is being alleviated by Chinese volunteers working to assist people in countries participating in the Belt and Road Initiative.
The average cost of cataract surgery in hospitals in the province is $100. That's not a huge sum to Westerners, but it is a fortune to people such as Om Saroeun.