Pakistan's post-election ties with China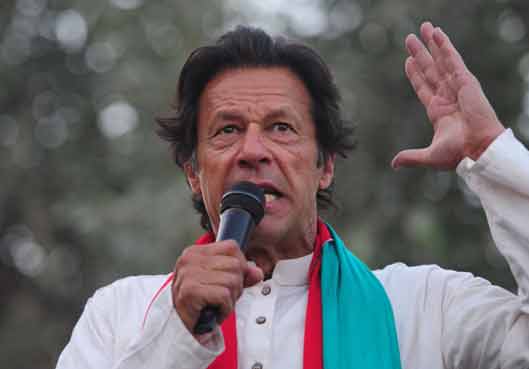 Pakistan is a democratic nation where there are general elections every five years, allowing the people to choose their government by free and fair voting, and the country just had a general election on July 25. Pakistan has a population of 220 million with around 200 political parties, though some are too small and their existence may be negligible. In the history of Pakistan, only a few big parties have played a major role.
According to unofficial results, which are likely to be finalized and officially confirmed soon, Pakistan Tehreek-e-Insaf (PTI) is leading ahead of all other political parties. It's likely that PTI will form the next government and rule the country for the next five years. Imran Khan is the chairman of PTI and likely to be the prime minister of Pakistan. In the democratic system of Pakistan, the elected prime minister is the center of power among the country's leadership, while the president is a ceremonial head of state only. This system is similar to Britain's and followed by many former British colonies or member states of the Commonwealth.
Imran Ahmed Khan Niazi was born in Mianwali on Nov 25, 1952, to Ikramullah Khan Niazi Shermankhel and Shaukat Khanum (Burki). A quiet and shy boy in his youth, Khan grew up being the only son of five children in the family. Although his family was settled in Lahore, he still considers his background Pathan as per his autobiography. Imran attended Aitchison College and the Cathedral School in Lahore until he finished middle school. Then he entered the Royal Grammar School, Worcester, before completing his formal schooling with an undergraduate degree in economics from Keble College, Oxford. While at university, Imran Khan was also the captain of the Oxford University cricket team in 1974. He and his mother, Shaukat Khanum, come from a cricket family. He is the finest cricket player Pakistan has ever produced, and ranks among the finest all-around players and greatest fast bowlers the game has ever seen. He played test cricket for Pakistan and helped earn the World Cup for Pakistan in 1992.
PTI was founded on April 25, 1996, in Lahore, and won its first seat during the 2002 elections when Imran Khan won the National Assembly seat of Mianwali in his home district. Pakistan Tehreek-e-Insaf is a political party and dream for a prosperous Pakistan, where every man and woman has high self-esteem and takes care of fellow citizens per the principles of humanity. The goal of its founder Imran Khan is to ensure justice for all, as he believes that a just society has the best chance to succeed. At its core, PTI just wants to make sure that we as a nation are the best version of ourselves and make a name in this world. He believes that Pakistan is a very special country, full of natural resources as well as earnest and intelligent people. He is committed to bringing political stability through credible democracy, transparency in government and accountability in leadership. We believe in federalism and functional provincial autonomy to the provinces.
PTI believes in pursuing a foreign policy based on a nationalist agenda, which it believes will safeguard all of Pakistan's national interests and promote greater regional cooperation. PTI would forge stronger relationships with neighboring countries, but not at the cost of Pakistan's national sovereignty or territorial integrity. PTI would fully restore Pakistan's economic and political sovereignty after elected into power. PTI would make the Kashmir issue a top priority and would try and solve the issue permanently so that Pakistan no longer has any border or territorial disputes with any of its neighbors.
PTI values the traditional friendship between Pakistan and China. With the instruction of Chairman Imran Khan, PTI has established a "Pakistan-China Cooperation Unit", which will enhance the strategic cooperative partnership between both countries, especially in the areas of economy, trade and technology. And he has appointed Dr. Shazad Waseem as the head of this unit, which has been delegated high powers and will be operating under Chairman Imran Khan directly.
PTI is a strong supporter of the China-Pakistan Economic Corridor (CPEC). Imran Khan has been in touch with the Chinese ambassador in Pakistan and has also had meetings with Chinese dignitaries visiting Pakistan. He has visited China in 2011 and met with the leadership of the Chinese government. He is a great admirer of China's rapid development, and especially impressed with the Chinese achievement of the eradication of poverty. He emphasized the importance of learning from the Chinese experience of development and fighting against poverty.
It is good news for Chinese investors and entrepreneurs involved with CPEC that the new government not only owns all agreements signed by previous government, but will move forward in a much bigger and faster way. Trust that the China-Pakistan Economic corridor (CPEC) will be fast tracked and will achieve its desired goals in the near future. Here's wishing for good luck and a bright future for the corridor.
The author is a Sinologist (ex-diplomat), Nonresident Fellow of CCG (Center for China and Globalization), National University of Sciences and Technology (NUST), Islamabad, Pakistan.
Most Viewed in 24 Hours
China stories