Africa's expectations high as 10th BRICS Summit opens in S Africa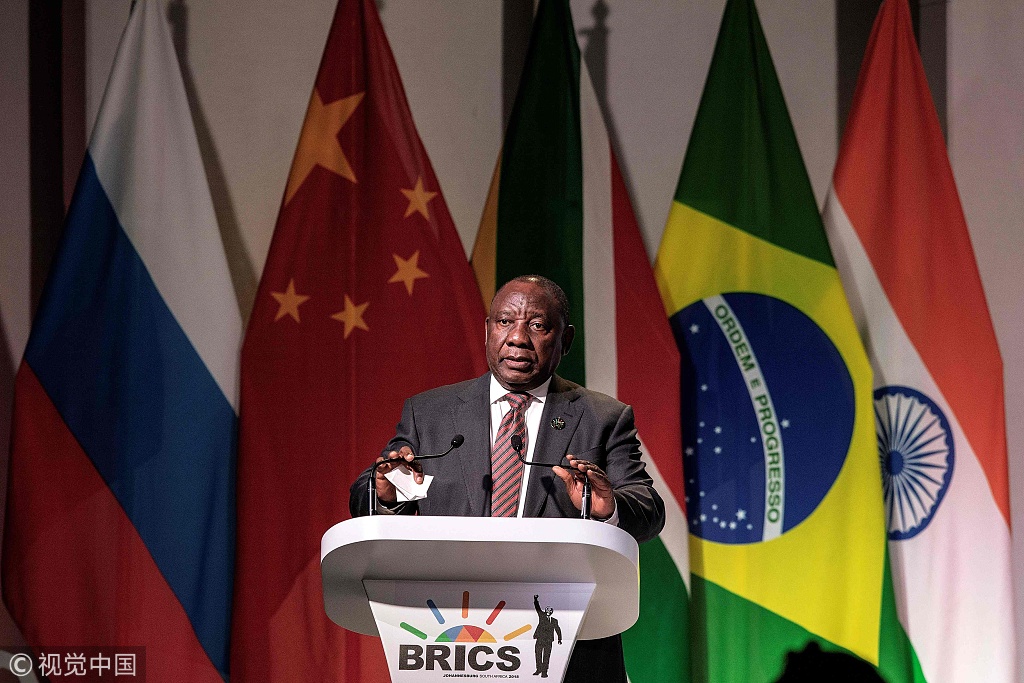 This week, Africa plays host to President Xi Jinping. The continent as a whole is keenly following his visit to Senegal, Rwanda and finally South Africa for the 10th BRICS Summit because of several reasons.
First, the global commodity price slump experienced in 2016 cooled off the continent's economic growth. Large economies such as Nigeria, South Africa and Angola that depend heavily on commodities—such as oil, gold, diamonds, bauxite, rutile, timber and copper—faced serious economic headwinds in the recent past. Despite the downturn, it was an opportunity for Africa to invest on its structural transformation and ensure that growth was inclusive and sustainable. Countries that continue to experience growth, including Ethiopia, Senegal and Kenya, had successfully diversified their economies, focusing on economic drivers such as manufacturing that increased exports while generating jobs for the young population. China has successfully implemented this strategy and a lot of lessons can be learned.
Second, demand for jobs in the continent has outstripped supply. This has triggered an increase in insecurity and radicalization of youths in addition to illegal migration of the largely youthful population to Europe. China managed to remove workers from the farms into factories and enviably saw migration of workers from rural to urban areas consequently growing its middle class. Africa is working toward this too.
Third, increased anti-globalization sentiments are seriously threatening Africa's growth. The continent is therefore glad that the second-largest economy under President Xi is the voice of reason and strongly pushing against this rising wave. The BRICS summit therefore is under intense focus as Africa is upbeat that its fortunes continue to be intricately entwined with China's besides other partners: Brazil, India and Russia, and seeks solutions under the South-South cooperation.
His first stop was in Senegal. Senegal's government has over the recent past pushed for serious economic diversification supported by expanded modern infrastructure. The visit by Xi, therefore, is a big boost to these priorities especially in bringing not only China's financial muscle but the world's attention to the progress being made by president Macky Sall's government. The visit, therefore, would evidently attract direct investments or technical assistance from China and other emerging economies.
On the other hand, francophone countries have proven to be a hard nut to crack for Chinese companies to penetrate in numbers as compared to east Africa. During Sall's visit to Kenya in 2016 to attend Tokyo International Forum TICAD as the chairman of NEPAD, African Union's planning and implementation agency, he witnessed the construction of the standard gauge railway, which was at the tail-end of construction, and he praised the workmanship and professionalism of the Chinese constructor. But the bid to build a proposed modern train infrastructure that connects the capital Dakar and new airport was eventually awarded to a French company. President's Xi's visit is therefore expected to further warm China's relationship with the West African country and thereby open bridges for private-private partnerships.
President Xi's visit to Rwanda has revisited the issue of growth in information technology in the continent. The small east African nation has carved a niche as a technology hub and has seen industry captains such as Jack Ma, founder of Alibaba Group, launch youth projects in the country. Many have worried over the continent's preparedness in transiting to the 4th industrial revolution when it has barely succeeded in the second and third. But Africa is upbeat that IT will leapfrog the continent's development momentum and this can only be plausible through China's hand. Over the recent past Beijing has made huge investments in the IT industry, seriously supporting its global competiveness in innovations. Africa however believes that the industry's edge might just be found in the continent, where disruptive innovations including mobile money transfer were created. China can therefore have access to this through private-to-private partnerships. Rwanda might just be the next destination for China-Africa partnerships in the sector.
The capping of Xi's visit in South Africa comes at a time when there is a new president who ascended on the platform of increasing foreign investments into the country, revving up the economy that is recovering from the commodity market slump and fighting corruption. Cyril Ramaphosa is said to have already achieved at least a third of investment pledges he had made on his 100 days in the office. The visit by the Chinese president will definitely buoy the government's confidence following Xi's announcement to put in $14.7 billion.
Interestingly, Paul Kagame and Macky Sall, the presidents of Rwanda and Senegal respectively, will be attending the BRICS summit in Johannesburg. The 10th BRICS Summit will be an important milestone as it represents a decade of BRICS cooperation. The summit will culminate in the adoption of the "Johannesburg Declaration" which will include member countries' joint commitments for the year ahead.
China and Africa are again meeting in South Africa after the Forum on China-Africa meeting held successfully three years ago. The partnership has indeed grown fast under mutual agreements and common visions with China proving an alternative strategy that was never available for Africa before. There is therefore a lot to expect from the summit and more so, to indicate the direction the countries in the South would be taking against a tumultuous global environment.
The writer is a senior researcher in Smartcomm communications, a think tank based in Kenya
Most Viewed in 24 Hours
China Views