Brussels summit could signal NATO's decline
Share - WeChat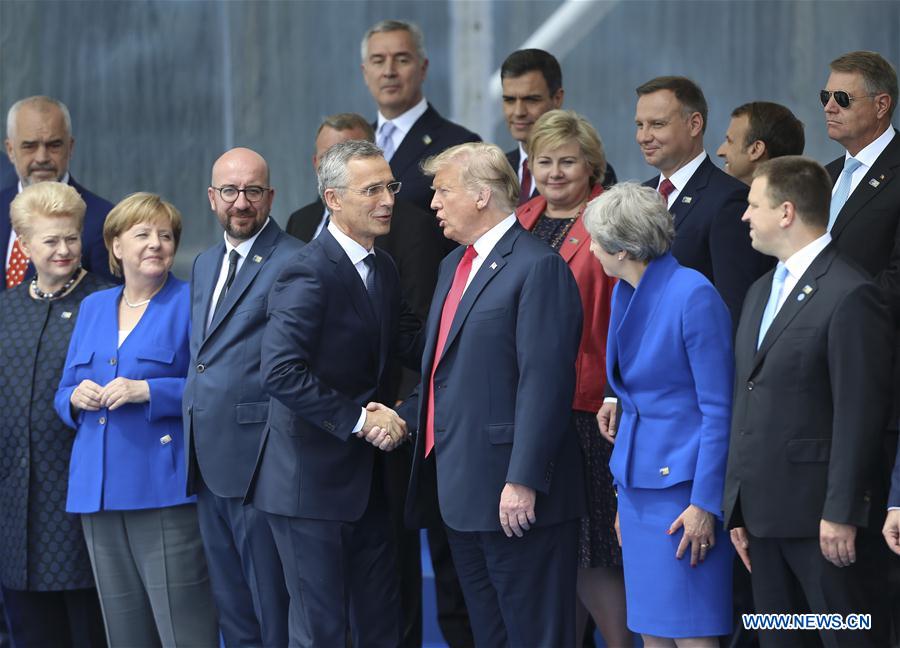 This is exceedingly unusual in NATO's 69-year history. Almost immediately before the NATO summit in Brussels, US President Donald Trump criticized Germany for being "captive" to Russia and called the other NATO member states "delinquent". Hours before his meeting with Russian President Vladimir Putin, Trump described the European Union as one of his greatest "foes". Earlier, he had said, "frankly, Putin may be the easiest of all" to talk with.
Such remarks, appalling for US allies, could be deliberately made as tactics to force the NATO allies to increase their defense spending. None of Trump's predecessors could push the US' NATO allies to spend more on defense to share the collective defense burden. But a merciless Trump seems to have done that. He said NATO members have added $41 billion extra for defense spending; NATO will be taking in an additional $33 billion or more and at least 17 NATO member states have pledged to reach the target of spending 2 percent of GDP on defense by 2024.
When Trump described NATO as "obsolete" during his presidential campaign, he was like the child who pointed out that the emperor, in fact, wasn't wearing any clothes. NATO has been searching for a "mission" to justify its post-Cold War survival. That is why it intervened in Bosnia and Herzegovina, Kosovo, Afghanistan and Libya and conducted anti-piracy activities in the Gulf of Aden and the Indian Ocean. But it still needs a bigger "threat" to justify the existence of the 29-nation military bloc.
But Russia is not a superpower like the Soviet Union. According to the International Monetary Fund, Russia's economy in 2017 was smaller than that of even Italy. And NATO spends more than 13 times as much as Russia on defense. This, in part, explains why Russia has become increasingly dependent on nuclear weapons for deterrence. If defense spending is the best indicator of a country's assessment of its security, then the fact that currently only five out of NATO's 29 members spend 2 percent of GDP on defense clearly demonstrates that the majority of NATO countries don't really consider Russia an eminent threat.
The days are gone when NATO members enjoyed the peace dividend under the United States' nuclear umbrella. Championing "America first", Trump doesn't even bother to hide his contempt for Europe. Trump said it is a "great thing" that the people of the United Kingdom have "taken back their country" in voting to leave the European Union. He suggested to French President Emmanuel Macron that France, too, should leave the EU.
But Trump could hardly pull the US out of NATO, as some fear. Should this happen, it would be far more consequential than the US walking out of the Paris climate agreement or the Iran nuclear deal. The rupture of the transatlantic alliance would be next only to the dissolution of the Soviet Union. The US Congress would never allow Trump to do that. Therefore, the only thing Trump can do is to bully NATO member states into paying more and leave Europe alone to deal with the thorny issues of Russia, migration, terrorism and cyberattacks.
The US' security focus today is China, which the latest US National Security Strategy report described as primary strategic competitor. Even if Trump has seemingly adopted "anything but an Obama" policy, his administration has followed the Barack Obama administration's "rebalancing" toward the Asia-Pacific strategy, but sells it as an "Indo-Pacific" policy. Whatever that might be, 60 percent of all US Navy ships, 55 percent of the US Army and about two-thirds of its Marine forces are already assigned to the US Indo-Pacific Command, and soon, 60 percent of American overseas tactical aviation assets will also be assigned to this theater.

No matter how NATO wishes Trump away, no one in Europe is asking for a divorce. Although the EU has its own military organization, its "soft" military missions such as peacekeeping and conflict prevention are more supplements to, rather than replacement of, "hard" missions led by NATO. The EU's Permanent Structured Cooperation, despite some observers seeing it as a burgeoning effort to set up an eventual EU army to replace NATO in the long run, is more about internal structural integration among the 28 national armed forces.
But the Brussels summit might well become a watershed in NATO's eventual decline. If all NATO members reach their 2 percent defense spending target by 2024, it may not necessarily mean a stronger NATO, but rather the start of a more united Europe without American leadership. As NATO Secretary General Jens Stoltenberg admitted, it is not written in stone that the transatlantic bond will survive forever. Well, the truth is: even things written in stone will decay with the lapse of time.
The author is an honorary fellow of the PLA Academy of Military Science.
Most Viewed in 24 Hours
China Views