Chaos with a purpose – Contemporary Chinese calligraphy puzzles many
Share - WeChat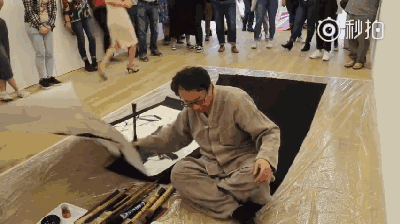 A college professor who has puzzled many on the internet for his uncanny calligraphy displays has defended them as performance art that was "liberating."
Video clips of Zhang Qiang, a professor at the Sichuan Fine Arts Institute, calligraphy without looking at his work has left viewers perplexed.
In one of the clips, Zhang sits on the floor and brushes the pen on a large scroll of paper dragged and moved around by an assistant, on which random and abstract lines and shapes begin to form.
In other clips, Zhang draws on white canvas held by two females, or directly on a female whose body was wrapped around by white canvas.
The peculiar movement of the art professor's pen and eyes bears a resemblance to yet another calligraphy performance artist, Shao Yan, who has gained popularity online for injecting ink onto a large piece of paper held by many, instead of using brushes.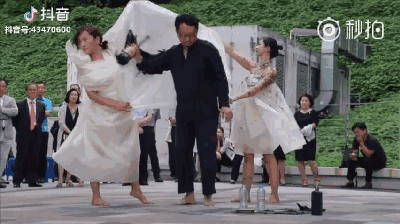 Some netizens have called Zhang's approach "blindfolded calligraphy" and compared it to Shao's injecting method. But most have criticized their alternative practices, viewing them as more as a stunt than artwork.
"Is it just me who thinks this is a tad bit creepy to draw on female bodies?" @Woshixiaozhangegea commented on Weibo. "Is it so-called cursive writing?" Another Weibo user @Sangjuxi said.
Zhang, the performance artist with many titles and an international reputation, said he's letting go of control and restraints and pursuing "pure calligraphy" during an interview with Btime.
"We tend to go after the meaning of the written words via calligraphy, and that's when it becomes fixed. I'm hoping for it to become more alive and fluid, and that's how contemporary calligraphy should look like," he said.
When asked why he chose to look away and paint in a random fashion, the artist says he hopes to challenge the weight of words valued in traditional calligraphy.
"When I'm collaborating with these females, I'm still trying to write certain words but without looking. With them moving their bodies, the collaboration evolved into a truly equal play as I can't determine how it'll manifest. And that's liberating once calligraphy loses and gains another meaning without written words," Zhang says to Btime.