Educational ties with Rwanda urged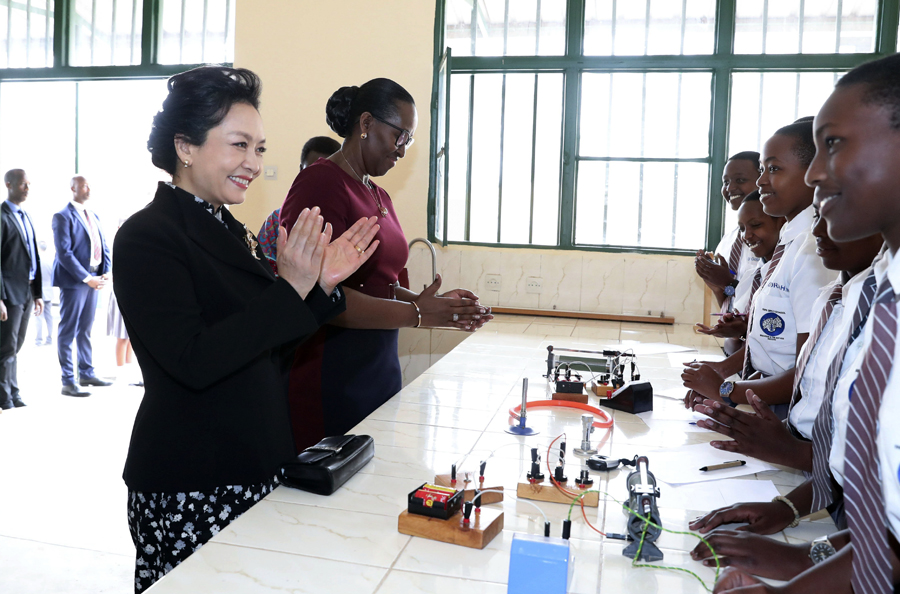 Peng Liyuan, the wife of President Xi Jinping, visited a girls' school on Monday in Kigali, capital of Rwanda, and called for enhanced educational ties between the two countries.
Accompanied by Jeannette Kagame, the wife of Rwandan President Paul Kagame, Peng arrived at the FAWE School in a suburb of the city.
Founded in 1999, FAWE, which stands for Forum for African Women Educationalists, is a secondary school that represents a movement in Rwanda to promote education for all females.
Peng was warmly welcomed by Rwanda's education minister, the school's principal and other officials. Two students presented Peng and Kagame with flowers.
In a physics laboratory, Peng watched the students conduct experiments in electric circuitry.
In a geography class, the students clamored to show off their understanding about China, shouting out "Chinese people use chopsticks"; "China has the Great Wall"; and "The five stars on the Chinese national flag stand for unity". Peng was impressed by their knowledge of China and encouraged them to increase their understanding of her country.
She said she will also learn more about Rwanda, adding "I hope you will have the opportunity to study in China in the future and the Chinese people welcome you."
When entering the school's auditorium, the Chinese guest of honor received a standing ovation from hundreds of students. Peng keenly listened to students sing their school song as well as a famous Chinese folk song Mo Li Hua (Jasmine Flower) in Chinese no less.
The students also performed traditional dances for the two first ladies, and they all took part in a group photo.
Student representatives presented Peng with a handicraft, and she donated an assortment of educational supplies to the school.
Education is the basis for a country's development and the people's happiness, Peng said, adding that as a wife and a mother, she sincerely hopes that all children, especially girls, can receive a quality education and enjoy equal rights.
She expressed her hope that China and Rwanda will strengthen exchanges and cooperation in education and consolidate their friendship.
FAWE is a boarding school with students mainly coming from underprivileged families, and it ranks as one of the best girls' schools in the country in terms of teaching standards and student performance.
Peng is in Rwanda accompanying Xi for a state visit, the first to the African country by a Chinese head of state.