At trade show, sourcing concerns prominent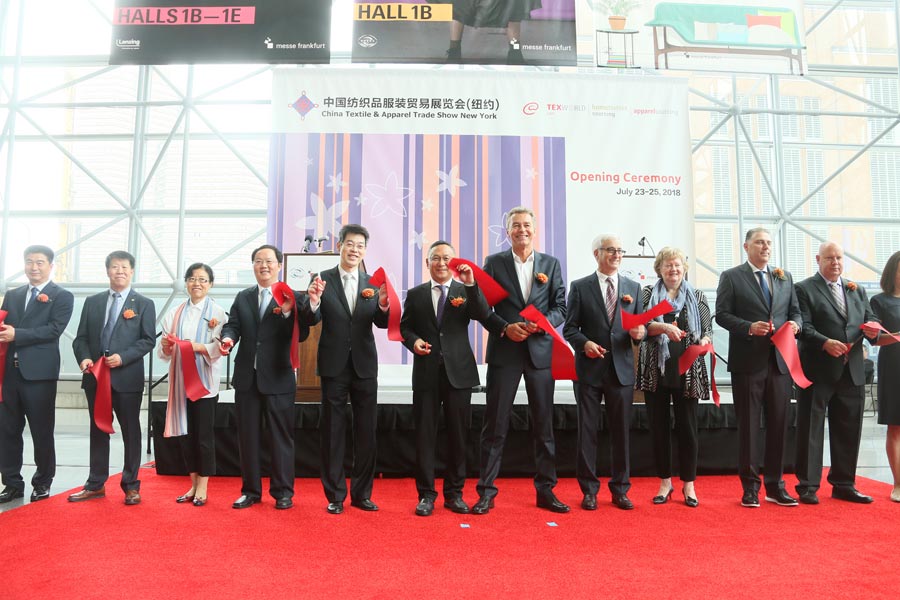 Chinese and American textile and apparel organizations expressed concerns about the escalating trade conflict and their opposition to protectionism during a major trade show in New York on Monday.
Tariff increases are not just a tax on consumers, they will also bring uncertainty to the stable global supply chain for top brands, Xu Yingxin, vice-president of the China National Textile and Apparel Council, said in remarks at the show's opening ceremony.
"Neither American consumers, fashion brands, nor Chinese textile and apparel manufacturers will benefit from the conflicts," said Xu, whose council organized the 2018 China Textile and Apparel Trade Show New York with Messe Frankfurt North America. About 1,000 exhibitors from 17 countries attended the event, with more than 600 from China.
About 1,000 types of products listed in the textile and apparel category are part of the $200 billion in Chinese imports potentially subject to 10 percent tariffs imposed by the Office of the US Trade Representative. Hearings will be held Aug 20-23 before a final decision will be made at the end of August.
The products, mainly raw materials such as yarns and fabric, range from silk to cotton, to lace to embroidery, and total about $4 billion, according to Xu.
"We are against a trade war. We believe trade conflicts should be solved within the WTO framework," he said.
Julia Hughes, president of the Washington-based United States Fashion Industry Association (USFIA), which represents brands and retailers, said the organization is opposed to tariffs.
The association's annual survey showed that for the second year in a row, a protectionist trade agenda in the US is the top concern for the American fashion industry. The survey was conducted between April and May of executives from nearly 30 leading fashion brands, retailers, importers and wholesalers, including some of the largest brands and retailers in the country.
Companies are very concerned about broader implications of protectionism for the US economy, consumers and the global economy, Hughes said in an interview at the trade show.
She said one strategy for American companies is to find other sourcing opportunities, but most sourcing executives say there aren't enough viable options to replace China.
Companies are sourcing from many other countries for many reasons, she said. Everyone has some sourcing in China; many companies have some sourcing in Vietnam. And Bangladesh, India and Indonesia are sources, as well as countries in the Western Hemisphere.
"There isn't enough sourcing in the world to replace China. And especially not the quality sourcing that American brands and retailers want," she said. "I don't think the solution is we just find an alternative to China. We are doing some analysis on what some other options might be. I have to say we hope it never comes to that."
Hughes said she believes the Trump administration has heard her association's message, so in order to not hurt consumers, the tariffs have been focused on manufacturing inputs rather than clothing, footwear and home textiles.
"We are hopeful we never get to the last $200 billion of products, which has to include us," she said.
"I know President Trump tweeted about it last Friday, saying he's ready to retaliate on all imports from China," she said. "But we are pushing hard with the administration, with the Congress, with decision-makers in Washington to not — let's not get to that place.
"Let's find a solution to what are real issues," she said. "The tariffs are the wrong responses, as we argue, to the real issues that we have between our two economies."
The association will continue its opposition to consumer products its members import to and sell in the US are not on the tariff list, Hughes said, adding, "That's our battle."
For Pan Yu, an exhibitor from Southeast China's Fujian province, the ongoing tariff disputes have her concerned but have motivated her to stay competitive through innovation.
"Only through innovation can you avoid being replaced," said Pan, deputy general manager of Hong Gang Textile, a supplier of upscale warp-knitted fabrics, whose business with US companies accounts for less than 20 percent for the company.
Since 2003, the company has focused many resources on research and development for patented fabric designs.
"We have patents in both Europe and the US," she said. "We have business with top US companies."
For the past 40 years, China's textile industry has been deeply integrated into the global textile and apparel supply and value chains.
China and US textile and apparel trade hit more than $44 billion in 2017 compared with $4.9 billion in 2001. China remains the biggest textile exporter to the US, while the US is the No. 1 export market for China's textile industry, accounting for 17 percent of China's exports in the industry.
"We are convinced that Chinese companies will continue to be the most stable and reliable suppliers of American brands, and a long-term mutually beneficial partnership between China and the US textile industries will remain unchanged," said Xu of the Chinese textile council.
Contact the writer at wanglinyan@chinadailyusa.com.