BRICS building strong bridges with Africa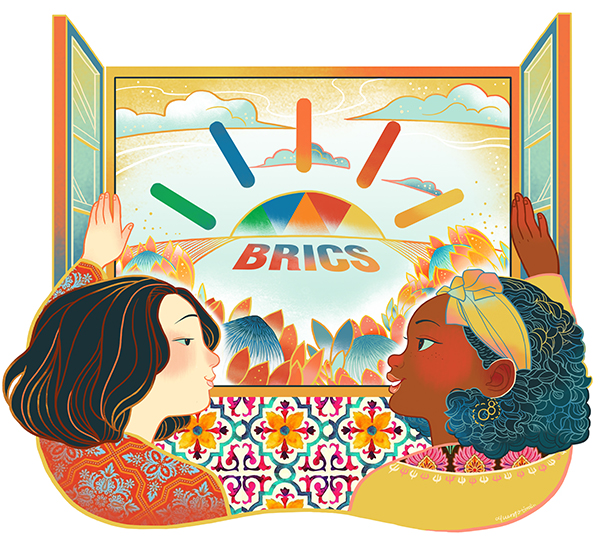 The 10th BRICS summit in Johannesburg from Wednesday to Friday is the second one to be hosted by South Africa, which has since earned it the epithet of a "BRICS gateway" to fast-transforming African nations. The theme of this year, "BRICS in Africa: Collaboration for Inclusive Growth and Shared Prosperity in the Fourth Industrial Revolution", is also a step forward from that of the 5th BRICS summit in Cape Town in 2013, "BRICS and Africa: Partnership for Integration and Industrialization".
This new focus on building "inclusive" and "shared" partnerships using the "Fourth Industrial Revolution" indicates how Africa seeks to build a strong innovative high-technology bond with BRICS and use artificial intelligence and digital-biological-physical links via the internet of things to address the perennial challenges of development.
BRICS' expanding connection with Africa is amply highlighted by President Xi Jinping-who is also the leader of leading BRICS economy-visiting Senegal and Rwanda before arriving in Johannesburg. This will be followed by his stopover in Mauritius on his way back home. Indian Prime Minister Narendra Modi arrives at the BRICS summit after paying a visit to Rwanda and Uganda, which is part of his efforts to expand India's relations beyond East African nations.
As South Africa's Foreign Minister Lindiwe Sisulu indicated in her recent article, BRICS leaders will explore how Africa can "diversify and modernize its economies through infrastructure development, knowledge exchange, increased access to technology, enhanced capacity-building and investment in human capital", which makes BRICS its perfect partner.
South Africa bears special responsibility to make the BRICS-Africa association both effective and efficient. In spite of criticism that it did not represent "real" Africa, South Africa was invited in 2010 to join the BRIC group. Even Jim O'Neil, former chairman of Goldman Sachs Asset Management and a British economist who coined the "BRIC" acronym, had expressed displeasure saying South Africa was too small an economy and had too low a growth rate to be the fifth member of the group. Doubts were raised on whether the "real" credentials of South Africa lay in being a "gateway" for the BRIC economies to access African resources and markets to sustain their own high growth rates.
But the fast-growing BRIC-Africa bond preceded South Africa's entry into the BRIC group, and South Africa's contributions have since laid to rest most such doubts.
The decade preceding South Africa becoming the fifth member of the emerging economies' group had seen the group becoming a major player accounting for 30 percent of Africa's global trade with combined investments of more than $60 billion, a bulk of those being Chinese. According to UN Conference on Trade and Development reports for 2010 and 2015, among the top 10 investors, while China moved up from seventh to fourth position, India rose from and eighth to sixth position. Resource-rich South Africa, oil-rich Nigeria and uranium-rich Niger, Uganda and Tanzania remain vital for China's and India's rising energy deficit. China's unprecedented rise saw its trade with Africa increasing from a mere $3.5 billion in 1990 to $170 billion in 2017. Today it accounts for two-thirds of the total BRICS trade with Africa.
Brazil's strong ancestral connections to Africa saw its trade rising from $4.2 billion to $26 billion from 2000 to 2008. This is when the global slowdown hit it and the decline in commodity prices and economic recession led to a sharp decline in their bilateral trade. Of late, however, Brazil-Africa trade has shown signs of recovery as their trade crossed $12 billion last year. In fact, this period saw Brazil's diplomatic missions in Africa increasing from 15 to 39.
As for Russia, it has major defense relations and sends nearly a million tourists to Africa. Yet its trade had moved slowly from $1 billion to $8 billion from 2001 to 2008 when it was hit by the global financial crisis. Now Russian President Vladimir Putin wants to strengthen his country's links with Africa, by following China and India to host a Russia-Africa summit next year.
But the most glaring fact is the decline in US trade with Africa: from $100 billion in 2008 to $39 billion in 2017. And now, as US President Donald Trump's tariff war on all the US' allies and adversaries alike is pushing them to explore alternate alignments, host South Africa can make the Regional Centre of the BRICS New Development Bank the catalyst to further accelerating BRICS' economic engagement with Africa.
The fact that the growth rates of BRICS trade with Africa continue to outpace the growth rates of average world trade and BRICS' trade with the rest of the world portends positive signs for the 10th BRICS summit providing a new kick-start to its building bridges with Africa.
The author is a professor at Jawaharlal Nehru University, New Delhi, and visiting professor at the Research Institute for Indian Ocean Economies, Kunming.
Most Viewed in 24 Hours
China Views