Achieving the impossible: ALS patient climbs mountain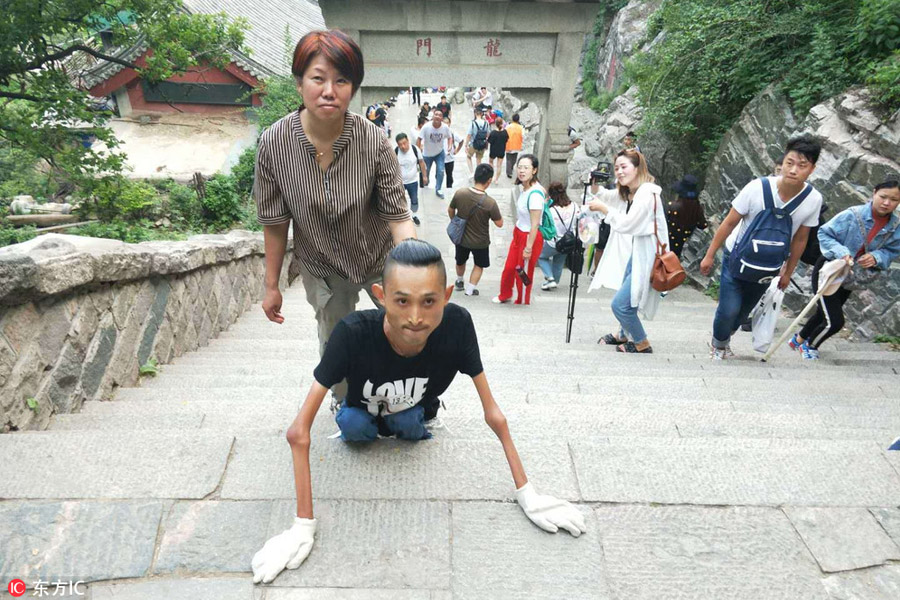 Climbing on steep mountains is not the exclusive domain of athletes or extreme sports fans——it's also a challenge taken up by an amyotrophic lateral sclerosis (ALS) patient in China.
Zhang Wei, a man suffering from ALS in East China's Shandong province, took 22 hours to climb on the top of the north peak of Huashan Mountain on July 15, his 29th birthday.
Huashan Mountain is regarded as the most precipitous out of the Five Great Mountains in China. This is the second mountain Zhang Wei had climbed after conquering Mount Tai a month ago.
Zhang lost the ability to walk at the age of seven and was diagnosed with ALS when he was 12. At that time, doctors predicted that he might not live to be 18.
"But I survived, and I believe more miracles will happen to me," he said.
Now Zhang Wei's muscles are so atrophied that his arms and legs are as thin as bamboo poles. It's hard for him to stand straight, not to mention climbing a mountain.
But to prove miracles do happen and challenge himself, Zhang decided to climb China's Five Great Mountains before turning 30. And Huashan Mountain is one of them.
By using the strength of his elbows, he managed to climb on the top of the mountain. For him, the hard work of wearing out a pair of shoes and three pairs of gloves paid off.
"I couldn't help but burst into tears when I saw the sunrise," said Zhang.
The person who accompanied him was Meng Mian, his "loving mom". Zhang became an orphan when he was nine, and met Meng while he was wandering at a railway station last October.
"She knows my mom left me when I was young, so she treats me with so much love, sometimes even more than her own kids," Zhang said.
Frequent mountain climbing is a huge challenge for Zhang, a 5.74-feet-tall man who weighs only 25kg, but he doesn't want to stop. Now he wants to climb the Great Wall. "I haven't been there, so I'd love to go and climb on it," he said.
Despite being told by doctors that his life has entered the countdown, Zhang said, "For me, to be alive is so lucky, so I'm still full of hope for the world."
"I want to tell other ALS patients with my own actions that we can pursue our own dreams, and we should be hopeful and grateful to the world," he said.