Xi demands thorough probe into vaccine scandal
Share - WeChat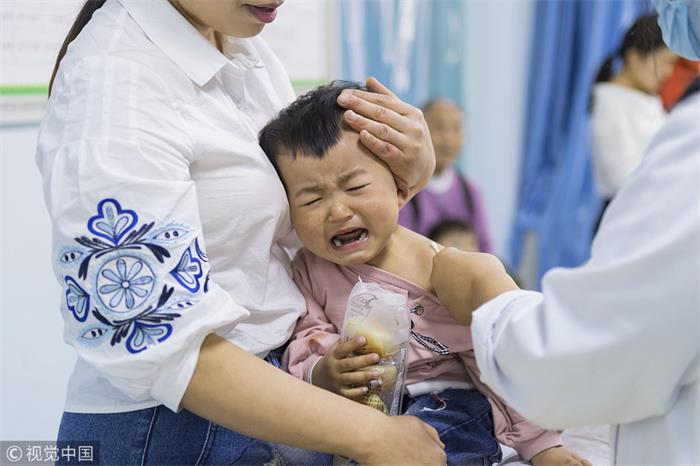 Latest update:
Xi demands thorough probe into vaccine scandal
President Xi Jinping has demanded immediate and thorough investigation into the country's latest vaccine scandal and severely punish those responsible, while improving the country's vaccine management system to safeguard the bottom line of people's safety.
Xi said in an instruction that the illegal production of vaccines by Changchun Changsheng Bio-tech Company is vile in nature and shocking.
He urged related departments and local governments to pay high attention to the incident and immediately carry out thorough investigation into the facts and ensure those responsible face full force of law.
All information should be released in a timely manner to answer the concerns of the public, he added.
Xi said it is the bounden duty of governments at all levels to ensure drug safety, and the health of the public should be always given top priority.
He demanded the authorities to improve the national vaccine management system with the determination of scraping the poison off the bone and hold the bottom line of safety, sparing no effort to guarantee the vital interests of the public as well as social security and stability.
Changchun police starts probing vaccine producer
Police in Changchun, Jilin province, have launched an investigation into Changchun Changsheng Bio-tech Co, a major vaccine producer in China, for allegedly making substandard rabies vaccines for human use.
Top officials of the company, including the chairwoman surnamed Gao and four other senior executives, were brought to the police bureau for questioning, the police bureau of Changchun New Area said in a press release on Monday evening.
Unannounced inspections
The State Drug Administration will conduct unannounced inspections on all companies that produce vaccines.
According to the Center for Disease Control and Prevention in Shandong, the 252,600 doses of substandard DTaP vaccine sold by Changchun Changsheng Bio-tech were distributed to Jinan, Zibo, Yantai, Jining, Tai'an, Weihai, Rizhao and Laiwu in Shandong. 215,184 children were injected the substandard vaccine.
In Hebei, 143,941 children in Shijiazhuang, Langfang and Dingzhou were given substandard DTaP vaccine produced by Wuhan Institute of Biological Products Co.,Ltd., said the Center for Disease Control and Prevention in Hebei.
Some substandard DTaP vaccines produced by Wuhan Institute of Biological Products Co, Ltd were also distributed to Chongqing, but the Center for Disease Control and Prevention in Chongqing has not yet provided details.
The Centers for Disease Control and Prevention in Shandong, Hebei and Chongqing said they would vaccinate those affected again.
On Monday, shares of vaccine-related companies fell due to the vaccine scandal exposed over the weekend. Shares of Changchun High & New Technology Industries (Group) Inc; Chongqing Zhifei Biological Products Co, Ltd; Shenzhen Kangtai Biological Products Co, Ltd; and Walvax Biotechnology Co, Ltd fell by the daily limit of 10 percent. More than 37 billion yuan was wiped out from 51 shares related to biological vaccines as of 9:40 am. Changsheng Bio-tech Co escaped the beating as it suspended trading on Monday.
Investigation starts on new vaccine scandal
The State Drug Administration has launched an investigation of Changchun Chang­sheng Bio-tech Co, which was found to have fabricated production records for freeze-dried rabies vaccines for human use.
The cases of those suspected of violating laws will be transferred to public security departments, the authority said on Sunday.
Premier Li Keqiang said in an instruction that the vaccine case has crossed a moral line, and the nation deserves a clear explanation, the State Council said on its website on Sunday.
The State Council should immediately send a group to investigate to uncover the truth as soon as possible, and any wrongdoing will be severely punished regardless of who is involved, Li said.
Xu Jinghe, deputy head of the drug administration, said the company was found to have fabricated production and inspection records.
Such activities are in violation of the country's drug management law and related regulations on drug production, Xu said.
In a notification on July 15, the drug administration ordered the company to stop producing the human rabies vaccine. It said no products involved in the inspection were currently being sold and all the vaccine involved had been removed.
The administration has also revoked the company's certificate that is needed for production and sales of the vaccine.
The administration confirmed that the company's other vaccines now available on the market have been tested and no quality problems were found. The administration also launched further tests on the vaccine samples kept by the company.
Its remarks came amid public concerns about vaccine safety in China over the weekend, after it was also revealed that Changsheng Bio-tech was linked to a substandard DTaP vaccine for infants.
On Friday, the Jilin Provincial Drug Administration announced a penalty regarding Changchun Changsheng Bio-tech Co's substandard DTaP vaccine.
The company was fined 2.58 million yuan ($282,000), and 859,000 yuan in assets from sales of the vaccine were confiscated.
The case was under investigation last year.
Changsheng Bio-tech Co, parent company of Changchun Changsheng Bio-tech Co, revealed in November that 252,600 doses of the substandard DTaP vaccine that couldn't meet the standard of immunity results were all sold to Shandong province and had been recalled.
"The substandard DTaP vaccine won't post safety threats to people's health, but will reduce the expected immune effects," Dingxiang­yuan, a professional medical website, said in an online reply to public concerns about the vaccine's safety.
The state drug administration confirmed on Sunday that it was discovered in October that one batch of Changsheng's DTaP vaccine was substandard, and its production of DTaP has been suspended since then.
A plan for reinoculation of those affected was worked out in February.
Several state media called for severe punishment and stricter supervision of vac­cines. People's Daily released a commentary on Sunday saying that drugmakers should stick to moral principles and make life their priority rather than profits.
In a news report released on Sunday, the Procuratorate Daily, a publication of the Supreme People's Procuratorate, called for stronger supervision of vaccine production and tougher penalties for violators.
The Shenzhen Stock Exchange announced that it sent letters to Changsheng Bio-tech Co on Sunday, calling for early disclosure of the two cases to the public.
"We will maintain strict supervision over the listed company's information disclosure responsibility according to the law and guarantee legal rights of investors," it said in the online announcement.
The Shenzhen Stock Exchange posted a reply from Changsheng Bio-tech Co later in the afternoon on its website. It says, "We feel very remorseful and guilty about what has happened, and we apologize to all those vaccinated and investors."
The company added that it will learn a lesson.
Contact the writer at yangwanli@chinadaily.com.cn