Group issues declaration to energize English education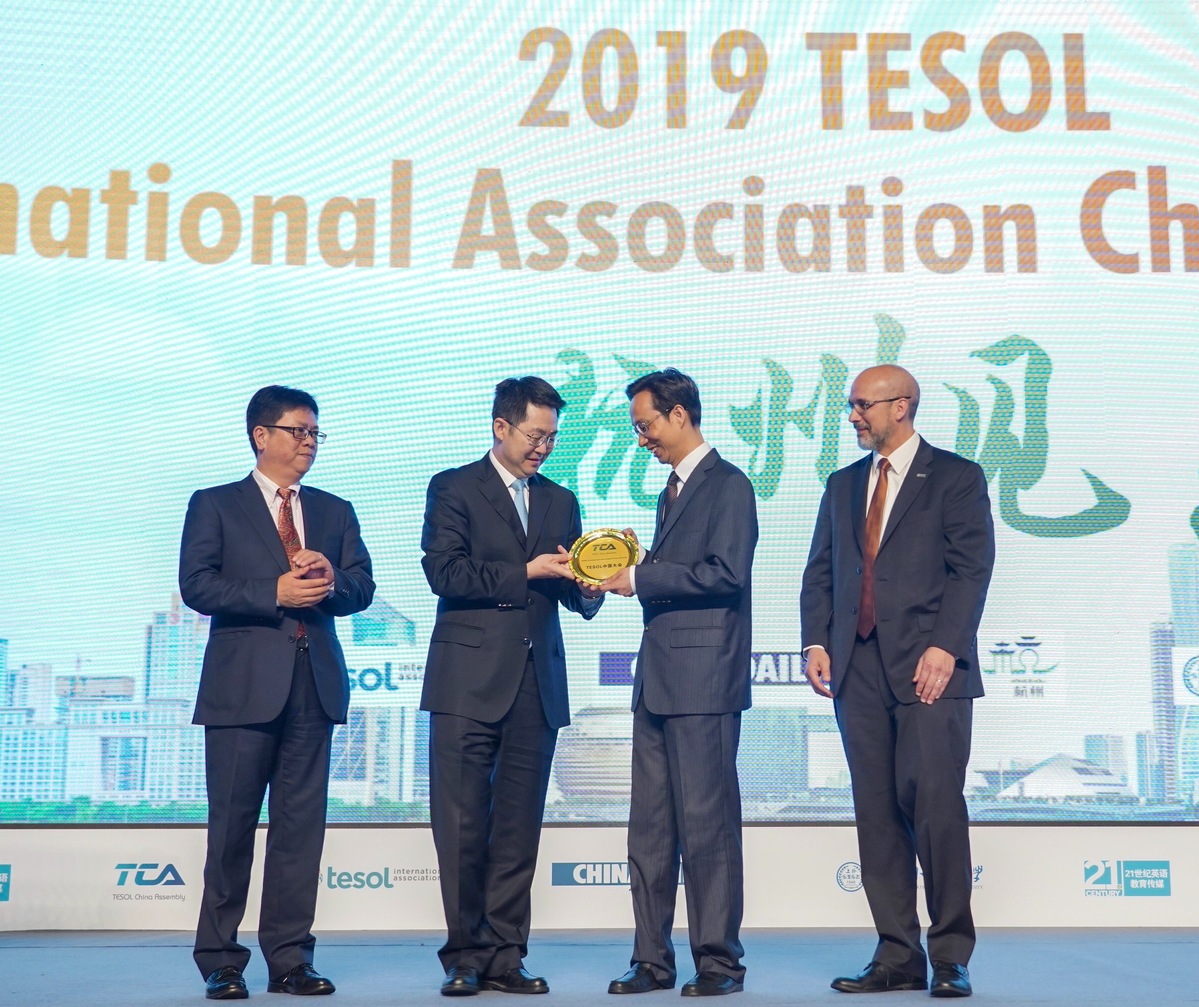 A declaration intended to take energetic and sustainable action to inject impetus into English education in China in the new era was issued on Sunday in Shanghai as the 2018 TESOL China Assembly concluded.
In the Shanghai Declaration of 2018 TESOL China Assembly, it said English language educators and teachers will be committed to guiding students to raise their cross-cultural awareness and establish consciousness of responding to the Belt and Road Initiative and the major initiative of "creating a common community with a shared future for mankind" in their process of English learning.
"With socialism with Chinese characteristics having entered a new era, it is necessary to improve our ability to participate in global governance. A large number of professionals with passion, a global perspective, skilled use of foreign languages, knowledge of international rules and expertise in international negotiations are needed for this," reads the declaration.
Teachers also will be dedicated to guiding students to appreciate the diversity and richness of world cultures, recognize the importance of people-to-people connections, and build stronger cultural confidence, according to the declaration.
The three-day assembly, with the theme, "English Education in China: Striding into a New Era", was jointly hosted by the TESOL (Teachers of English to Speakers of Other Languages) International Association, an organization based in the United States that is committed to advancing excellence in English language teaching, China Daily and Shanghai International Studies University. It gathered more than 1,800 English teachers and leading experts in English teaching from home and abroad.
Nearly 100 activities covering 15 topics, including English education and whole-person development, education policy, information-based foreign language teaching, and teacher training and development, were held in various forms, such as via a keynote speech, seminars, workshops and teaching demonstrations.
"Focusing on cultivating students' intercultural communication capability, the assembly itself serves as a platform of communication and connection to cross language, cultural, and geographical divides," Christopher Powers, executive director of the TESOL International Association, said during the closing ceremony.
Regarding the declaration, Mei Deming, a professor of English and linguistics at Shanghai International Studies University and a member of the assembly's Academic Committee, said it took months to draft it and noted they sought advice from authoritative experts.
Chen Lin, a renowned professor of English teaching at Beijing Foreign Studies University, said that he particularly appreciated the part in the declaration that educators will be committed to creating a streamlined model for English education to coordinate efforts from elementary to tertiary education.
He said such a streamlined model for English education will better facilitate realizing the goal of foreign language education and he hoped that the younger generation of teachers will achieve new heights in their teaching and research.
Leading experts and other participants said the assembly provided a good opportunity to get a variety of English language teachers together and they believed it would promote internationalization of English education in China and some experience shared at the conference would be brought back to their respective schools.
Li Aiyun from Nanjing Foreign Language School in East China's Jiangsu province said that she and her colleagues felt more than excited to participate in such a great event in the English language education circle and listen to academic leaders in the field.
Joy Egbert, a professor at Washington State University and TESOL Journal editor, said it is always important for teachers to optimize student learning through class activities with interest and interactivity, and information-based apps and internet technology assist contemporary language learning.
"Teachers are encouraged to make more use of pictures and videos in interactivities and other massive resources on the internet as materials to better support students' learning," she said.
Ester J. de Jong, TESOL president (2017-2018) and a professor at the University of Florida, said in the new era, English teachers need to be prepared to embrace changes, become life-long learners themselves and help students become life-long learners as well.
"English language teachers also need to become facilitators of learning, not just transmitters of knowledge, as students have access to tools for learning that did not exist before," she said.
At the closing ceremony, Qu Yingpu, deputy editor-in-chief of China Daily; Powers from the TESOL International Association; Zhuo Chao, deputy director of the publicity department of the Party committee of Hangzhou; and Li Yansong, president of Shanghai International Studies University, announced that next year the assembly will be held in Hangzhou, the Zhejiang provincial capital currently in a period of historical opportunities as the host of the G20 Summit in 2016 and the 2022 Asian Games.
"The high-end and highly international TESOL China Assembly tallies with the positioning and industry development of Hangzhou city," Zhuo said.
"To host the assembly, we anticipated that more talents skillful in English language will choose Hangzhou as a work destination to promote the development of local English education, elevate the city's image regarding internationalization and help realize the city's goal to become a world-class cultural city with its own characteristics and charm," he said.