Xi's Rwanda visit carries great significance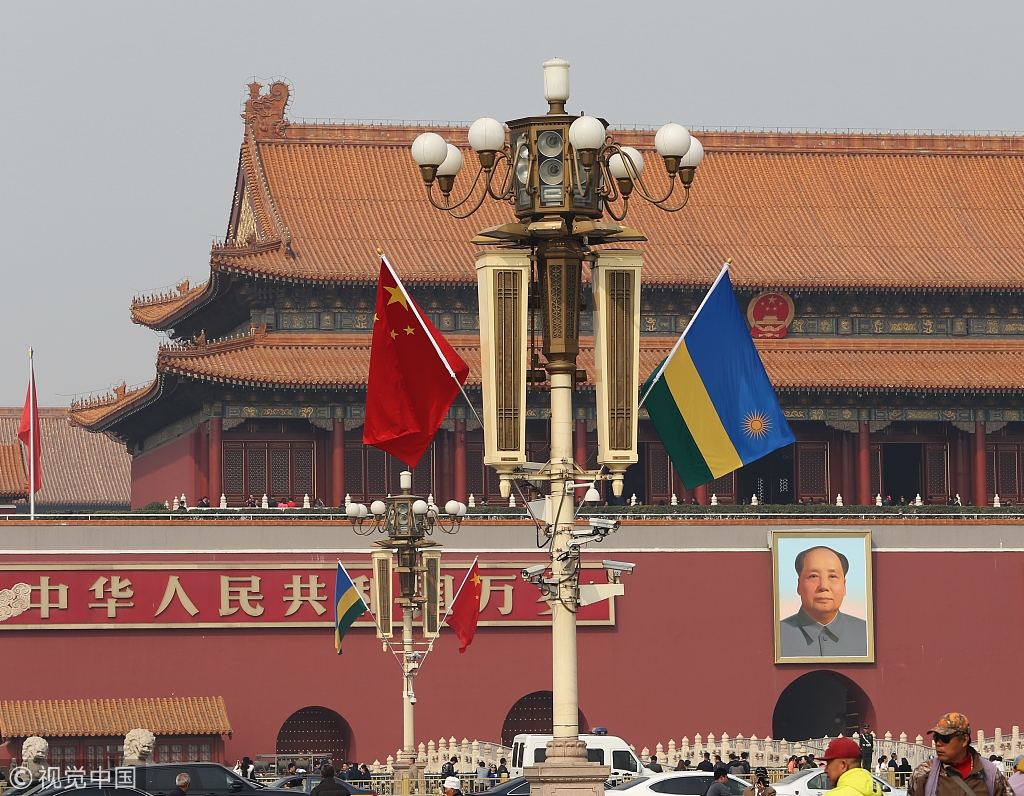 Chinese President Xi Jinping is scheduled to pay a reciprocal two-day state visit to Rwanda from July 22 to 23. This will be the first time a president of China has visited Rwanda since 1971, when the two countries established bilateral relations.
Xi's visit to Rwanda is a sign of stronger bilateral relations and cooperation between China and Rwanda, and a manifestation of China's opening up and building new relationships with African countries to promote development and shared prosperity. In an interview with journalists this week, Chinese ambassador to Rwanda H.E Rao Hongwei, said the Chinese president's visit is about trade, investment, mutual cooperation and contributing to security in Africa.
During Xi's visit, several cooperation agreements are expected to be signed for mutual benefit and improving the lives of their people. Infrastructural developments especially roads, agriculture, industrialization, tourism and security are some of the areas of cooperation expected to be on the menu.
As Rwandan President Paul Kagame is the current chairperson of the African Union, Xi and Kagame are expected to talk about global peace and security, with a focus on the African continent. China and Rwanda contribute significantly to global peace and order, and many of their troops take part in UN peacekeeping missions. Since 2015, China, a permanent member of the UN Security Council, has contributed more troops than any other permanent members.
China has opened the Djibouti Logistics Support Base which supports naval escort, peacekeeping and humanitarian missions in Africa and western Asia. Rwanda is the sixth major troop and police contributor to UN peacekeeping missions around the world, the third highest contributor of female police officers and the second highest African contributor of female police officers.
Rwanda has been called the second easiest country to do business in Africa and several Chinese investors have opened up businesses in several fields, including real estate, garments and mining. The visit by the Chinese president will give confidence to Chinese investors to consider Rwanda an investment destination.
When Kagame visited China in March 2017, he called on Chinese companies to collaborate with the Rwandan private sector and build industries in Rwanda. He also said: "China has a special place in our foreign relations. Building prosperity and uplifting your people, your solid ideological grounding and respect for African partners."
Kagame also pointed out China's commitment to Africa is welcome, and Rwanda is keen to engage fully in the Forum on China-Africa Cooperation. "Rwanda appreciates China's friendly policy towards Africa, and has spoken highly of China's adherence to equality and mutual respect while developing ties with Africa," he said.
The Chinese president acknowledged flourishing bilateral ties between Rwanda and China and emphasized the need to share governance experiences and close cooperation in global and regional affairs. The Chinese president pledged to support the building of Rwanda's special economic zone, and called for closer cooperation in the areas of industrialization, agricultural modernization, infrastructure building, tourism and security.
China has confidence in Rwanda as a reliable partner, since the two countries have much in common. Rwanda is a small country that has against all odds made a miraculous turnaround in the last 24 years, from an almost failed state to one of the fastest growing economies on the continent. Rwanda has one of the highest population densities in Africa, and China is the world's most populous country.
The large populations of these countries are considered a great asset, a resource to advance economic development. This is a world outlook that is different from the Western capitalistic view. Rwanda and China view their big populations as an opportunity rather than a burden.
China is expected to have eliminated poverty by 2020. Over 68.5 million people were lifted out of poverty in a period of five years, with an annual poverty alleviation rate of 13 million people, a figure not found anywhere else in the world. In Rwanda, over one million people have been lifted out of poverty in the last decade, and more homegrown social and economic policies have been put in place to reduce poverty levels further.
The economies of the two countries have been growing steadily in the last decade. With recorded GDP growth of 6.8 percent in the first quarter of 2018, and projections to have eliminated poverty and become a "moderately prosperous society" by 2020, China is one of the fastest-growing economies in the world. Rwanda's growth was recorded at 6.1 percent in 2017, and her development strategy, "Vision 2020", projects the country to be a middle-income country by 2020.
Xi and Kagame have demonstrated effective leadership credentials that have ushered in their countries a new era of transformational governance never experienced before. The two leaders are credited for political, social and economic policies that have spearheaded high growth in their countries, political stability and good diplomatic relations based on mutual respect and contribution to global peace and security.
China and Rwanda have demonstrated democracy is not a one-size fits all concept, as the West wants the world to believe. Democracy is about the will of the people and comes from within, rather than as a product imported from outside. The West, which claims to be the "global model" of democracy for the rest of the world, does not feel comfortable with independent thinkers like Xi and Kagame, who have developed their countries through homegrown political philosophies.
Very soon, Xi will be visiting a country that is a model for the rest of Africa in finding solutions to their own problems without waiting for outsiders. Rwanda's zero tolerance for corruption also makes it stand tall among peers, where meager public resources are put to good use for the benefit of all the people. The cooperation agreements, expected to be signed during the visit, will deliver more public goods and improve the living standards of the Rwandan people.
The author is a journalist and pan-Africanist.
Most Viewed in 24 Hours
China Views