Government projects improving environment in Tibet
Share - WeChat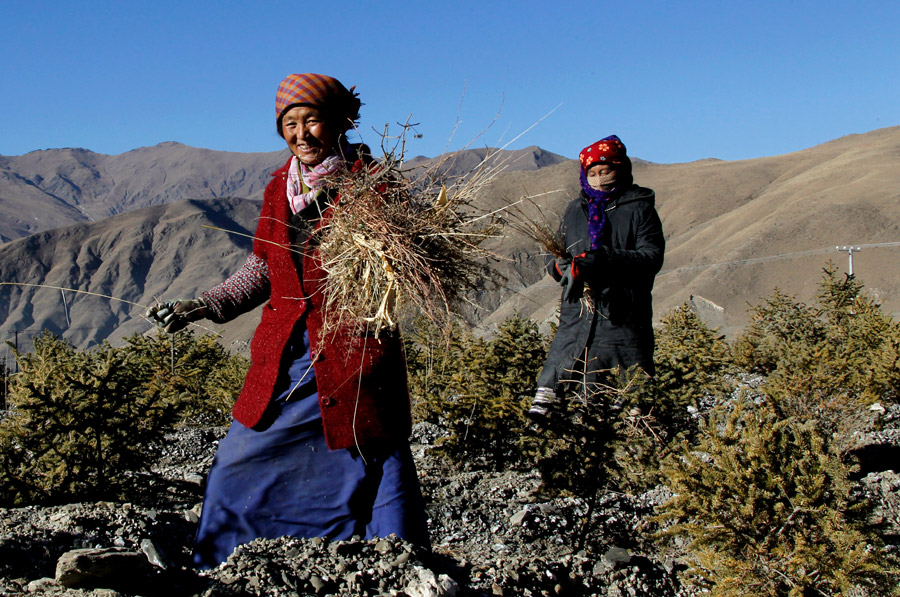 The environment on the Qinghai-Tibet Plateau has been steadily improving thanks to various government projects, the Information Office of the Tibet autonomous region said on Thursday.
A State Council Information Office white paper, Ecological Progress on the Qinghai-Tibet Plateau, issued on Wednesday, showed the plateau is still one of the most pristine regions on earth.
Located in Southwest China, at an altitude of more than 4,000 meters above sea level, the Qinghai-Tibet Plateau covers Tibet, Qinghai province and parts of Sichuan, Yunnan and Gansu provinces and the Xinjiang Uygur autonomous region.
Tibet's Environmental Protection Department said Tibet has 47 nature reserves covering a total area of 412,200 square kilometers, accounting for more than 34 percent of its total land area.
More than 80 percent of its unique and fragile ecosystems and rare species are effectively protected, Tibet's Forestry Department said.
"The region has more than 9,600 wild plants and 6,600 higher plants (that are unique and in greater need of protection), more than 125 animal species ranked as State key protected species, and 45 rare species listed as first-class State key protected wild animals," the Forestry Department's deputy director, Dzomga, said.
More than 8,000 black-necked cranes spend their winter in Tibet, accounting more than 80 percent of the world total, she said, while the number of Tibetan antelope has increased to more than 200,000, and the number of wild yaks to 10,000.
The State Council and the central government have arranged 25 ecological projects in Tibet and invested more than 40.9 billion yuan ($6.06 million) during the 13th Five-Year Plan (2016-20), the region's Environmental Protection Department said.
During the 12th Five-Year Plan (2010-2015), the State invested more than 25 billion yuan on access to drinking water on the plateau as well as water and soil conservation. More than 4.6 million residents directly benefited from safer drinking water, and more than 1,400 monasteries and temples were equipped with drinking water.