Seeing is believing – China's amazing growth over 40 years
Share - WeChat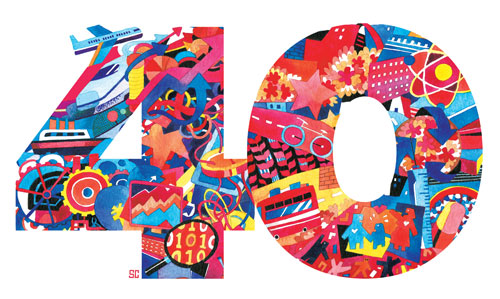 It is indeed amazing to see the growth and development of China since it opened up 40 years ago. I would like to share some of my experiences after visiting China for a few times now since 2017. One, the extraordinary development that defines China can be illustrated using one example. The United States used around 4.5 Gigatons of cement between 1900 and 2000 while China used almost 6.6 Gigatons of cement in 3 years between 2011-2013. What this measure shows is the grand vision, systematic planning and meticulous execution that was needed to utilise such a tremendous amount of construction material and promote development. This is evident in all walks of life in China today.
My experience traveling by high speed train recently was absolutely wonderful and it is unbelievable that there was no HSR before 2007 and that today it spans 25,000 kilometres. Similarly, the road network has surpassed that of all countries in the world today. It now boasts of 4.7 million kilometres which was only 1.7 million kilometres in 2001. Last year, China logged 1.1 billion passenger trips by air, among which 1.03 billion passengers were transported by domestic routes, revealing the dramatic improvements in the airport infrastructure. These passengers are served by 229 airports among which 228 have scheduled flights serving 224 cities. There is good economic evidence that investment in physical infrastructure will reap immense benefits to the people and China by focusing and achieving it has been able to respond to meet the demands of its people.
Two, the progress made by China is directly attributable to the utilisation of the far more important resource - human resources, as material development could not have been made possible without skilling the people to undertake what I believe could be the equivalent of building the Taj Mahal, the pyramids, the Inca temples, temples of Tamil Nadu, and all other monuments built in India and other countries over 2000 years, within 20 years. For example, I was awed by the public library in Shenzhen which is like a modern temple thronged by people from all walks of life and all age groups. The shared communal space reminded me of gatherings in Indian temples, but here the library was the temple.
This reveals that investment in the intangible infrastructure – i.e. on education and skilling of the people was also achieved at a gigantic scale. This suggests that investment in all levels and kinds of education in China was a top priority and done on a war footing. This could not have been possible without accountability at all levels for provision of quality education. One way we can assess the success is by looking at the number of students sitting for the National Higher Education Entrance Examination (gaokao) which was 9.75 million in June 2018.This shows how the government has worked to not only work towards universal literacy but also promote higher education and tertiary education. Apart from university education, according to the Educational Statistics of 2016, China has 8367 Secondary Vocational Schools which graduated 4.4 million students who acquire the necessary skills to contribute to nation building.It is estimated that close to 8 million students are graduating from universities and it is these graduates who are contributing to innovation and rapid development.This is more importantly marked by equal distribution among women and men which is reducing the gender difference in the market.
Three, the focus on investing in people also had another big spillover effect: it created a huge consumer class and a massive market for Chinese goods inside the country. While China has been known as the factory of the world today it is domestic consumption which is now fuelling the economic growth.Not only has consumption of goods and services increased, the Chinese are now well-informed and demand good quality goods and services in their daily life.There is a mis-impression in India that Chinese products are of poor quality, which was formed from the products sold earlier, but I can clearly see that various goods and services in China today meet the world standards and are even setting new standards which the rest of the world will follow soon. For example, the breakthroughs in 5G mobile technology by Chinese companies and being tested and implemented now will provide a new benchmark for the world.
There is an old Chinese proverb: "It is better to see something with your own eyes than to read it 100 times." This is quite evident from the scale of development in China. I think that it would be a good idea for the rest of the world to visit China and understand its path of development so that we can learn from their experience and also strive to improve on any of the shortcomings that accompanied this development. Only then can we seek to develop further in a sustainable and inclusive manner.
The author is an associate professor of O.P. Jindal Global University, Sonipat, India.