China will deepen reform and open wider to the world, official says
Share - WeChat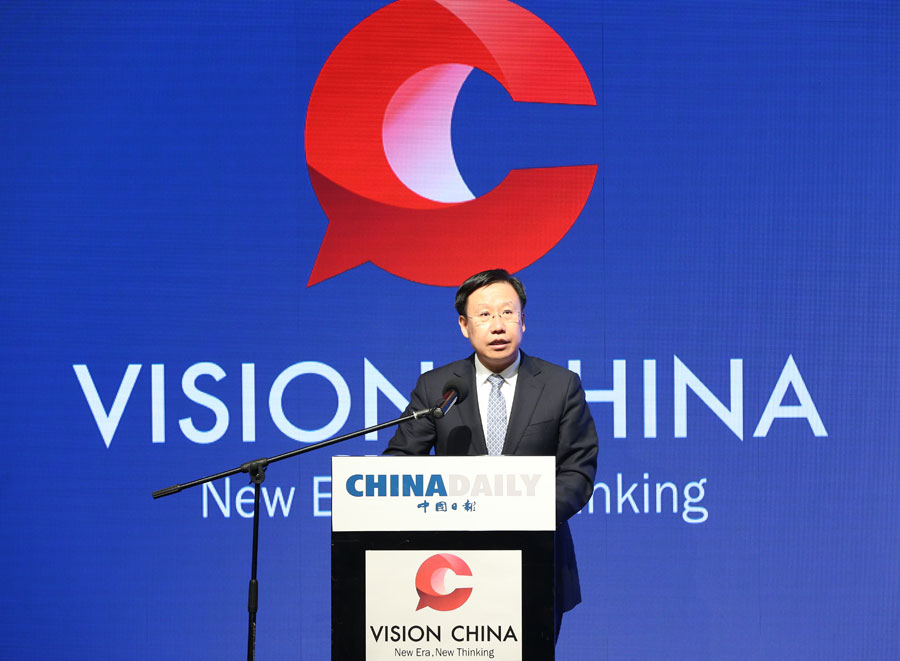 Third event in series of talks focuses on BRICS and globalization
China will continue to promote world peace, contribute to global development and safeguard the international order, Wang Xiaohui, executive deputy head of the Publicity Department of the Central Committee of the Communist Party of China, said on Tuesday in Johannesburg, South Africa.
Wang, who is also director of the State Film Administration, made the remark at the third event of Vision China, a series of talks organized by China Daily, held at the Gallagher Convention Center in Johannesburg.
China has entered a new era in which the country will continue to deepen all-around reform, commit itself to opening up to promote common development across the world and make even greater contributions to mankind, Wang said.
"China remains committed to its fundamental national policy of opening-up and pursuit of a strategy of mutual benefit and win-win outcomes," he said.
Next week, Chinese President Xi Jinping will gather with leaders of other BRICS countries in South Africa, renowned as the "rainbow nation", for the 10th BRICS Summit.
Tuesday's Vision China event explored the theme "BRICS and Globalization", so it is of special significance that friends in various circles will look to the future of BRICS cooperation, Wang said.
He said that after 11 years of what has been a glorious journey, BRICS has become a model of cooperation for emerging market economies and developing countries, as well as a positive force in the international community.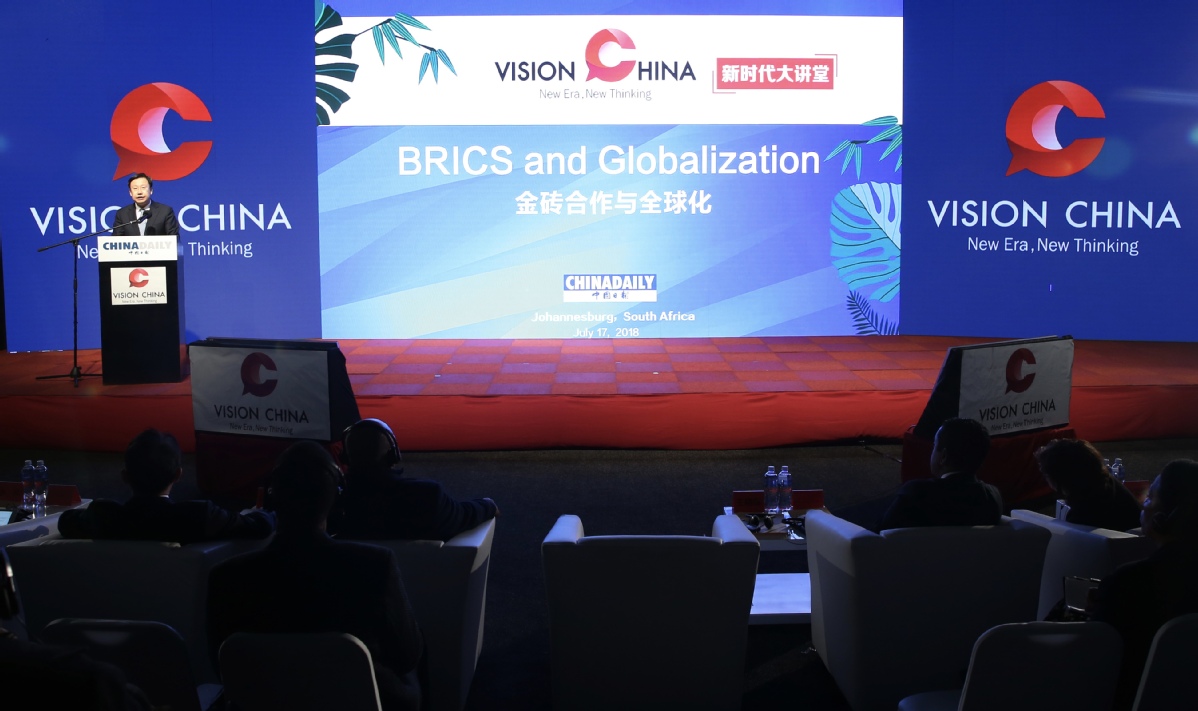 Wang recalled that at the Xiamen BRICS Summit held last year in China's Fujian province, Xi summed up three important practices that should be carried forward by the BRICS countries: first, treating each other as equals and seeking common ground while shelving differences; second, taking a results-oriented, innovative approach to make the cooperation benefit all; third, developing to help others, with the well-being of the world in mind.
A four-point proposal to enhance the BRICS partnership — comprising Brazil, Russia, India, China and South Africa — was also proposed by Xi: first, BRICS must seek practical results in economic cooperation; second, it needs to strengthen the complementarity of its members' various development strategies; third, it needs to make the international order more just and equitable; and fourth, it needs to promote people-to-people exchanges.
Wang also recalled President Xi's call at the Xiamen BRICS Summit for joining hands to usher in the second "golden decade" of BRICS cooperation. He said Xi has charted the course for the future.
"In the past year, the BRICS countries have made further efforts to deepen their partnership, enhance pragmatic cooperation and expand the BRICS influence, all of which has made the color of BRICS more brilliant," Wang said.
Now, China has entered a new era. Under the leadership of Xi, China remains committed to people-centered development. It is fully implementing its vision of innovative, coordinated, green, and open development and it is forging ahead toward the Chinese dream of national rejuvenation with firm determination, he said.
Wang stressed that in the new era, China will make comprehensive efforts to deepen reform.
"We will continue to deepen all-around reform to resolve difficulties and problems going forward. We will focus more on solving problems, get rid of all outdated thinking and ideas and all institutional ailments and break through the blockades of vested interests to inspire creativity and vitality throughout society," he said.
"We will continue to advance the modernization of the nation's system and capacity for governance. We will celebrate the 40th anniversary of China's launching of its reform and opening-up policy this year. China's reform will cover more areas, and more and stronger steps will be taken in pursuing this endeavor."
China remains committed to participating in and driving forward economic globalization, developing an open economy with higher standards and expanding pragmatic cooperation with all countries, including other BRICS countries, he said.
"China commits itself to opening up wider and deeper to promote common development across the world," he said.
Wang also mentioned that in the new era, China will make greater contributions to mankind. It will continue to hold high the banner of peace, development, and win-win cooperation, advancing the building of a community of shared future for mankind, actively participating in the reform of the global governance system, and promoting the Belt and Road Initiative.
This is the first time that China Daily, the national English-language newspaper, has held the Vision China event abroad. The event is a new platform for international communication. World-class elites from political, economic and academic fields were invited to speak — telling China's story, discussing global issues and spreading the country's voice.
Speakers are Zhao Zhongxiu, vice-president of the China Council for BRICS Think Tank Cooperation and vice-president of the University of International Business and Economics in Beijing; Martyn Davies, managing director of Emerging Markets and Africa at Deloitte; and Andrew Moody, senior correspondent of China Daily's overseas editions.
Thesele John Maseribane, minister of communications, science and technology of Lesotho; Andriamandavy VII Riana, minister of communications and relations for the institutions of Madagascar; and Zhou Shuchun, publisher and editor-in-chief of China Daily, have also addressed the event.
Vision China is designed to help spread Chinese wisdom and solutions in building a community of shared future for mankind. With comprehensive exchanges of views, the speakers focus the world's attention on hot spot issues in China and revealed the global significance of China's story.