Ancient China comes alive in heart of modern city
Share - WeChat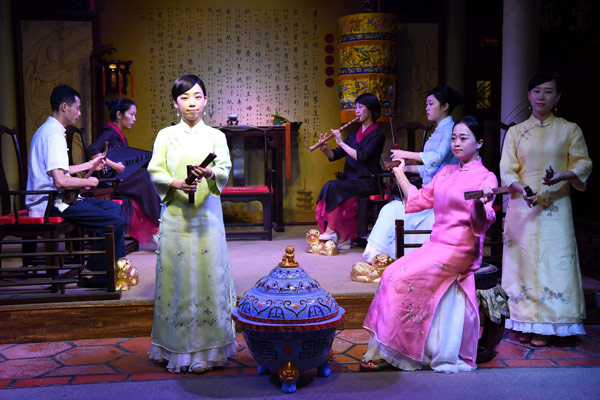 FUZHOU-Every Saturday, Chen Mingwei leads a group of young people to perform an ancient Chinese musical art called Nanyin at a restored traditional district dating back more than 1,000 years.
The district, called Wudianshi, was the historical center of Jinjiang city in East China's Fujian province.
Jinjiang is a cradle of southern Fujian culture, and the county-level city has witnessed booming growth thanks to four decades of reform and opening up.
Known by many for its clothing and shoe brands, Jinjiang is among China's top 10 richest counties, with a gross regional product of 198.15 billion yuan ($29.9 billion) in 2017.
However, locals haven't forgotten its historical heritage during the course of rapid urbanization. Wudianshi, covering an area of 8.4 hectares in a commercial district, has preserved its ancient architectural charm in a cityscape full of modern plazas and tall buildings.
Fan Qingjing, who led conservation work on Wudianshi, can still recall the thrill three years ago when he first saw tourists taking pictures of the newly renovated houses.
"At the beginning, we simply wanted to preserve these houses and make them a place of nostalgia for locals," says Fan. "But now we receive 10,000 visitors on average every day."
Back in 2010, when Jinjiang started to renovate the city's old houses, the local government was determined to keep a historical area that preserved traditional houses.
To keep the original feel of the buildings, only about 10 percent of construction materials and decorations used, such as glass and lamps, were not typical to the old houses.
The more than 140 houses in the area represent traditional southern Fujian culture through their unique design and style. And some are red brick houses with swallow-tail ridges on the rooftops dating back to the Ming (1368-1644) and Qing dynasties (1644-1911).
Commenting on the restoration, 29-year-old resident Wang Jingya, says: "The houses look familiar to me, and remind me of where I lived when I was a child."
There are also houses that blend Chinese and Western styles, built by successful overseas Chinese who returned home from Southeast Asia in the first half of the 20th century.
Fan says the local government has invested more than 380 million yuan in the renovation of the district since 2012.
To better cater to tourists, some houses have been leased and turned into bookstores, bars and restaurants, but their interior decor must follow a set of rules to maintain the original flavor.
"The government has taken on this massive project to restore the houses, without asking for anything in return," Fu says.
"No one wants to see the place over-commercialized."
Nian Liangtu, a scholar of Jinjiang culture, has helped bring regional traditions to Wudianshi.
With his help, the district functions as a place for traditional art performances, such as Nanyin, Gaojia Opera, and puppet plays.
Every day, different Nanyin societies from neighboring communities perform at the Nanyin hall in Wudianshi, with performers ranging from college students to retired people.
Chen, the leader of Jinjiang Nanyin Arts Troupe, has been promoting the old melodies for years.
Nanyin, which originated during the Tang Dynasty (618-907), has been listed by UNESCO as an intangible cultural heritage.
Sung in the southern Fujian dialect, it is traditionally performed with string and wind instruments such as the pipa, a plucked string instrument, and the dongxiao, a bamboo flute.
Nanyin has been passed down over generations. And according to Chen, some 220 societies perform Nanyin in Jinjiang.
Chen's troupe has 25 people with an average age of 27. And they consider Nanyin their calling, and devote great efforts to innovating the art to attract a younger audience.
"Nanyin was court music in ancient times, so we incorporated forms of etiquette, burning incense and tea ceremonies into our performances," he says.
He also adopted elements from stage design such as lighting and costumes to create a visual experience that is lacking in traditional performances.
The troupe has thrilled audiences at home and abroad, but their gathering at Wudianshi every Saturday always reminds them not to lose their original flavor.
"We need to keep cool heads in the face of praise, and not veer off course," he says.
To make full use of Wudianshi, Nian also organizes festivals. And some 100,000 people flocked to the block on the night of the Lantern Festival in January this year as thousands of lanterns were lit up.
Looking to the future, Fan says: "We didn't expect to host such a large crowd when we mapped out the development plan five years ago.
"So our new task is to increase water and electricity capacity, restrooms and other facilities to accommodate more visitors."
"Jinjiang is rich in both business opportunities and traditions, and Wudianshi is a shining example of local people's reverence for traditions and culture," he says.
Most Popular