Second Ancient Civilizations Forum kicks off in Bolivia
Share - WeChat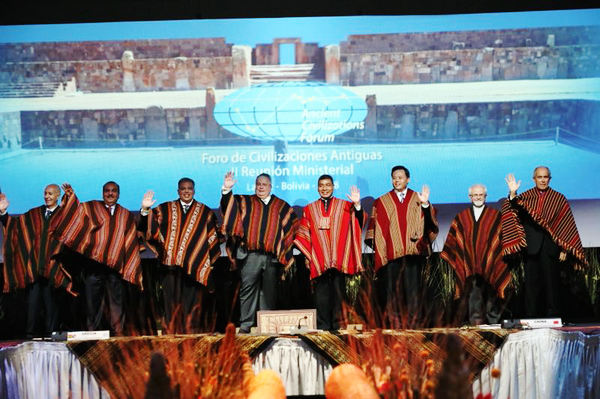 At the invitation of the Ministry of Foreign Affairs of Bolivia, Yu Qun, member of the leadership of China's Ministry of Culture and Tourism, visited Bolivia with the Chinese government cultural delegation and attended the Second Ancient Civilizations Forum held in La Paz on July 13.
Attendees at the forum included the Bolivian foreign minister, Greek foreign minister, deputy foreign minister of Iran, deputy foreign minister of Armenia, and representatives from nine countries including Peru, Egypt, Iraq and Italy.
Yu addressed the forum. He advocated for firm cultural self-confidence, the creative transformation and innovative development of traditional culture, and a harmonious, diverse and eclectic exchange of civilizations. He also suggested contributing Chinese wisdom to the future development of the forum, and proposed pragmatic cooperation to provide vitality for the sustainable development of the forum.
Yu said cross-construction must be practiced and cooperation under the guidance of the Belt and Road Initiative should be sought. All the countries should strengthen dialogue and consultation and coordinate positions on multilateral platforms such as UNESCO. Yu also said that China will actively consider hosting the Third Ancient Civilizations Forum in 2019.
Bolivian Foreign Minister Fernando Huanacuni Mamani said today's world faces many challenges. Through the platform of the Ancient Civilizations Forum, new value could be given to ancient civilizations and a way to solve today's world problems could be found.