UK braced for controversial visit of US president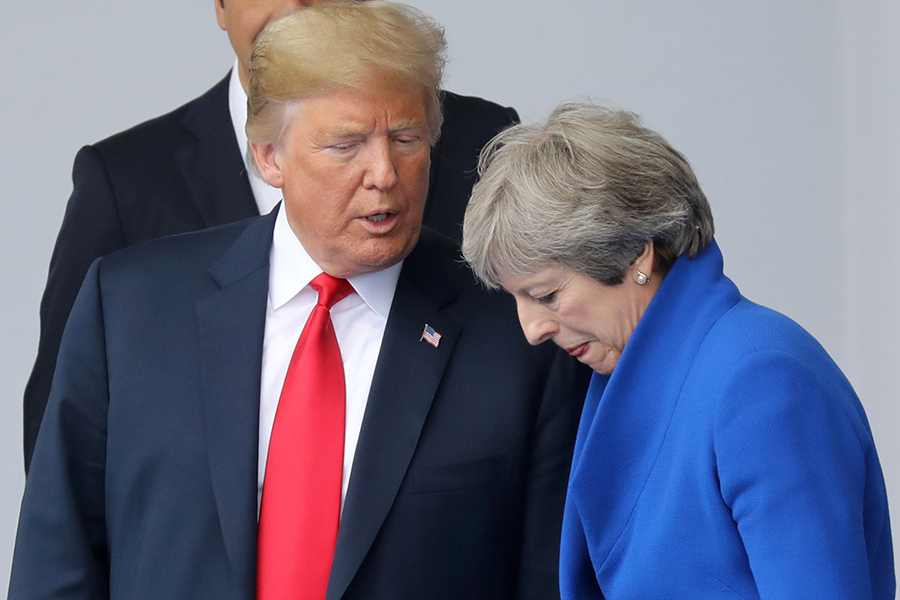 Protests started in the United Kingdom on Thursday, hours before US President Donald Trump was due to fly in for a four-day visit sandwiched between meetings with NATO leaders and talks with Russian President Vladimir Putin.

Police leave was canceled, so officers could deal with mass rallies expected across the nation.

The US leader said ahead of his visit that the UK was in "somewhat turmoil" following recent Brexit-related resignations from Theresa May's cabinet, but police chiefs expect the turmoil in the coming days to be centered on Trafalgar Square, where the largest anti-Trump rally will be held on Friday.

London's Evening Standard newspaper said 70,000 people had said they would take part in demonstrations in London and The Guardian newspaper said police costs would likely hit $16 million, with 4,000 additional officers, many working 12-hour days, drafted into areas Trump will visit.

The National Police Chiefs' Council called on people to avoid putting additional strain on police while Trump is in town.

Because of the protests, Trump is likely to barely set foot in the UK capital.

Most controversial visit

James Robbins, the BBC's diplomatic correspondent, said the trip was likely to be "the most controversial visit ever made by an American president to Britain".

May, meanwhile, put a positive spin on the visit, saying it offers an opportunity to boost trade links and strengthen cooperation on security. The leaders are also likely to talk about Brexit and the Middle East.

"There is no stronger alliance than that of our special relationship with the US and there will be no alliance more important in the years ahead," May said ahead of the visit.

The Guardian said that although she talked about the relationship between the nations, it noted she avoided talking about the US president personally.

Trump and his wife, Melania, were scheduled to arrive in the UK on Thursday afternoon before attending a dinner in the evening hosted by May at Blenheim Palace, where he was set to be greeted by military bands. May and Trump are expected at a joint counterterrorism exercise on Friday, featuring special forces from Britain and the US.

He will then travel to the prime minister's rural retreat, Chequers, for a working lunch. Trump was expected to meet the queen for tea at Windsor Castle on Friday, before flying up to Scotland to visit his Turnberry golf resort. He is scheduled to leave the UK on Sunday.

The Financial Times noted that Scotland's first minister, Nicola Sturgeon, has mocked Trump in the past for his failure to consult locals over his development of golf courses and for his travel ban on people from mainly-Muslim countries. She is not expected to meet him.

CNN, meanwhile, said the US embassy is warning US citizens in the UK to "keep a low profile" during Trump's visit.