Tariffs could hit gear suppliers for the American pastime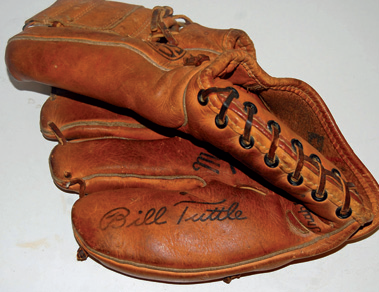 To play baseball, the American pastime, it takes bats and balls and gloves.
And some of the tools of the game that have been imported from China popped up Tuesday on the Office of the US Trade Representative's 195 pages of 6,031 Chinese products that soon could be subject to 10 percent tariffs:
"Baseball and softball gloves and mitts, excluding batting gloves, of leather or of composition leather," the list reads. "Batting gloves, of leather or of composition leather."
The USTR even has the cheaper gloves covered: "Baseball and softball gloves and mitts, of plastics."
Who makes the gloves in China? It appears two companies are the major players.
The Xiamen Sunrise Sports Co Ltd in Fujian province, in business since 2001, makes baseball gloves, while the Guangzhou Burtono Sports Glove Co Ltd in Guangdong province, founded in 2009, makes batting gloves.
The famous American maker of baseball gloves, Rawlings, founded in 1887 in St. Louis, Missouri, still manufactures some gloves in the US but also outsources them to China.
Rawlings gloves, incidentally, can be found on Alibaba.com ranging from $2 to $200.
As intriguing as to what is on the USTR list, is what is not.
"This latest list includes consumer products, but it shies away from 'sacred cow' items like cell phones and pharmaceuticals," Height Capital analyst Clayton Allen wrote in a note Wednesday.
The US probably realizes that adding smartphones to a list of items in an always connected, social media-obsessed society could be problematic.
Goldman Sachs chief economist Jan Hatzius wrote that the list "avoids consumer goods even more than we expected".
Hatzius noted that many toys, some supplied "almost entirely by Chinese manufacturers", were also left out.
That could make sense politically, because a bunch of American kids crying if they couldn't get their favorite toys for Christmas might not be a good look.
A slew of consumer items, such as an assortment of fish, and appliances such as refrigerators, vacuum cleaners and air conditioners also are on there.
Perhaps even more impactful are the cathode ray tubes used in all the flat-screen TVs imported from China.
The added tariffs will drive up the cost of Chinese brands including TCL Electronics Holdings Ltd and Hisense Electric Co, and suppliers such as BOE Technology Group Co and Tianma Microelectronics Co, Bloomberg.com reported. All those companies' shares took a 3 percent hit on the news.
The giant Samsung Electronics Co, in the Republic of Korea, which has a large production base in China, also could be affected, the website reported.
"It gets harder for them (the administration) to keep it from the shelves of Walmart and Target and Best Buy," Mary E. Lovely, a senior fellow at the Peterson Institute for International Economics, told The New York Times.
China is known for its love of seafood, and particularly fancies Maine lobsters.
But China also exports plenty of fish, a wide variety of which now could face the tariff. Live lobsters, crabmeat, shrimp, prawns, oysters, scallops, tilapia, mussels and clams — a lot of the good stuff prominent on Chinese restaurant menus — could become more costly.
There's also a potpourri of fruit and vegetables, including bananas, beets, cabbage, cauliflower, celery, cherries, cucumbers, garlic, grapes, onions, oranges, peas, pineapples, peaches, potatotes, radishes, raspberries, squash, strawberries, sweet corn, and turnips.
If there's a bright spot for consumers, the tariffs are 10 percent, whereas the ones imposed on July 6 on $34 billion worth of Chinese exports (to which China responded in kind) are 25 percent.
On Wednesday, China's Foreign Ministry called the trade dispute a "fight between unilateralism and multilateralism".
The USTR office will accept public comments and hold hearings on the tariff plan from Aug 20-23 and is expected to reach a decision after Aug. 31.
Contact the writer at williamhennelly@chinadailyusa.com