Abe visits flood zone as death toll rises to 176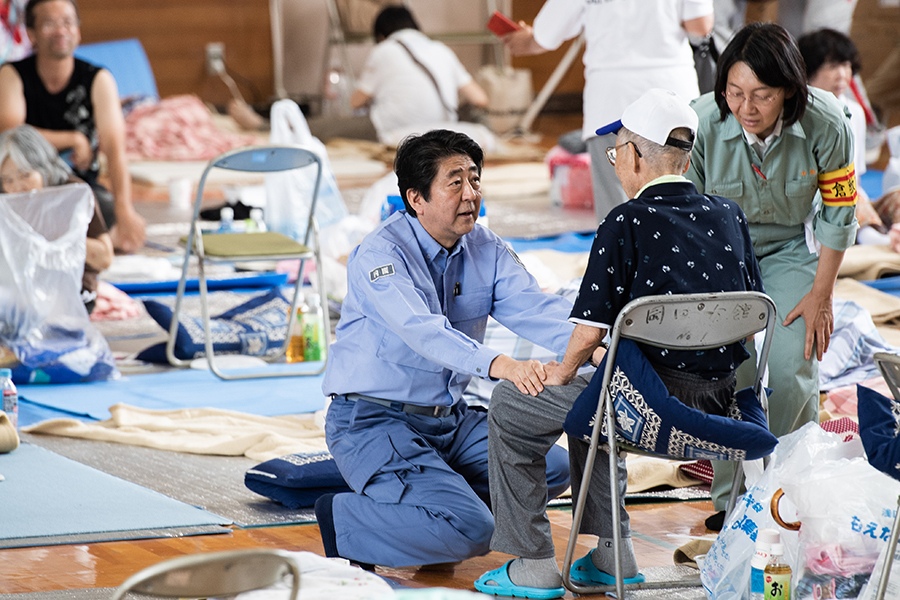 Japanese Prime Minister Shinzo Abe visited on Wednesday Okayama prefecture battered by the country's worst rain-related disaster in decades, with the casualty scores continuing to rise.

At least 176 people were killed, with dozens missing in Japan's worst weather disaster since 1982.

Under a scorching sun, rescuers combed through heaps of wood and thick mud for bodies, with the help of sniffer dogs.

Abe visited an elementary school where more than 200 evacuees are staying, saying the government will do its utmost to help them rebuild their lives.

Japan's Finance Minister Taro Aso said around 420 billion yen ($3.8 billion) will be allocated for disaster relief for the time being. If necessary, the government will consider a supplementary budget, he said.

Economy, Trade and Industry Minister Hiroshige Seko said 13 tanker trucks with gasoline and light oil will be dispatched to Hiroshima prefecture's Kure, where landslides have cut of residents from the outside world.

Local governments in western Japan's 15 prefectures say more than 7,200 people are taking shelter at evacuation centers.

Many parts of western Japan are dealing with secondary disasters. On Wednesday new alerts were issued for more landslides and floods, and an evacuation warning was issued in the city of Fukuyama, Hiroshima prefecture, after cracks were found in a reservoir. Firefighters ran door to door to ask residents to move to high ground.

Japan's Health Ministry has sent disaster health emergency assistance teams to some of the affected prefectures to address the evacuees' health issues.

More than 254,000 homes are still cut off from the water supply in Hiroshima, Ehime and Okayama, the prefectures hit hardest by the devastating torrential rains last week, according to the welfare ministry.

People in western Japan are being urged to take precautions for heatstroke and food poisoning, as Japan's meteorological agency says temperatures are expected to rise above 30 C in western Japan in days to come.

Major roads damaged

Portable air conditioners will be sent to evacuation centers some areas of Hiroshima before large ones are installed, the economy minister said.

At least seven expressway sections including those in Hiroshima and Okayama prefectures remain severely damaged with little chance of repair anytime soon, according to the West Nippon Expressway Company. Local roads damaged by landslides are also closed.

Japan's telecom company NTT West says 15,900 landline and internet connections are still down in the disaster-hit areas.

People across Japan want to help in the flood-devastated areas. The authorities are urging them to wait until they can work out where volunteers can be most effectively used.

In previous cases of natural disasters in Japan, volunteers flocked into the affected areas, resulting in chaos due to traffic congestion, lack of accommodation and toilet facilities for them.

While many people want to lend a helping hand, others took advantage of the disaster for personal gain. Police arrested three men in Takahashi city as they tried to break into an ATM at a convenience store that was closed and unattended after flooding hit.