Belt and Road Initiative culmination of China's reform and opening-up
Share - WeChat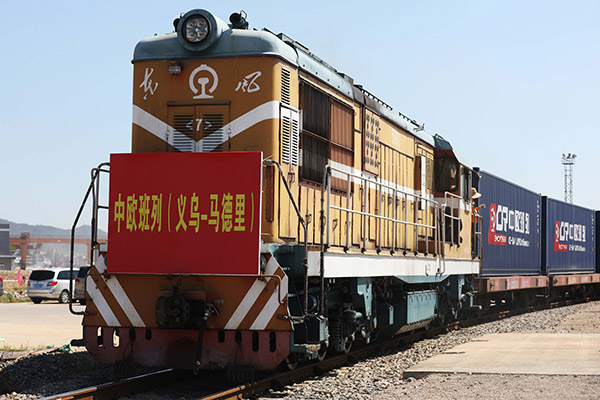 Thanks to the vision and role of Deng Xiaoping, China took the historically bold initiative of economic reform and opening-up in 1978. This year China is celebrating 40th anniversary of the reform and opening-up. Philosopher Confucius, who has been a huge influence on Chinese society, once said, "At 40, I had no doubts". It is said that China experienced a lot more in last 40 years than at any other time. The Belt and Road Initiative, new vision of President Xi Jinping for China and rest of the world, has been recognized as a new historical culmination of reform and opening-up to make China Dream a success and to contribute to success for rest of the world.
Professor Kerry Brown of King's College London said, "Understanding China's past reforms and with it the basis for China's success is also important for China's future reforms - understanding the path traveled, the circumstances under which historical decisions were made and what their effects were on the course of China's economy will inform decision-makers on where to go next."
Actually, this analysis and reflection on last reform and opening-up is not only significant for the China but also for rest of the world. From past four decades to until now, China's economic influence in the international arena has dramatically increased. Many countries want to learn and follow Chinese path of development. For them, Chinese model of development could show the way to modernize nations and resolve structural problems and play a prominent role in the global spheres managing domestic challenges. At the 19th Party congress President Xi said on China's success, "It means that the path, theory, the system, and the culture of socialism with Chinese characteristics have kept developing, blazing a new trail for other developing countries to achieve modernization. It offers a new option for other countries and nations who want to speed up their development while preserving their independence; and it offers Chinese wisdom and a Chinese approach to solving the problems facing mankind."
Some scholars say that China's developmental path is a miracle. But for me, that is not true. Present situation is a result of systematic and farsighted gradual reform process. Chinese leadership from central to local level realizing ground reality of local, central and global spheres, prepared themselves to move forward. This is why they succeed to in taking on challenges and wrote a successful story. "Crossing the river by feeling the stones" was a popular dictum for Chinese leadership at the mid-1980s to learn and act through experiences. "Decisions of CPC Central Committee on Some Issues Concerning the Establishment of a Socialist Market Economic Structure" in 1993 further opened a new chapter to take grand initiative to hype reform process and penned more success stories.
At the Boao Forum for Asia few months ago, President Xi highlighting the importance of reform process said that today, the Chinese people can say with great pride that reform and opening-up, China's "second revolution", has not only profoundly changed the country but also greatly influenced the world. Knowing the Xi Jinping thought, many China watchers now say that BRI is the new climax on the systematic journey of reform and opening-up. By launching BRI in 2013, it aims to contribute for inclusive economic governance, development, peace, harmony and people-to-people contacts in the global arena. Through this spirit, Chinese leaders have been taking important steps with amending constitution this year and President Xi and his team are completely prepared to enhance and implement further spirit of reform and opening-up based on domestic and global circumstances.
Definitely, it is not easy task to continue reform and opening-up. There are multiple challenges in the world and will continue to exist. Particularly, with the ascendancy of Donald Trump in the US leadership, one by one he is taking decision against the spirit of globalization, free trade, global cooperation, climate change and global responsibility. He has taken "protectionism" as a basic principle to make his country "Great Again". This new deviation of American leadership creates historical problem to sustain global peace, development and cooperation on multiple fronts. "A new model of major-power relations" was the term used by Chinese side in 2013 to address the US-China relationship. But US is not still ready to accept this term. American establishment easily does not accept any countries like China to take prominent economic and political role in the global sphere. So they use the term "China Threat" as an important aspect of foreign and security policy. This is why American people elected hardliner conservative candidate Donald Trump.
Since the launch of BRI, it has attracted worldwide attention and sent positive message of cooperation to build the harmonious world based on mutual trust and win-win cooperation. President Xi described it as the "project of the century". It is estimated that it could affect over 4.4 billion people in more than 70 countries and cover a GDP of over $23 trillion once it is completed. China has already given signal to invest more than $1.25 trillion in multiple projects. Within a short span of time, BRI has succeeded to impress various governments, enterprises, business communities and common people too. BRI is also taken important instrument to achieve the two-century goals of China and to advance hands of cooperation and partnership with the world community.
Last four decades in Chinese history show that only the reform and opening-up was the vital initiative to achieve present prosperity, peace and harmony in the Chinese nation. Due to the strong leadership at the top to implement agendas of reform and opening-up, even with fighting many internal and external challenges, China has pragmatically gained this present status in the global stages. Now new challenges in the global economic, political and security spheres are emerged. There is no easy way ahead to cope alone domestic and global spheres for all states of global community. So China has proposed BRI and concept of the "community of common destiny for mankind" to take massive international responsibility based on mutual trust and win-win cooperation to resolve the common challenges and create the better harmonious world. The year 2018 will be the great historical time for Chinese leadership to take bold commitment on further enhancement of spirit of reform and open up based on the requirement of domestic and global circumstance.
Buddhi Prasad Sharma is a PhD candidate at Communication University of China. He is also President of Himalaya Dialogue and Leadership Foundation, HDLF.
The opinions expressed here are those of the writer and do not represent the views of China Daily and China Daily website.
Most Viewed in 24 Hours
China Views