China to boost economic links with CEE nations
Share - WeChat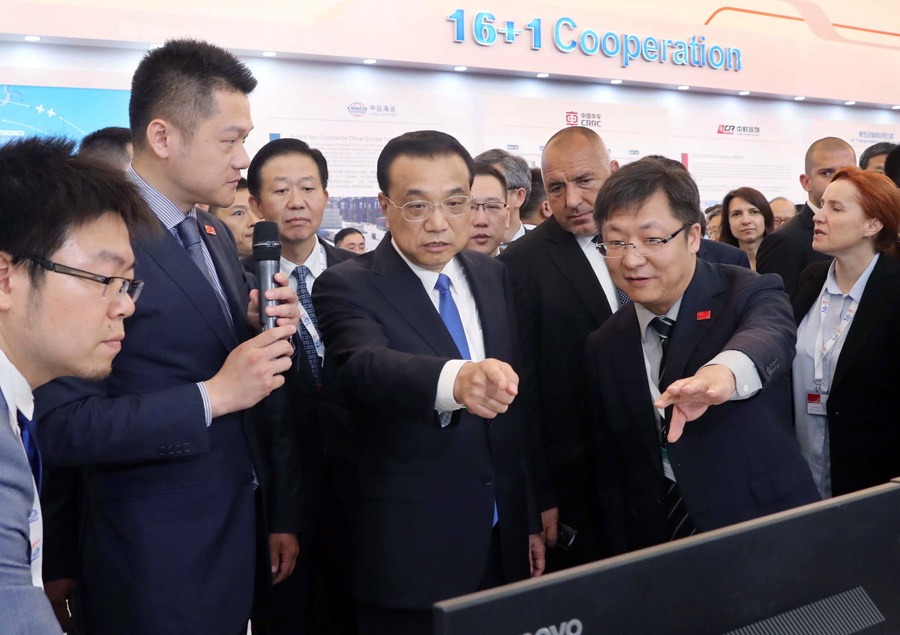 More than 20 deals signed in areas including transport, infrastructure
China signed more than 20 agreements with Central and Eastern European countries on Saturday to boost cooperation under the Belt and Road Initiative and in fields such as transport, infrastructure, industrial parks, finance, healthcare, education and agriculture.
At similar stages of development, China and CEE nations can complement each other, and there is a great potential for their trade and cooperation, Premier Li Keqiang said before the signing ceremony in the Bulgarian capital of Sofia.
On Saturday, Li attended the seventh Leaders' Meeting of China and Central and Eastern European Countries and delivered a keynote speech at the opening ceremony of the eighth China-CEEC Economic and Trade Forum.
China has unveiled a series of opening-up measures to increase imports from CEE countries and promote more balanced trade, Li said at the meeting. These measures included strengthened customs inspection and quarantine, China-Europe express trains, demonstration zones for China-CEEC economic and trade cooperation and an e-commerce logistics hub, he said.
China-CEEC cooperation, also known as the "16+1" mechanism, is beneficial to promoting development of China and the 16 CEE nations, shrinking disparity inside members of the European Union for more balanced development and will push forward European integration, Li said.
Li called to safeguard economic globalization, free trade and the rule-based multilateral trading system, when fighting unilateralism and protectionism. Both sides can work closer in building industrial parks, based on the advantages of the 16 CEE nations, and financial institutions from CEE countries are welcome to establish branches in China to expand financing channels, he said.
The premier said local governments from China and CEE nations should strengthen cooperation in market exploration, industrial alignment and investments. Cooperation in education and sports should be boosted as next year will be "the year for 16+1 educational and youth exchanges", he said.
Li also promised that China will import more high-quality agricultural goods that are suited to Chinese consumers from CEE nations.
Trade between the two sides went up by 6.5 percent per year on average since 2011, accounting for 11 percent of China-Europe trade in 2017 from previous 9.3 percent. The trade volume increased to about $68 billion last year from $40 billion in 2011 and rose by 24.2 percent in the first five months this year.
China has invested $10 billion in CEE nations, which have invested $1.4 billion in the world's second-largest economy.
CEE nations have a strong desire to boost cooperation with China, which is also aiming for a more balanced trade with those countries, said Wang Li, a researcher of European studies at the China Institutes of Contemporary International Relations. They can further cooperate in fields where both sides have their own strengths, such as agriculture and infrastructure, she said.
The Sofia trip was the premier's fifth journey to a CEE country for the annual leaders' meeting and will strengthen cooperation between China and Central and Eastern Europe, said Ruan Zongze, vice-president of the China Institute of International Studies.
CEE nations are enthusiastic about cooperation with China as they want to benefit from opportunities brought by China's reform and opening-up, therefore there is still great potential to be tapped for cooperation between China and the 16 CEE countries, in particular infrastructure and transport, said Ruan.
Croatia will host the eighth China-CEEC leaders' meeting next year.