Xi Ban releases new album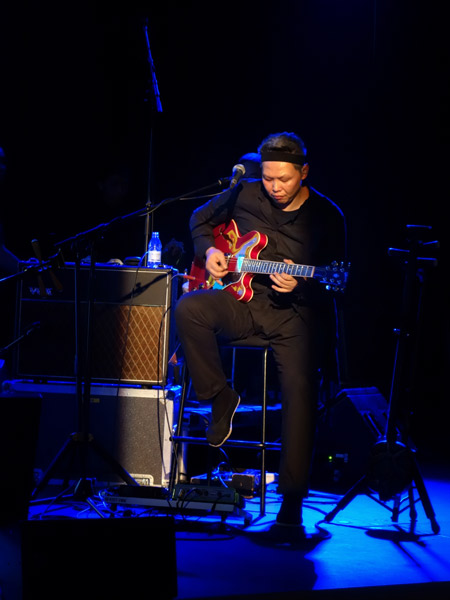 The album features renditions of eight classic Peking Opera songs that pay tribute to the 200-year-old ancient art form, Chen Nan reports
Surrounded by large construction sites in the Sheshan suburb in Shanghai is a bookstore, and this was the unlikely location where Chinese band Xi Ban recorded their latest album Wan Pi.
Besides recording their new songs there at night, the band members also lived in the bookstore.
"It's a new and exciting experience for the band," says Zhu Ma, the leader of the band. "In the day, we did rehearsals at the bookstore. I liked watching the scene of the construction sites outside the windows because I can imagine what the place would look like in the future."
Zhu Ma, whose real name is Zhang Du, founded the band in 2009 with the aim of mixing contemporary music elements, like jazz and electronic music, with those from Peking Opera and Qinqiang, a traditional opera form that originated in Shaanxi province. The band's name in Chinese refers to ensembles of traditional Chinese operas.
In their new album, Zhu Ma selected eight classic Peking Opera songs and turned them into renditions that pay tribute to the 200-year-old ancient art form. The classic songs include The Drunken Concubine by Peking Opera master Mei Lanfang (1894-1961) and Kongchengji, or Ruse of The Empty City by Peking Opera master Ma Lianliang (1901-1966).
On July 18, the band will give a live performance at Blue Note Beijing before they head to Guangzhou and Hangzhou later in the month.
"When Xi Ban started, we had about 10 members playing various musical instruments, including wind instruments and percussion. But now, we only have three musical instruments - guitar, bass and drum," says Zhu Ma.
"When I first mixed Western music with traditional Chinese opera, I tried to display the versatility of traditional Chinese operas so I used many musical instruments. But with this new album, I wanted to return to the simplest and most basic music forms."