Official: China's vehicle pollution picture grim
Share - WeChat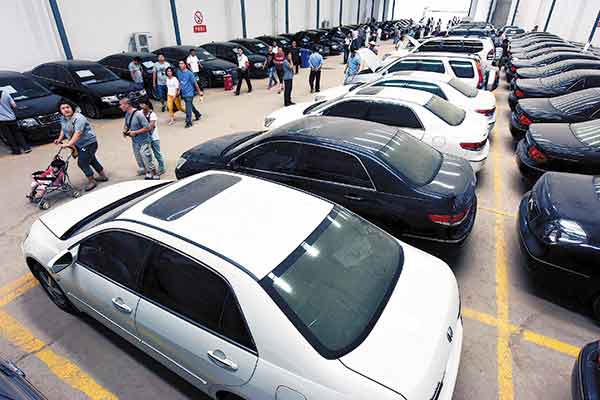 China is facing a grim situation when it comes to controlling pollution from motor vehicles, said Ding Yan, deputy director of the Ministry of Ecology and Environment's vehicle emission control center, citing problems from manufacturing to fraudulent testing.
He called for improvements in environmental enforcement in a written statement on Thursday in response to questions from China Daily.
Motor vehicles are a major air polluter whose numbers are increasing sharply. Consequently, better enforcement is needed to help achieve goals set in a three-year air pollution action plan, Ding said.
The sale and manufacture of vehicles with excessive emissions has not been completely curbed and many emissions testers falsify results, he said.
Inspections by authorities have found that half the fuel stations in the Beijing-Tianjin-Hebei province region sell substandard diesel, and only 10 percent of the trucks in the region use the standard formula.
Road transportation, where diesel vehicles are common, is used for nearly 79 percent of the country's passengers and 77 percent of its freight.
And the limited number of environmental law enforcement officers with automotive vehicles has only made the problem worse, Ding added, noting that there are only about 3,000 such officers from 186 cities across the country.
"On average, one officer needs to be responsible for 140,000 vehicles and pieces of mobile machinery. That's far from enough officers," he said.
The State Council, China's Cabinet, released a three-year action plan for air pollution control on Tuesday. The plan provides a timetable and road map for improving air quality and also vows to "significantly" reduce discharges of polluting gases.
By 2020, discharges of sulfur dioxide and nitric oxide, for example, should drop by at least 15 percent from 2015 levels, under the plan.
While freight transported by rail should increase by 30 percent by 2020 from its level in 2017, plans are also in the works to launch a special campaign to reduce pollution from diesel trucks and establish a comprehensive supervision system for vehicle management.
There are 310 million motor vehicles in China. The number of cars has reached 217 million and is expected to top the world by 2020, with an annual increase of more than 20 million.
Vehicle exhaust has been a major air polluter in China with emissions of 40 million metric tons of major pollutants annually, Ding said.
Automobiles have been a top contributor of fine particulate matter in metropolises such as Beijing, Shanghai, Guangzhou and Shenzhen.
In Beijing, motor vehicles contribute 45 percent of the pollutants. In Shenzhen, the contribution is even higher, at about 52 percent, Ding said.
China has taken a series of steps to combat pollution from motor vehicles.
In 2017, for example, more than 20 million old motor vehicles with high emissions were weeded out.