Volunteers help to foster a new generation of guide dogs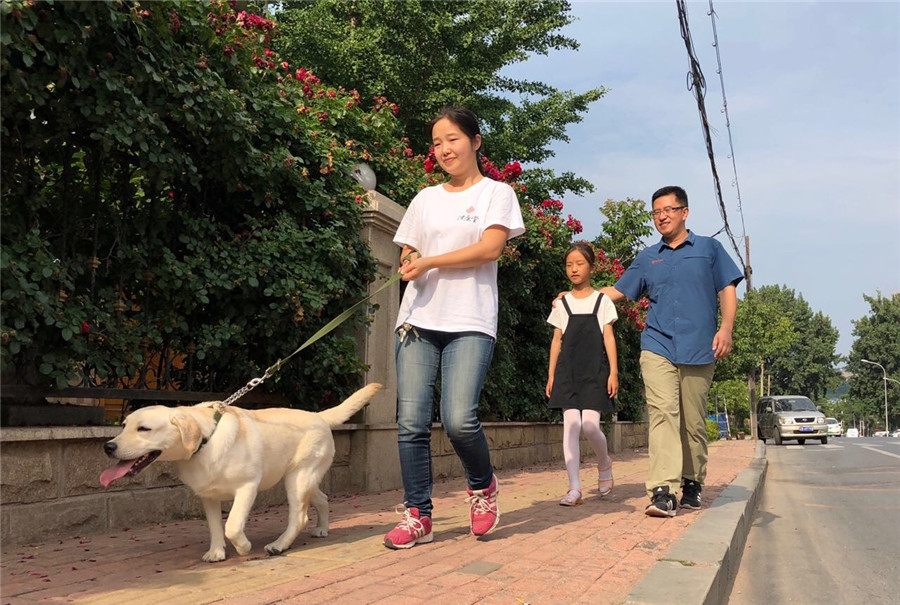 Selection bonus
Raising prospective guide dogs in foster families is vital to the selection process because being exposed to strict, but affectionate, discipline helps the puppies grow into well-behaved, socialized animals, according to Wang Jingyu, director of the Laboratory Animal Center at Dalian Medical University and founder of the China Guide Dog Training Center.
The center, the nation's first nonprofit guide dog training institute to be licensed by the China Disabled Persons' Federation, has used the services of puppy raisers since it was founded in 2006.
The puppies return to the training center after their first birthday, but during the time they are with the families they are exposed to many different environments, such as stores, supermarkets, parks and public transport, so they become accustomed to general life.
"The puppies learn how to love and how to get on well with humans in a closely connected environment. It's necessary for them to understand companionship because their purpose is to be a friend and guide to a blind person," Wang said.
Those sentiments were echoed by Wang Lin, a handler at the center, who said the training program's success rate has risen to about 70 percent from about 40 percent a few years ago as a result of the care and regular instruction the puppies receive from their foster families.
"We assess the puppies soon after they return from their raisers. Those who are aggressive when they want to be fed are quickly eliminated from the training program. Those who display caution around traffic and are sensitive to people's needs stay on the course, but can be phased out at any time if they fail certain tests," she said.
"Puppies who spend their first year with foster families usually display a high degree of self-discipline in areas such as toilet training. They understand the family relationship and know the places they are allowed to enter and those forbidden to them."
Selection standards for volunteer families are high to ensure that the puppies will be cared for in a safe, happy environment.
"Families with children younger than 5 and those with members who are allergic to fur are not allowed to become involved," said Han Fang, a coordinator of the center's puppy-raising program.
"The coordinators visit the volunteer families every month to offer help communicating with the dogs, preparing their food and modifying their behavior."
The foster families bear the lion's share of the cost of raising the puppy, including food and dietary supplements, which usually comes to 500 to 600 yuan ($75 to $90) a month, but the training center covers medical checkups, treatment and immunization, Han said.