High-speed rail puts Zhanjiang on fast-track for economic growth
A new era is welcomed with much faster route to Guangdong-Hong Kong-Macao Greater Bay Area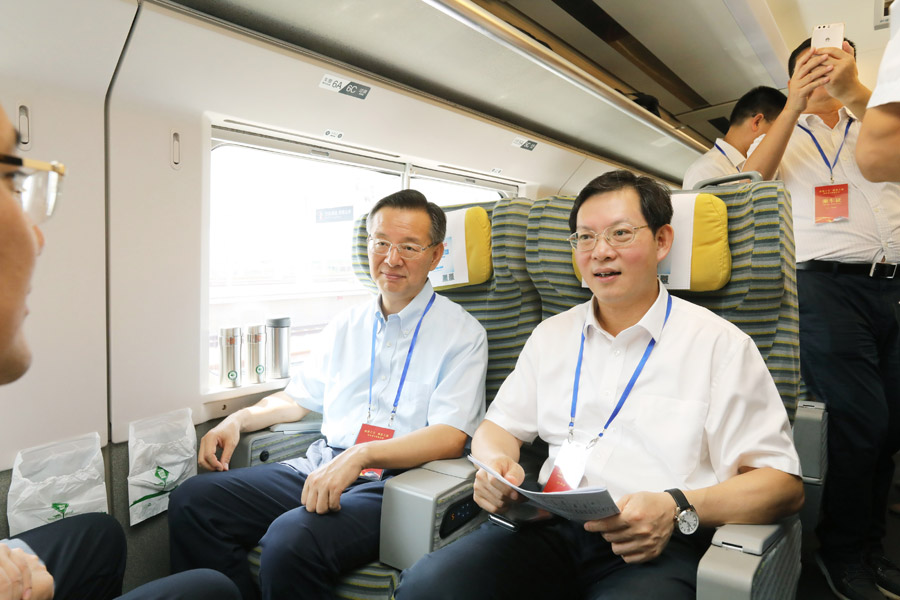 The long-awaited high-speed rail link to Zhanjiang - the Jiangmen-Zhanjiang Railway - was met with universal acclaim during a trial run for the public last Saturday. Officials said it looks set to provide the coastal city in Southern China's Guangdong province with a hefty economic boost.
The addition of the high-speed rail line is expected to narrow the economic gap between Zhanjiang and heavyweight cities in Guangdong province such as Guangzhou and Shenzhen, in providing an attractive, well-connected location for companies to settle and run their businesses.
"It's definitely a milestone in the history of the city," said Zheng Renhao, Party secretary of Zhanjiang, at the trial run on Saturday. "The high-speed rail will serve as a golden passage for the city's economy and a happy passage improving the livelihood of residents."
It used to take almost 11 hours from Shenzhen to Zhanjiang by normal-speed train and eight and half hours from Guangzhou to Zhanjiang. The railway line connects Zhanjiang with Guangzhou and Shenzhen, the two most developed cities in Guangdong, and cuts travel time between them by more than half.
Previously, bus routes were used as the main arteries between Zhanjiang and other cities in Guangdong province, but were often hampered by traffic jams causing the routes to be unreliable. The distance between Zhanjiang and Guangzhou, the capital city of Guangdong, is some 420 kilometers. It took six hours or even longer during the national holidays.
"The transportation problem has been a bottleneck that has depressed the development of Zhanjiang, which meant it could hardly benefit from the strong economic growth of the cities in the Pearl River Delta area, including Guangzhou and Shenzhen," said Jiang Jianjun, mayor of Zhanjiang.
"A city without high-speed rail is like a person without access to the internet," Jiang said. "It means he is marginalized and not able to keep pace with the world."
Zhanjiang, which is conveniently located on the edge of Guangdong, bordering Hainan province and the Guangxi Zhuang autonomous region, has been given a more important role in the region's strategic development, according to Zheng.
"Zhanjiang has welcomed a new era which includes a closer approach to the Pearl River Delta area and will play a more critical role in the Guangdong-Hong Kong-Macao Greater Bay Area and Hainan free trade zone," Zheng said.
He noted that the opening of the high-speed rail network has been unanimously welcomed by government officials, business leaders and citizens of Zhanjiang, with all eager for the expected new opportunities that it will bring.