China's TV journey to the west
Television company collaborates with overseas partners in major global effort to create tales from Asian giant using the latest techniques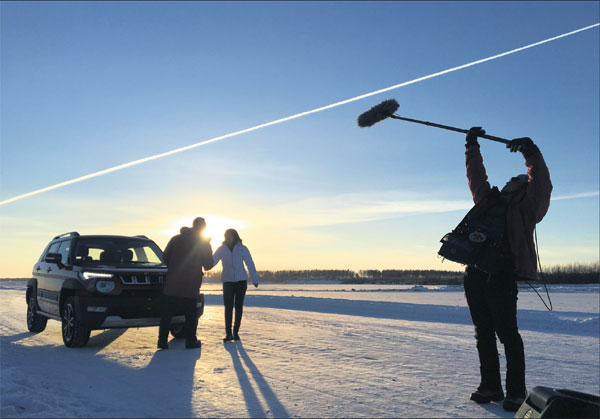 In the remote dunes of the Tengger Desert, in northern China's Inner Mongolia autonomous region, local man Xu Jianli and British television presenter Finn Aberdein lean on shovels as they examine a stack of wheat-straw.
Xu explains to his British friend how Chinese straw planting methods stopped the desert's drifting sands from interfering with China's first railway line.
Aberdein is fascinated to learn about the adaptability and creativity of Chinese farmers in using nature to solve such technical challenges, at a time when China was still poor.
The men are talking in a scene from the six-part television documentary Tales From Modern China, jointly produced by China's Jiangsu Broadcasting Corp and the British production company Lion TV.
The documentary was aired in weekly episodes last year, on both the BBC World News Channel and Jiangsu Television, a flagship channel for the Chinese business.

It digs deep into the rich history and culture of China, but tells its stories through pioneering techniques and methods used globally. Its production reflects the steady internationalization of Chinese television companies.
"It allows audiences a glimpse into the daily lives of Chinese people," says Qiu Yuanyuan, president of JSBC International, the international commercial arm of Jiangsu Broadcasting Corp.
As a collaboration with Lion TV and the BBC World News Channel, Tales From Modern China is one example of the organization's effort to internationalize in recent years.
In 2013, it established a London subsidiary, Golden Dreams Media and Communications (UK), and uses it as a base for commercial collaboration with British and European partners.
JSBC, established in 2001 in Nanjing, is owned by the Jiangsu provincial government. It is China's third-biggest television network after China Central Television and the Hunan Broadcasting System.
The company has 14 television channels. The flagship channel, Jiangsu Television, is well known in China for its dating program Perfect Match, often referred to as the Chinese version of the Australian dating game show Take Me Out.
Other Chinese cultural documentaries the company has collaborated on with Lion TV include China: Treasures of Jade Empire, and Chinese Chariot Revealed, both part of the corporation's Glorious China documentary series.
The process of coproduction has been a journey, allowing the company to learn how to create content that best suits the tastes of a Western audience.
Qiu says one example of lessons learned has been in the use of presenters, and how they guide the audience into the plot of the story, explain the background details and context of a scene, as Aberdein did for viewers with the straw planting story from Inner Mongolia.
The technique of using voice-over to explain context is more commonly used in Chinese documentaries.
"Learning from this method, we selected four bilingual presenters to host the documentary series. Their ability to share with viewers their feelings and experience at the scene greatly helped in making the stories more lively, varied and engaging," says Qiu.
"Introducing presenters into the scenes has proved to be technically challenging, but we felt it was worth it because of the benefits it brings to the viewers are obvious," Qiu says.
The four presenters take the viewers on a journey exploring China, its natural landscape and its unique cultural customs, along with the latest technological advancements.
Aberdein went behind the scenes to learn more about the major shopping event known as Singles Day. Held on November 11, the event - organized by e-commerce giant Alibaba - gives often-huge discounts for 24 hours, driving up sales volumes. Aberdein spoke to the team at Alibaba and followed the fortunes of a fashion brand that hoped to make big profits through the festival.
In another episode, presenter Cameron Andersen explores the world's fastest supercomputer, and how it is being used to create the wind farms of the future.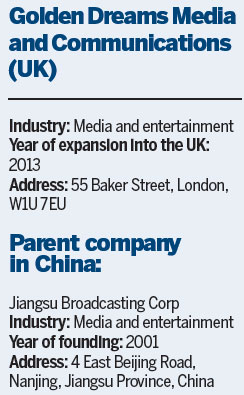 Elsewhere, presenter Jing Lusi explores the traditional culinary techniques behind China's fresh food movement and discovers how small-scale production and organic farming are now at the forefront of modern Chinese dining.
These stories paint a moving scene of China, showcasing cultural diversity in a fun and engaging way. The stories prove not just fascinating for viewers, but also for the presenters.
Aberdein, who specializes in presenting films about China, says: "For me, as someone who's studied and worked in and around the country for 20 years, shooting this story in the remote northwest is a reminder of how little of this vast civilization I really know."
Parallel to the UK operation, JSBC also established a subsidiary in Los Angeles to coproduce with US partners. One example is the docudrama Scars of Nanjing, which it coproduced with A+E Networks in the United States.
It tells the story of the Nanjing Massacre, in which more than 300,000 innocent Chinese were slaughtered and many women raped. To make this Chinese story appealing to an international audience, it places a special emphasis on Westerners who were witnesses to this tragedy in China.
In addition to coproductions, another key strategy on JSBC's journey of internationalization has been to sell existing television content to overseas channels to generate revenue, or to sell television show formats to overseas partners, who then follow the format to create their own shows.
For example, Jiangsu Television's popular dating show Perfect Match has been broadcast through Sydney-based SBS Australia over the last three years. It became the first Chinese television program to be broadcast on an Australian mainstream channel.
So popular was Perfect Match that it became the best-rated program on the SBS2 channel. It is also currently rated as the most popular foreign television program among all the SBS channels.
Elsewhere, JSBC is licensing television program formats to overseas partners to allow production of local versions. It recently signed a contract with the Scandinavian production company NICE and the German production company Tresos to license the format of its entertainment show Super Combat Teams.
Qiu admits the rapid and ongoing overseas expansion effort presents challenges.
So far, overseas revenue only accounts for 5 percent of the group's overall revenue.
"We encountered many challenges, especially in the early days of international expansion, due to different languages, cultural backgrounds and business practices," Qiu says.
The differences meant that establishing initial trust was difficult.
"In addition, it was also a challenge to understand how to tell China stories to a Western audience well. Whenever there are big cultural differences involved, intensive communication is required," says Qiu.
JSBC and Lion TV took three years to establish collaboration for the Glorious China documentary series. Successful collaboration on this series soon led to smooth collaboration on Tales From Modern China.
Looking to the future, Qiu says her team places a strong emphasis on internationalization, and in reaching this goal her team has focused on recruiting new employees with overseas study and work experience.
"In particular, a growing number of our employees have overseas business and legal experience, and these talents are great assets to help ensure our practices are in line with international business and legal practice," she says.
"We will continue to tell the China story well and bring the voice of China to the world."
cecily.liu@mail.chinadailyuk.com