Professors' network to enrich Sino-UK collaborations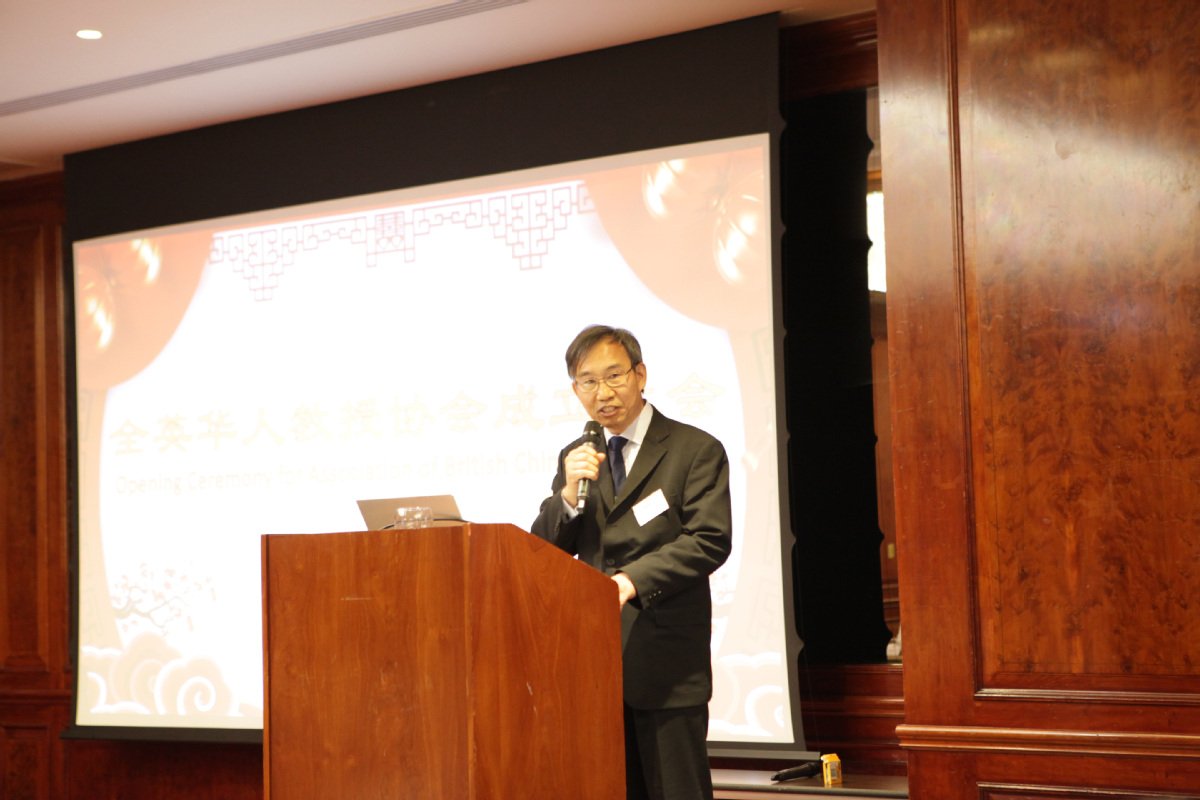 The Association of British Chinese Professors has been inaugurated, aiming to bring together Chinese professors in the UK to promote excellence, share ideas and facilitate collaboration between China and the UK.
More than 300 people attended the event which marked the birth of the association. Among the attendees were officials from the Chinese embassy in the UK, hundreds of Chinese professors from UK universities, and representatives from Chinese and British enterprises.
Speaking at the launch event in west London, Charge d'Affaires Zhu Qin of the Chinese embassy in the UK said: "The inauguration of the ABCP in the new era is both timely and significant."
More than 6,200 Chinese scholars are teaching or working in British universities, including nearly 600 professors, many of whom are fellows of the Royal Academy of Engineering or the Royal Society.
Zhu hopes the ABCP will strive to be a bond between past and present by carrying on the patriotic tradition, be a bond between China and the UK by facilitating bilateral cooperation, and between the present and the future by fostering a generation of young leaders for the future of mankind.
It's intended that the newly established association will leverage expertise and pool resources to further strengthen China-UK cooperation on infrastructure development, artificial intelligence, green energy and digital economy.
"By facilitating mutual understanding and friendship between the people of our two countries, I am sure you will make a greater contribution to the China-UK 'golden era'," Zhu said.
Lin Jianguo, president of the association, said: "This is an excellent platform for all Chinese professors in the UK to make a solid contribution worldwide and impact future generations."
"Our belief is to build a long and solid bridge between the UK and China, and to promote Sino-UK collaborations and communications in many fields," Lin added,"This would fully explore our experience, wisdom, knowledge and expertise to achieve a win-win situation for both countries."
China-UK exchanges and cooperation have been flourishing in areas such as education, culture, science and technology.
In December 2017, the governments of the two countries issued the Joint Strategy for Science, Technology and Innovation Cooperation, offering a new platform for China-UK cooperation. From 2011 to 2016, Chinese and British scientific researchers jointly published nearly 46,000 research papers.
China has become one of the most important international cooperation partners for British universities. More than 300 Chinese universities have partnered with over 120 of their British counterparts.
Richard Williams, member of the International Advisory Board to the association, said the new organization will support rising academic talent in the UK, the issue of leadership development, and be a further recognition of the network of Chinese professors.
Williams said: "It's time for us to explore some different pathways, and different types of activities and initiatives, but also to explore how we might utilize friends in this group to foster further relationships, both within and outside this association."