Abe has limited options to break the deadlock with DPRK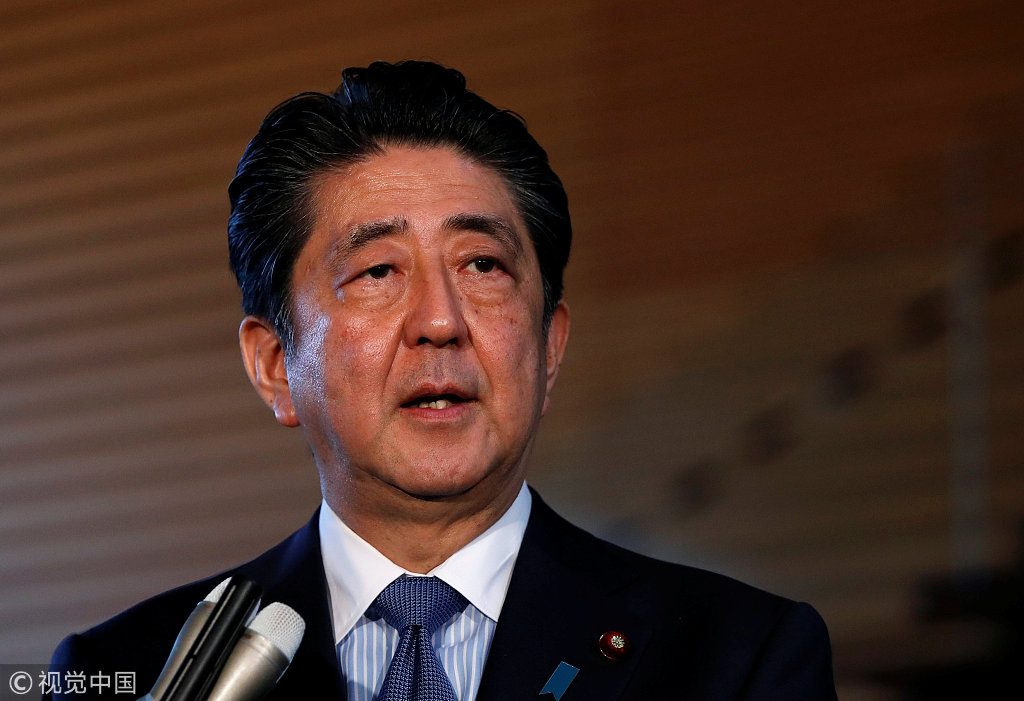 Forgetting about putting "maximum pressure" on the Democratic People's Republic of Korea, Japan is mulling several proposals to organize a meeting between Prime Minister Shinzo Abe and DPRK top leader Kim Jong-un.
Plan A: a possible Abe-Kim summit in September when the two leaders are expected to attend an economic forum in Vladivostok in Russia's Far East. Russian President Vladimir Putin has invited Kim to pay a state visit to Russia in conjunction with the Vladivostok forum. Abe has said he, too, will attend the annual event.
Plan B: the United Nations General Assembly gathering in late September could be another option. Japan believes there is a possibility that UN Secretary-General Antonio Guterres will invite Kim to the UN General Assembly meeting.
In fact, contact between the two countries has already begun. Fumio Shimizu, deputy director general at Japanese Foreign Ministry's Asian and Oceanian Affairs Bureau, held talks with DPRK officials at a security forum in Ulan Bator on June 14.
The issue of Japanese nationals abducted by the DPRK in the 1970s and 1980s would top the agenda if Abe and Kim were to hold oneon-one talks. Nuclear program and intercontinental ballistic missiles aside, Tokyo is wary of Pyongyang's shorter-range missiles that can hit Japan and are not mentioned in the joint statement inked by US President Donald Trump and Kim in Singapore on June 12.
Japan, it seems, is nervous about the new developments after the Trump-Kim summit-for instance, the United States and the Republic of Korea agreeing to suspend their joint military exercises slated for August.
Although Japanese Defense Minister Itsunori Onodera said he understood the US-ROK decision to suspend their August drills, he stressed the need for Washington and Seoul to continue their other joint drills, because they are "important pillars" for maintaining regional peace and stability. He also emphasized that plans for Japan-US joint exercises remain unchanged.
The detente on the Korean Peninsula has not prompted Japan to lower its guard against the DPRK, as Onodera said Tokyo's plan to introduce the land-based Aegis Ashore missile defense system in fiscal 2023 remains unaltered. Japan has been using the DPRK as an imminent security threat to justify its constantly rising defense budgets.
In May, Japan's ruling Liberal Democratic Party called for doubling the country's defense spending from its post-World War II cap of 1 percent of GDP. Japan already ranks eighth in global defense spending, with its 2018 budget of 5.2 trillion yen ($45.9 billion) being 0.9 percent of GDP. Doubling this would make Japan the world's third-largest defense spender, behind only the US and China.
Japan has already passed a law to allow its quasi-military Self-Defense Forces to defend its allies in a limited role in conflicts abroad. Previously, the SDF's overseas operations were limited to humanitarian roles.
The Trump administration's cancellation of the joint drills and possible reduction of US troops in the ROK may even prompt Japan to question the US guarantee of security, and give an excuse to the already proactive Japanese nationalists to strengthen the country's quasi-military so that Japan can step out of the US security umbrella.
Abe is poised to bid for a third term as LDP leader. If he wins the election in September, he will have more time to implement his policies. And how the Korean Peninsula denuclearization process proceeds will likely substantially affect Japan's defense policy.
Demanding particular attention is the national defense program guidelines Japan is expected to upgrade by the end of the year.
Moreover, as part of his first East Asia trip after the Trump-Kim summit, US Defense Secretary Jim Mattis will visit Japan this week, during which he and Onodera are expected to compare notes about US and Japanese policies.
Tokyo does not want to remain a peripheral player now that Pyongyang is improving relations with the outside world. But given the limited options, Abe may not be able to break the diplomatic deadlock with the DPRK.
The author is China Daily Tokyo bureau chief.
Most Viewed in 24 Hours
China Views