Hotel sector attracts unconventional owners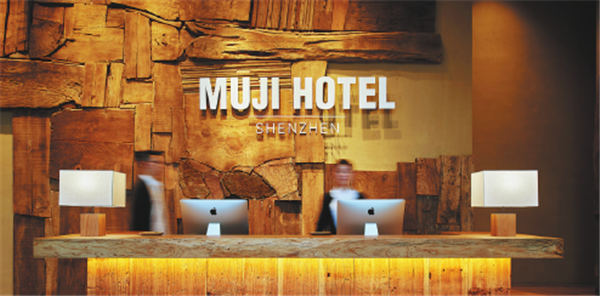 Brands from other industries drawn to Chinese hospitality market, as Cao Yingying reports.
With increased consumer spending on premium goods and services, the so-called consumption upgrade and the trend toward establishing different levels of hotels, targeting different classes guests - the hospitality industry's segmentation - a growing number of brands from other sectors are making forays into the hotel market, bringing it new, diverse features.
Japanese retailer Muji, which offers a wide variety of trendy household and consumer goods, opened its first hotel worldwide in Shenzhen in Guangdong province in January.
The second is scheduled for this summer in Beijing and the third - also its first in Japan - is set to be launched in Tokyo next year.
Guests at the hotels can use more than 700 products sold at a Muji store, including furniture, bedding sets and toiletries.
The brand already enjoys high popularity in China, especially among young people, for the simple lifestyle it and its products champion.
This kind of hotel is expected to become a "must-visit" destination for Muji fans - with a stay at a Muji hotel offering guests the chance to experience Muji products, which may in turn attract more hotel guests to Muji stores.
Atour, a hotel brand targeting the younger generation, features various themes. It has cooperated with different companies to "create access to quality of life for the emerging middle class", the Economic Observer quoted Yelyu Yin, founder of the hotel, as saying.
NetEase's e-commerce brand Yanxuan is one of Atour's partners. Last August, Hangzhou Atour Hotel in Zhejiang province had 14 guest rooms rebuilt as Yanxuan Rooms.
Yanxuan provides most of the articles for daily use in the Yanxuan Rooms, which are sold on its online shop, such as towels, slippers, sofas and tea tables. Guests can purchase the products via the Yanxuan app.
The hotel's guests have opportunities to try out Yanxuan products before they decide on purchase.
Liu Xiaogang, vice-president of NetEase, told 21st Century Business Review that the cooperation enables Yanxuan to present its everyday aesthetics and be top-of-mind with Yanxuan app users.
In March, Atour partnered with Zhihu, a popular Quora-like question-and-answer website in China, to open the Atour Hotel Zhihu Shanghai Xujiahui. The hotel has posted 314 "life issues" - philosophical and daily questions about life - around the hotel and encourages its guests to find and think about these issues that they may personally encounter in the future.
Zheng Xiaobo, vice-president of Atour Marketing, said the question-themed hotel was an "innovation" created by Atour and Zhihu, 21st Century Business Review reported.
"We hope to provide guests with diverse and interesting experiences in the hotel," Zheng said.
According to the latest report on the investment in and development of hotel chains in China, released by the China Hospitality Association in April, mid-end hotels have become the new popular destination for investment funds, because of the increasing demand for them.
Yeste Hotel Group, founded in Shenzhen in 2011, has more than 7,500 guest rooms in 91 hotels nationwide, ranking it among the top 10 of China's mid-end hotel brands, according to the report.
Hu Jingxuan, founder and CEO of Yeste Hotel, said at a media meeting in Guangzhou in May that business expansion will be the future trend in the mid-end hotel segment.
Previously, budget hotels used to offer limited services, while in the future, mid-end hotels will improve and increase their services to meet the growing demand for them from that segment of the hospitality sector.
"Mid-end hotels can be a venue for entertainment, socializing and shopping," Hu said. "A hotel will provide an entrance into consumption, rather than merely serving as a destination."
Bao Liwei, a commentator on hospitality and tourism, wrote in an online article that the crossover business of hotels should focus on specific consumer groups.
"A successful crossover business will bring added value to customers," he said, adding that the core value of a hotel is to provide a short-term residence and services.
He cited the combination of animation and hospitality as an example, saying that if a hotel improves its services and features Disney cartoons images, it will attract Disney fans and bring them a greater sense of belonging.
`