Chinese companies win with World Cup pitches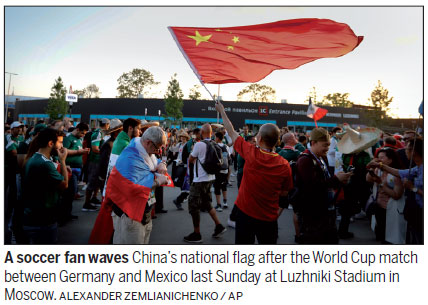 If they awarded a World Cup of Advertising, China would be a top contender.
Although China does not have a team in the FIFA World Cup and has qualified only once before, in 2002, for the planet's most popular sporting event, its companies are pouring hundreds of millions into sponsorship rights and advertising for the monthlong tournament in Russia. Chinese fans also are flocking to Russia for the games.
Hisense, the home appliance and electronics maker, whose brand has been a frequent presence on the LED ad boards that line the pitches at the games in 11 cities, is the official TV of the 2018 FIFA World Cup.
Based in Qingdao, Shandong province, Hisense also is one of the World Cup's five major sponsors and is among seven Chinese sponsors.
"We believe that the (World Cup) will vastly improve global awareness and economic value for Hisense as a truly international brand," Liu Hongxin, Hisense Group president, told the Global Times.
Dalian Wanda Group, Mengniu Dairy, Vivo Communication Technology, Yadea Technology Group, Zhidianyijing Virtual Reality Technology and Diking China also will be doling out big yuan as World Cup sponsors.
Chinese companies will spend $835 million to advertise during soccer's showcase event, more than twice what US companies are spending, according to a report on yicaiglobal.com. That figure does not include what the seven major sponsors are paying.
"They've realized that the world is their oyster," FIFA's chief commercial officer, Philippe Le Floc'h, said of China in an Associated Press interview. "They have some very, very good companies who are eager to have a presence abroad."
Wanda, the first Chinese company to become a FIFA Partner, the top level of sponsorship, is estimated to have paid up to $150 million for the rights, according to an awtmt.com report. The other Chinese companies had to pay at least $68 million each to get second-tier sponsorship rights.
"China plays a very important role in the career of promoting soccer's globalization, and its participation is indispensable," said Fatma Samoura, secretary-general of FIFA.
In 2014, only one Chinese company, solar panel maker Yingli Solar, was a sponsor for the World Cup in Brazil.
"The main reason for domestic companies' unprecedented presence this year is the Chinese government's support of developing sports culture and the sports economy since 2014 - for example, opening the broadcasting rights of sports events to private capital," Zhang Jiayuan, a partner at Ransenhuizhi Investment Fund Management Co, told the Global Times on June 11.
According to FIFA, Chinese football fans have purchased more than 40,000 Cup tickets, ninth among all countries.Unfortunately, thousands of those fans, according to the Chinese government, were victims of a ticket swindle by a Moscow company.
About 100,000 Chinese fans overall are expected to attend, counting tickets allotted to companies as FIFA partners, World Cup sponsors and regional supporters.
In 2002, when China played in the World Cup in neighboring Japan and South Korea, only around 50,000 Chinese fans attended.
Tang Bin, a football superfan from Chengdu, is traveling back and forth to Russia.
"I cannot leave China for long enough to watch all the matches at the World Cup in Russia, but I also do not want to miss the games of my favorite teams - Spain and Germany. The total cost will be around 50,000 RMB ($7,700), which I feel is worth the expense," Tang said.
"It almost feels like the only Chinese people not appearing at the World Cup are the Chinese national football team!" television presenter Bai Yansong joked.