Trump and his trade hawks must be brought down to earth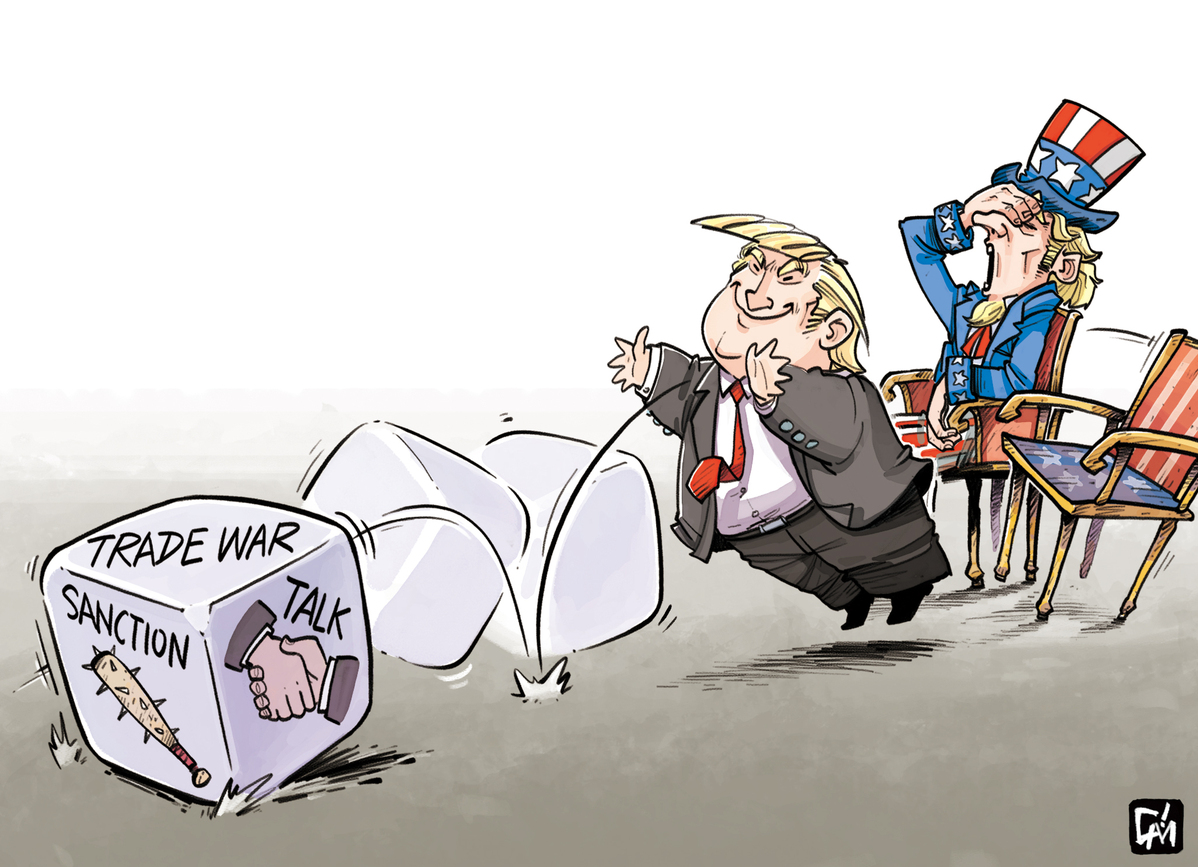 If US President Donald Trump has finally come to his senses on Wednesday by signing an executive order to reverse his administration's inhuman practice of separating children from their parents illegally for illegally crossing the southern US border, he should also be brought to his senses to stop the tariff war he has initiated with China, and, indeed, the whole world.
The past week is like a replay of April. Disregarding the consensus reached at the recent high-level bilateral talks in Washington and Beijing to end the tariff threats, the Trump administration on June 15 announced a 25 percent tariff on $50 billion worth of Chinese exports, with most of the tariffs due to come into effect on July 6. Hours later, China released its retaliatory tariff list on an equal amount of US exports. Trump then escalated the tariff war by directing the US Trade Representative Robert Lighthizer to identify an additional $200 billion worth of Chinese imports for a new 10 percent tariff. China has vowed to fight back with comprehensive measures.
Many believe that the Chinese will be short of retaliatory targets since China exports far more to the United States than US exports to China. But a Bloomberg report suggests that China could punish the vast US investment in China, which would hit companies such as Apple, General Motors, Starbucks and Walmart.
A Deutsche Bank Research study shows that if you count both US exports and sales within China, the US has a surplus of $20 billion with China.
There should be no concerns that China may run out of ammunition. However, it is nothing worth celebrating because such a tariff war spells disaster for both nations and the world.
Returning to China a week ago after years of covering Washington, I was asked repeatedly by people of diverse background to make sense of Trump's tariff actions.
I can't. The many US economists I had talked to, including left and right leaning and centrist, can't make sense of it either. Trump's trade adviser Peter Navarro is probably the only US economist who believes "jobs and wealth are being given to other countries", despite the rebuttals from numerous respected economists.
Benn Steil and Benjamin Della Rocca, two economists at the Council on Foreign Relations, wrote on Tuesday that Navarro and Trump are "logically and historically false" in their comments about the trade deficits of the US.
Their study proved that rising growth tends to expand US imports through high consumption. Thus the imports reflect the strength of the US economy, rather than giving jobs and wealth to other countries.
Many studies have also shown that automation and factory efficiency, rather than China, or India or Mexico, are the main reason for vast majority of jobs that have been lost in the US.
What is also true is that Trump's tariffs, which are aimed at hurting the Chinese economy and blackmailing China, will inflict enormous harm on US consumers and businesses. Tariffs on China are simply new taxes on US consumers, not to mention China's retaliatory tariffs on US exports.
The outcry by US farmers, ranchers, retailers, manufacturers, economists and bipartisan lawmakers against Trump's tariff measures shows that those tariffs, whether aimed at China or other nations, are extremely unpopular and considered irrational and irresponsible. They harm the US at the same time they hurt other countries.
Trump's tariffs are not only holding the Chinese and other economies hostage, they have seriously violated the global trade rules and norms, undermined the credibility of the US' global leadership and eroded the moral high ground the US likes to claim.
There is too much at stake. Trump and his trade hawks must be brought to their senses.
The author is a columnist at China Daily.