China's new era focus of fellowship for foreign journalists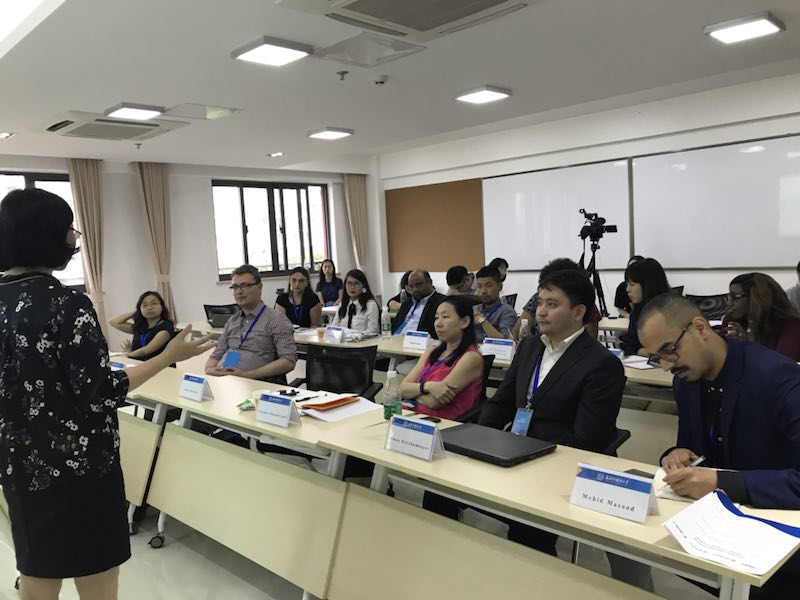 Senior editors and reporters from 12 countries involved in the Belt and Road Initiative have gathered in Shanghai for a 26-day training program to have a full understanding of China's achievements in the new era and exchange work experience starting Wednesday.
In the Dongfang Fellowship Program, the foreign journalists will participate in classes and cultural exchanges in Shanghai, Beijing and Hangzhou to get an exposure to China's profound changes in economic, political, cultural and ecological areas since its reform and opening-up four decades ago. The program aims to contribute to the journalists' professional development and eventually promote the common development of China and all other countries and regions as well as regional and world peace and development.
The training program is jointly hosted by China Daily, Shanghai International Studies University (SISU) and the University of International Business and Economics (UIBE), and was sponsored by China Eastern Airlines.
Zhou Shuchun, publisher and editor-in-chief of China Daily, said he hoped the program will serve as a bridge of friendly and interactive communication beyond time and space.
"As China's global English newspaper, China Daily has been committed to facilitating international communication. We anticipated the program to be a new starting point to further facilitate media collaboration between different countries and bring new vitality into cultural communication between the East and the West," Zhou said during the opening ceremony of the fellowship program.
Jiang Feng, Party chief of SISU, said globalization brings along convenience and challenges at the same time.
"In the process of realizing development, all the countries and regions should promote cooperation and have a strong sharing sense. I anticipated the program to better facilitate communications at different levels among the countries and regions involved in the Belt and Road Initiative," he said.
Wen Jun, deputy Party chief of UIBE, said news media are an important part of human social development and it heavily influences public opinion and promotes society to march toward civilization.
"The fellowship program is of great significance. It will contribute to the establishment of a fair and reasonable new international order of communication and generate more cultural exchanges between the countries and regions involved in the initiative," she said.
Xu Kaizhuo, Party committee member of China Eastern Air Holding Co, said apart from providing transportation, the company is also committed to spreading Chinese culture and promoting cultural communication around the globe.
"We believe the program is an opportunity for us to make new contributions to enhance foreign people's understanding of China and strengthen friendship between Chinese people and those from all other countries," he said.
Yang Jing, director of the press relationship department of the Information Office of Shanghai Municipal Government, said the office anticipated the program to assist the foreign press in knowing more about Shanghai and China and conveying more Chinese stories overseas.
"Chinese people are eager to learn more about the countries and regions involved in the Belt and Road Initiative and a rising number of stories regarding these regions have appeared in local media. We believe the international society is also curious about Shanghai and China," she said.