Classy sounds from a golden age
Share - WeChat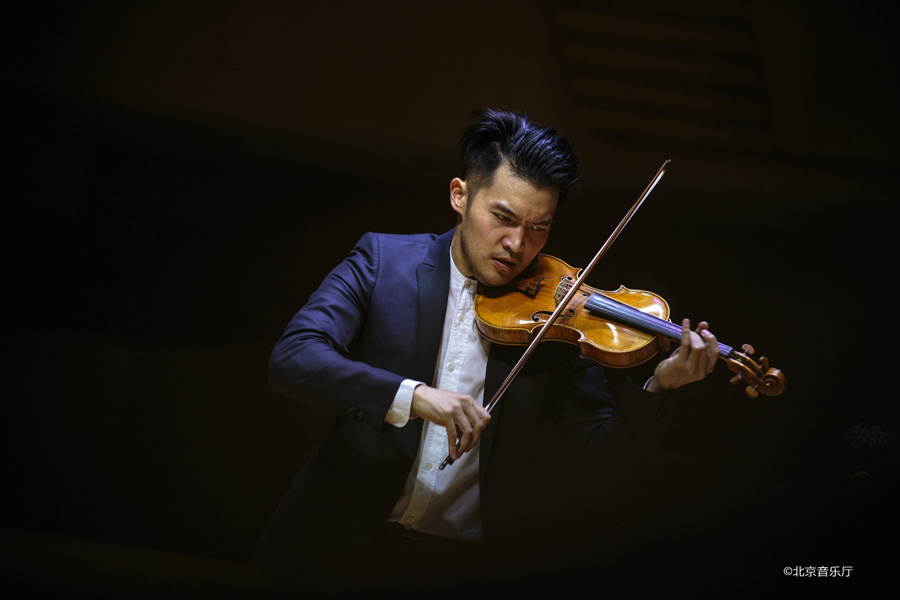 Violinist Ray Chen has just released a new album where he interprets celebrated pieces with his signature flair and ingenuity, Chen Nan reports.
The alarm rings. Violinist Ray Chen opens his eyes and gets up from his bed. After getting dressed, he says: "Today is a special day!" This is how a video which Chen directed unfolds.
The video was made in Barcelona a week before his new album, The Golden Age, came out on June 8.
For the 29-year-old from Taiwan, interacting with his fans through videos is fun. So far, he has released over 100 self-produced videos, combining comedy with music via social media.
Speaking about the videos, he says: "I want to show fans, especially the young generation, that classical music can be fun."
It's been four years since Chen released a new album. Before this new album, he released three albums through Sony.
In The Golden Age, his first recording with Decca Classics since signing with the label last year, Chen features a selection of works, which celebrate the "golden age" of the violin-not only in terms of repertoire, but also in terms of performance style and ingenuity.
Instead of making a recording, which is "simply sticking a microphone in a room or hall and trying to produce the best version of the piece", Chen seeks to create something new in the studio.
"What else can I add to these celebrated pieces, which have been performed by many other great violinists? I won't go into the techniques, but I think you'll find that the sound you hear in the recording is slightly different from what I did before."
The centerpiece of the new album is German composer Max Bruch's violin concerto, performed with the London Philharmonic Orchestra under the baton of conductor Robert Trevino and recorded last August.
The album also features compositions and arrangements by Austrian violinist Fritz Kreisler and US violinist Jascha Heifetz, which Chen performs with French pianist Julien Quentin.
"The pieces go along with the title The Golden Age-a reference to my love for the great violinists of the past, and also as a reference to my own coming of age, and entering what I believe is the next chapter of my life as a musician," says Chen.
The new album opens with a piece called A New Satiesfaction for a string quartet, which has already garnered over 50,000 hits on Chen's YouTube channel.
It features Gymnopedie No 1 by French composer Erik Satie, with an allusion to Italian composer Gioachino Rossini's William Tell Overture.
The piece, performed by Chen and his Made in Berlin quartet, is arranged by the group's cellist Stephan Koncz.
The other violinist in the quartet is Noah Bendix-Balgley, while Amihai Grosz plays the viola.
All of Chen's collaborators in the group are members of the Berlin Philharmonic and they recorded together in Berlin last November.