Golden touch: Welding new life into jewelry
Editor's note: When it comes to quality products, China must embrace the perfection, precision and patience of the craftsmen to get ahead of its global competitors.
The China Daily website has produced a series of stories about skilled workers to kindle the "spirit of craftsmanship" among young people.
Here we put the spotlight on a master of jewelry welding in Dezhou.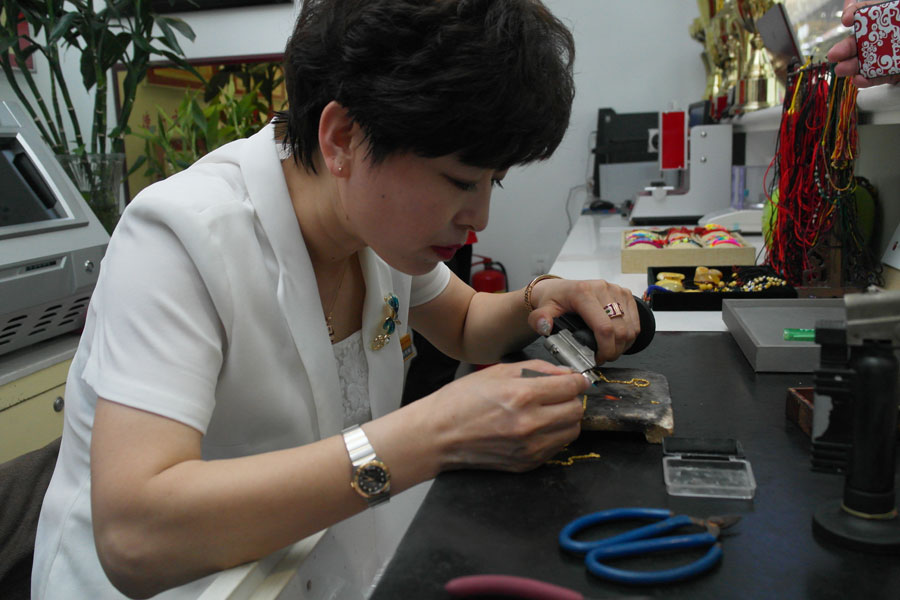 With a welding gun less than 10cm in size and a small bottle of cold water, jewelry craftswoman Yang Xiujuan can repair a broken necklace in only 10 seconds.
It's a job she's been doing for over 20 years.
In 1996, Yang came to Dezhou from her hometown in North China's Inner Mongolia autonomous region and became a sales clerk at Debai Group, a shopping center and chain store in East China's Shandong province.
"I never thought of engaging in jewelry welding, but it just happened when customers asked to remodel or enlarge their jewelry," Yang told China Daily website.
For the sake of better after-sale service, Yang determined she'd learn how to cut, weld and engrave gold jewelry, even though she felt it would be difficult to start with a weak professional background. Yang said more than 90 percent of those doing such work at that time were men and many doubted Yang's determination.
Since then, Yang has sold jewelry during office hours and devoted time to developing jewelry creations in her time off.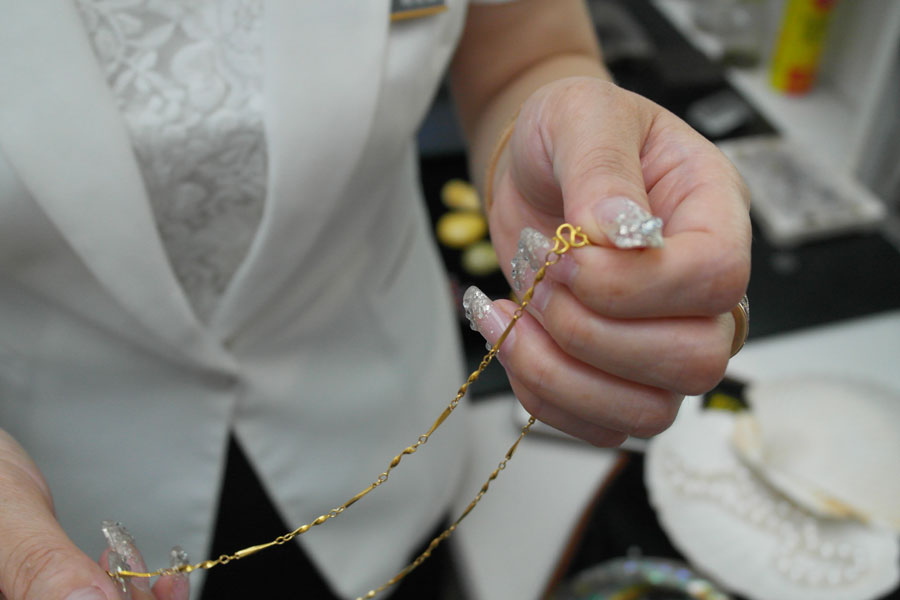 "It was a repetitive job striking gold and gilded jewelry, cutting a bit from a thin gold accessory and welding it seamlessly at the joints for the first several months," she said.
"But it did test my patience and forced me learn about every material in jewelry," she added. Moreover, Yang said she found it so interesting that she wanted to explore the melting point of pieces of jewelry.
Fighting off frustration after countless failures, Yang began to rise in the field in 2004 after claiming second place at a national-level competition in Beijing. But Yang never slowed in her dedication to jewelry welding. In 2005, Yang was recommended for further education to study with a jewelry master known for handmade creations in East China's Zhejiang province.
After years of learning and practice, Yang created her own jewelry welding method that features a short working time and seamless joints at separated parts. Yang said that her creations lead the industry in northern China while attracting a flood of customers to her studio at Debai Group.