Goji berries keep wolf from the door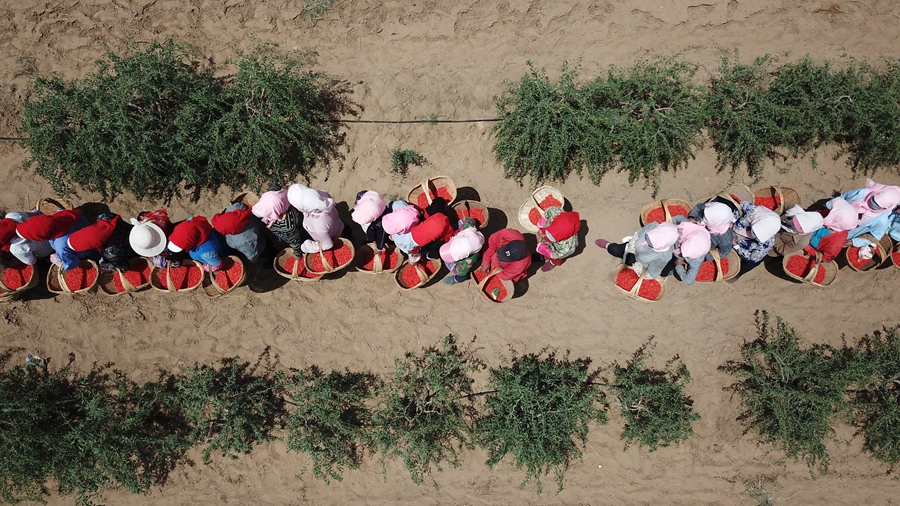 In early June, goji berries - also known as wolfberries - were already hanging in bright red bunches amid green leaves, nearly a month earlier than usual, in the Ningxia Hui autonomous region.
At a 200-hectare plantation in Wuzhong's Hongsipu district, 22-year-old Zhao Meihua was one of more than 100 people busy picking the berries. Under the burning sun, each wears a kerchief to wipe away the sweat.
"Picking goji berries is not easy work," she said. "Besides the high temperature, we should also be careful as our arms and hands can get scratched by the thorny branches."
Zhao has been picking goji berries for 12 years but still has many fresh scratches on her hands.
"I work 50 days during harvest season, earning up to 10,000 yuan ($1,600)," Zhao said. "The harvest started earlier this year, so we can work more days, pick more and earn more."
Even though the work is hard, she said she enjoys it.
Thanks to more hot days in April and the use of organic fertilizers, goji berries ripened about 20 days early this year, said Cao Youlong from the National Goji Berry Technology Research Center. He said advanced planting technology had also contributed to the early harvest.
"Goji trees are harvested every 10 days during the season," he said. "It's good that we can have two more picking cycles this harvest, which means a 10 percent increase in production."
The plantation's owner, Hao Wanliang, said he employs about 200 full-time workers, but still he needs another 600 to 700 people from nearby villages at harvest time.
Hongsipu district is home to more than 200,000 people relocated from inhospitable environments in seven mountainous counties in southern Ningxia - one of China's largest concentrations of such migrants - and is a main battlefield in the war against poverty.
Before the immigration wave began in 1999, the district was largely covered by desert. Thanks to the unique soil and climatic conditions, the goji berry industry has become a key way for migrants to lift themselves out of poverty.
A new, 287-hectare plantation was established in April, with Hao and two villagers as joint shareholders. Hao is in charge of planting techniques and marketing channels, while villagers provide labor and management.
"A large amount of land had remained unused due to a lack of water since people moved here in 2014," said Hai Chengjun of Hongchuan village.
Li Maorong from the Hongsipu Forestry Bureau added: "The soil is rich in selenium. Our goji berries, nurtured by organic fertilizers, are of higher quality and have a competitive edge in the market."
There are now more than 3,733 hectares of goji berry plants in Hongsipu, putting an end to the threat of sandstorms. Residents say they enjoy the environmental and economic benefits.
"As goji berries grow in this land, so does our hope," Hai said.
Xinhua