Weather brings electric shock risk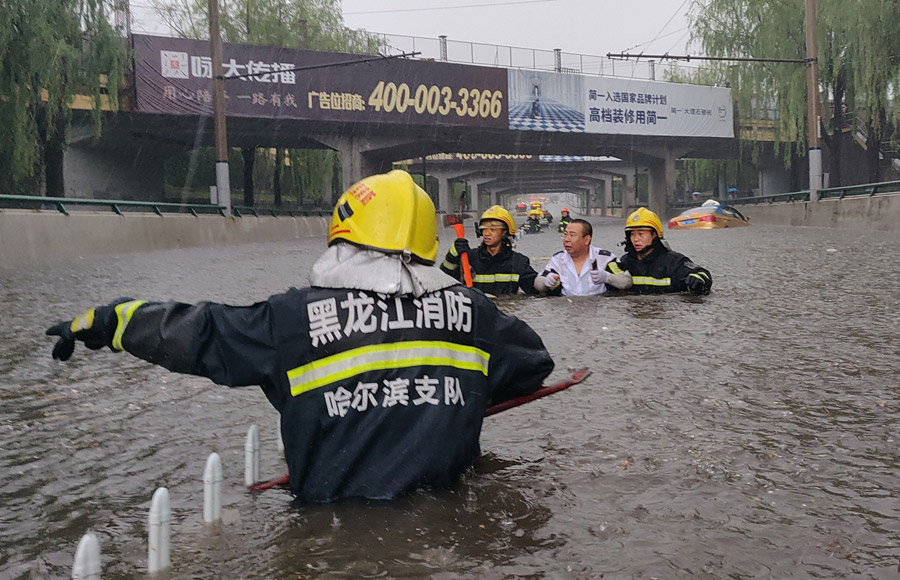 Authorities in Guangdong province have begun to comb through electrical facilities to root out safety hazards after four people died - apparently of electrocution - as a result of water-soaked wiring.
The work was initiated as more rainfall is forecast to strike. As much as 20 centimeters of precipitation is expected in some areas.
The four victims died in three separate incidents on Friday, after the province was hit by storms brought by Typhoon Ewiniar. The typhoon is responsible for direct economic losses of 460 million yuan ($72 million) and affected more than 200,000 people in Guangdong, according to authorities.
A mother and her daughter from the Guangxi Zhuang autonomous region died after they received electrical shocks at a bus stop in Foshan's Chancheng district around 7 pm, the district government said.
It added that the local transportation authority had cut off electricity to all billboards at bus stops in the district before checking them that night. A video on Pear Video, a sharing website, shows two females lying on the ground and apparently wet.
At 11 am, a man from Zhaoqing died after falling into floodwaters. Segments of the same video show a police officer standing in a moving pickup and trying to drag the floating body away from the site with a long stick, possibly to avoid electrical shock.
In the evening of the same day, a 17-year-old student from a vocational school in Guangzhou died after falling into floodwaters on the way home. A hospital document the student's father showed to news portal thePaper.cn said the man died from an electrical shock.
To ensure safety, the Guangzhou power grid had to suspend supplies to some heavily affected areas. The bureau said on Monday that no problems were associated with facilities the bureau runs, but it reminded users to take measures to prevent electrical shocks.
Authorities in Zhuhai issued an urgent circular on Sunday, asking government departments to comb through public electrical facilities to root out safety hazards. The work will last until Friday.
Rain continued to fall in Guangdong on Tuesday and more is expected on Wednesday, the National Meteorological Center said. The center has issued a blue alert for heavy storms in South China, the third-highest in a four-color alert system. It said water accumulations of as much as 20 cm may be seen in some areas in the Pearl River Delta.
The center issued a blue alert for severe thunderstorms in northern China on Tuesday. Thundershowers will strike the eastern part of the Inner Mongolia autonomous region, Beijing, Tianjin, Shandong province and Northeast China from Tuesday to Friday, it said. Some areas will also see hail.