Tiger keeper stays busy caring for newborn cubs in Harbin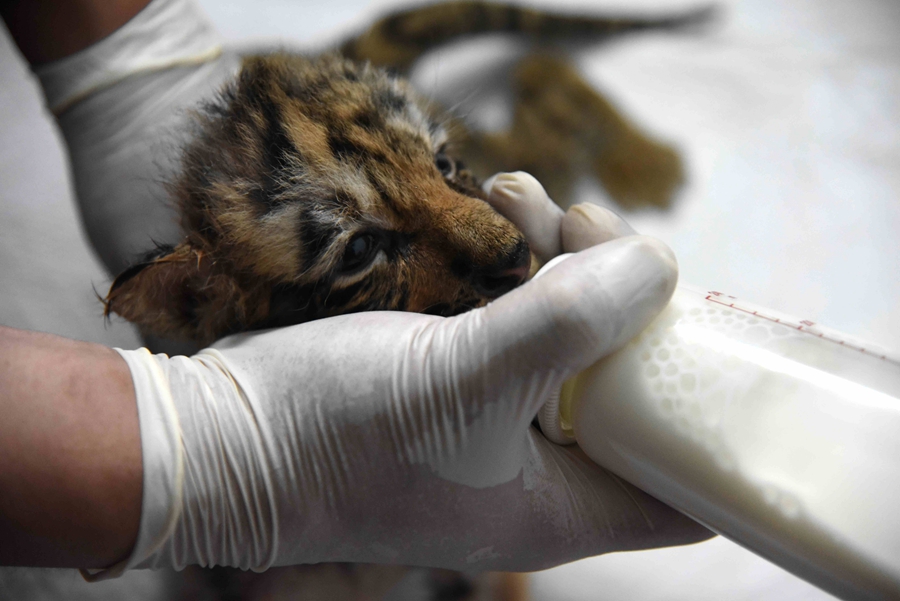 HARBIN - Li Xin carefully changes the diaper of a newborn Siberian tiger that is sound asleep in an incubator, trying not to disturb it, while around him a dozen cubs cry for milk.
Some 60 cubs have been born since mother tigers began giving birth in early April at the Siberian Tiger Park in Harbin, Heilongjiang province.
The park is home to more than 1,300 Siberian tigers and hosts a branch of the Siberian Tiger Breeding Center, the world's largest professional breeding center for the tigers.
Tiger keepers like Li look after cubs at the breeding base when their mothers don't have enough milk or are unable to care for offspring.
The job requires constant attention. Huang Haitao, head of the veterinary department at the park, said that abnormalities can be a sign of fatal disease, so the cubs' condition must be checked frequently.
"A tiger cub can die of a disease within six hours after the first symptoms appear, unless treated quickly," Huang said.
Every morning, when he arrives in the base, Li checks the cubs' weight, body temperature and excrement, all indicators of health. During the day shift, he feeds them and changes their diapers every two or three hours.
At lunchtime, the cubs begin to howl, crying out for food. Li feeds them bottles of warm goat milk. After they drink enough, Li burps them and listens to their bellies.
"Burping indicates the milk has flowed into their stomachs," he said.
Li majored in animal husbandry and veterinary care at Heilongjiang Agricultural Technology College. He has been working as a tiger keeper since graduating in 2004.
"When I first came here, I was curious but also afraid of being hurt by the tigers. Fortunately, my senior colleagues were very kind and patiently showed me how to work with the animals," Li recalled.
Now a senior keeper himself, Li works diligently to care for the animals. During the birthing season, his team works 32-hour shifts.
"I think the job is harder than taking care of my own child," said Li, 35, who became a father eight years ago.
When his own child was born, Li had been a tiger keeper for six years. His expertise in taking care of tiger cubs had helped him care for his child.
Xinhua