Photos of China wow Harvard audience
In addition to dragon boat races and snacking on Chinese zongzi (glutinous rice dumplings), residents of the Boston area got to marvel at spectacular photography of tourist sites from around China.
Meggie, 3, holding her parents' hands, paused in front of an image showing a Chinese landscape.
"She has a Chinese teacher at her daycare center, and she really hopes to travel to China," explained Meggie's mother. "Hopefully when the time comes, she'll be fluent in Chinese and can be our little translator!" she added.
On Sunday, the China National Tourist Office in New York hosted a photo exhibition showcasing Chinese tourist destinations, at Harvard University in Cambridge, Massachusetts.
The event at the Ivy League school was held as part of the 39th Boston Dragon Boat Festival. The exhibition featured more than 30 photos capturing dramatic scenery and places of interest from across the Middle Kingdom.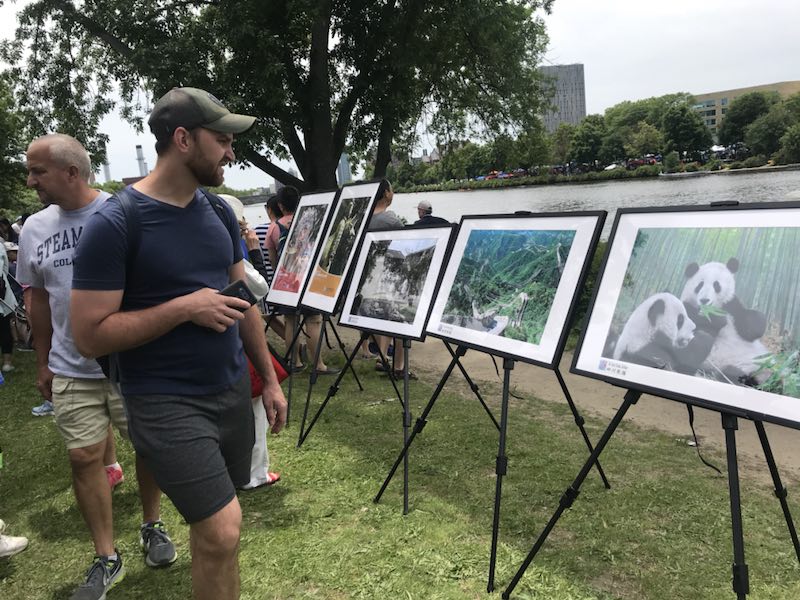 One visitor, Kevin, had traveled with a few friends from Newport City, Rhode Island. Kevin went to China in 1987 and ended up staying in Shanghai for 13 years.
"I haven't been back to China in 18 years. Today, I brought my friends to Boston and Cambridge for the dragon boat race," he said. "I wanted my buddies to experience authentic Chinese culture, but I didn't expect to come across this photo exhibition at Harvard University. This is actually the biggest success of this trip!"
Kevin also ended up serving as an interpreter at the exhibition, introducing his friends to the Great Wall, the TerracottaWarriors, the Potala Palace and Peking Opera, which he says he loves, even though he can't understand what's going on.
"The artistic quality of Peking Opera is not only in what you hear, but in what you see," Kevin said. "Look at these photos of Peking Opera performers – isn't it beautiful! I can really imagine them performing there up on the stage," he explained.
The Harvard exhibition was the debut of the tourist office's "Bringing China Tourism to American Universities" campaign.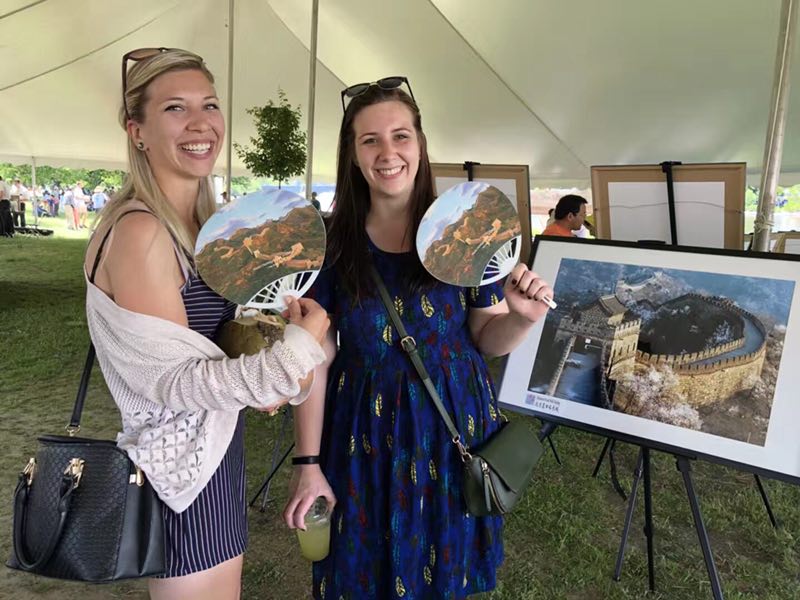 The office will next embark on a series of promotional activities at American universities aimed at encouraging young people to visit China.
"Today, we come to Boston to bring Chinese tourism to Harvard University and to introduce China's rich tourism resources to outstanding young people from the world's top universities," said Lin Kuang, the office director. "I hope they will travel to China and spread the word about Chinese tourism to friends and relatives.
"I can't wait to see our exciting display of travel photography," he said. "Not only will this exhibition help more Americans discover what China has to offer in terms of tourism, it will help them understand China's rich and colorful folk culture, and the charm of the pictures will attract more Americans to visit China and experience China."
Kuang stressed that tourism exposes people to different cultures and ways of life, and that the photographs can inspire Americans to travel to China.
"Today we just brought these wonderful pictures," Kuang said. "This summer vacation, we will visit more American universities and use a variety of rich content to entice the younger generation of Americans to visit China."