Inaugural China-Scotland air service touches down in Edinburgh
By Han Baoyi in Edinburgh, Du Xiaoying and Kevin Wang in London | chinadaily.com.cn | Updated: 2018-06-13 01:39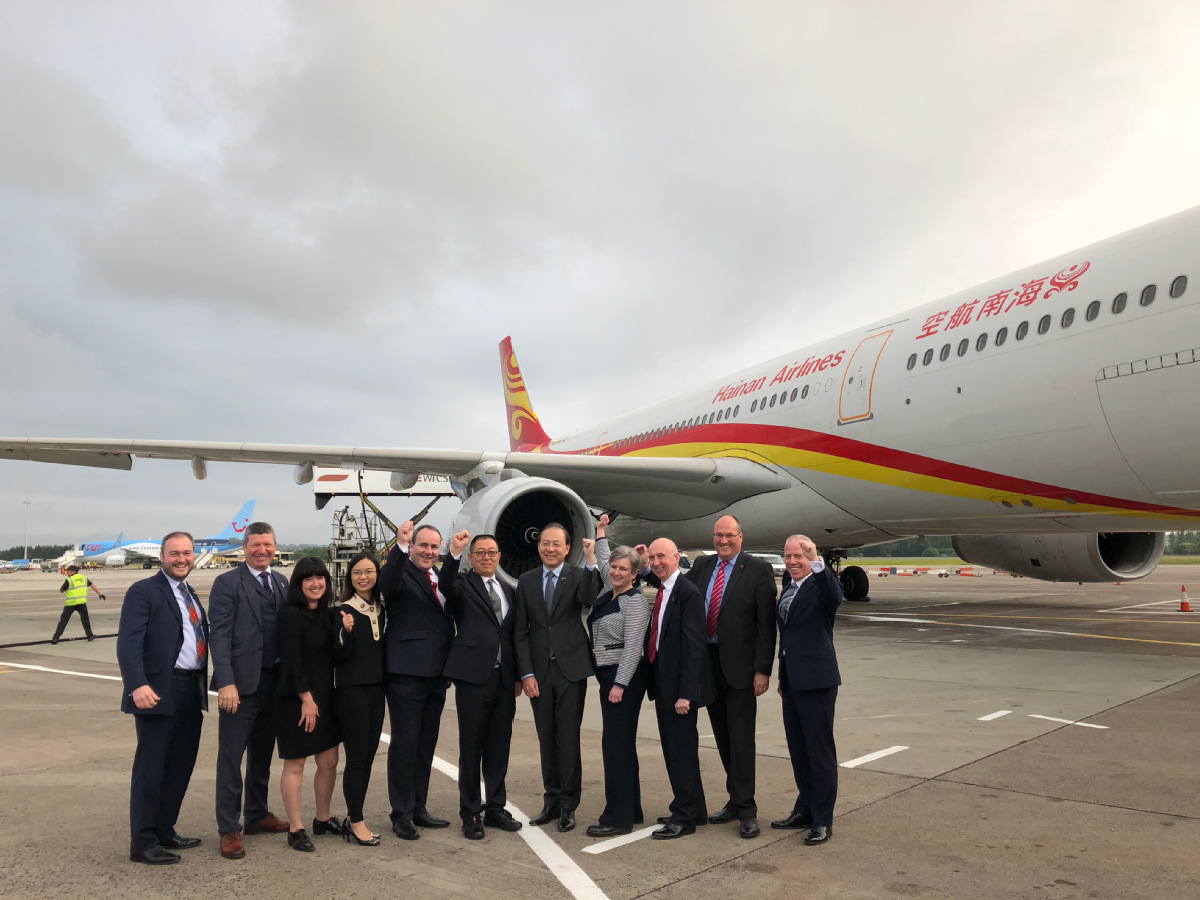 Hainan Airlines establishes first connection between countries
A new air route connecting China, Scotland and Ireland was launched on Tuesday.
The inaugural flight on the Hainan Airlines direct service between Beijing and Edinburgh took place on Tuesday. It is the first air service between mainland China and Scotland.
After landing at Edinburgh Airport, the Airbus A330-300 was given a water salute to celebrate the success of the flight, while passengers were greeted by traditional a Scottish bagpipe player.
Gordon Dewar, chief executive of Edinburgh Airport, said: "This is a momentous day as we connect not only Edinburgh and Beijing for the first time, but Scotland and China too. It is a route which has immense opportunities for our countries, from tourism and business to culture, education and more."
The return flight will have a stopover at Dublin before coming back to Beijing on the same day.
Flights from Beijing on Thursdays will first land in Dublin, then Edinburgh, which also establishes the first direct flight between mainland China and Ireland.
"Starting from today (Tuesday), Hainan Airlines' new route from Beijing to Edinburgh and Dublin will have four flights per week," said Bao Qifa, chairman of Hainan Airlines.
"The launch of the new service is in line with The Belt and Road Initiative, which aims to enhance the China-UK cooperation in economy, culture, and tourism."
The first flight from Beijing to Edinburgh had more than 200 passengers on board, most of them tourists, and it is hoped the popularity of the route will grow.
"4 flights per week won't be enough," said Pan Xinchun, China's consul general in Edinburgh. "We hope we can have flights every day in the near future."
Over the last 25 years, Hainan Airlines has clocked 6.3 million hours of safe flying time, while connecting 220 cities via more than 1800 routes around the globe.
The new service from Beijing to Edinburgh and Dublin is their forth route serving the UK and Ireland.
Contact the writers at duxiaoying1@chinadaily.com.cn