Kim, Trump to try to narrow differences
By CHEN WEIHUA in Singapore and Pan Mengqi in Beijing | chinadaily.com.cn | Updated: 2018-06-11 20:53




The historic summit between US President Donald Trump and Democratic People's Republic of Korea leader Kim Jong-un will start with a one-on-one meeting, with translators only, followed by an expanded bilateral meeting and a working lunch, the White House said in a statement on Monday evening local time in Singapore.
It said Trump will participate in a media availability at the conclusion of the summit before departing at about 8pm for the US. The departure will thus be earlier than the original plan of Wednesday morning.
Diplomats from both the Democratic People's Republic of Korea and the United States continued their last-minute talks for an entire day on Monday in a bid to narrow their differences and the pave way for the historic summit between the US President Donald Trump and DPRK leader Kim Jong-un.
Trump appeared to be in a good mood for the upcoming talks. "Great to be in Singapore, excitement in the air!" he tweeted on Monday.
"We have a very interesting meeting in particular tomorrow, and I think things can work out very nicely," he told Singaporean Prime Minister Lee Hsien Loong after they sat down for a working lunch.
The DPRK's Korean Central News Agency reported Monday morning that the two leaders will discuss peace and denuclearization at their Tuesday meeting.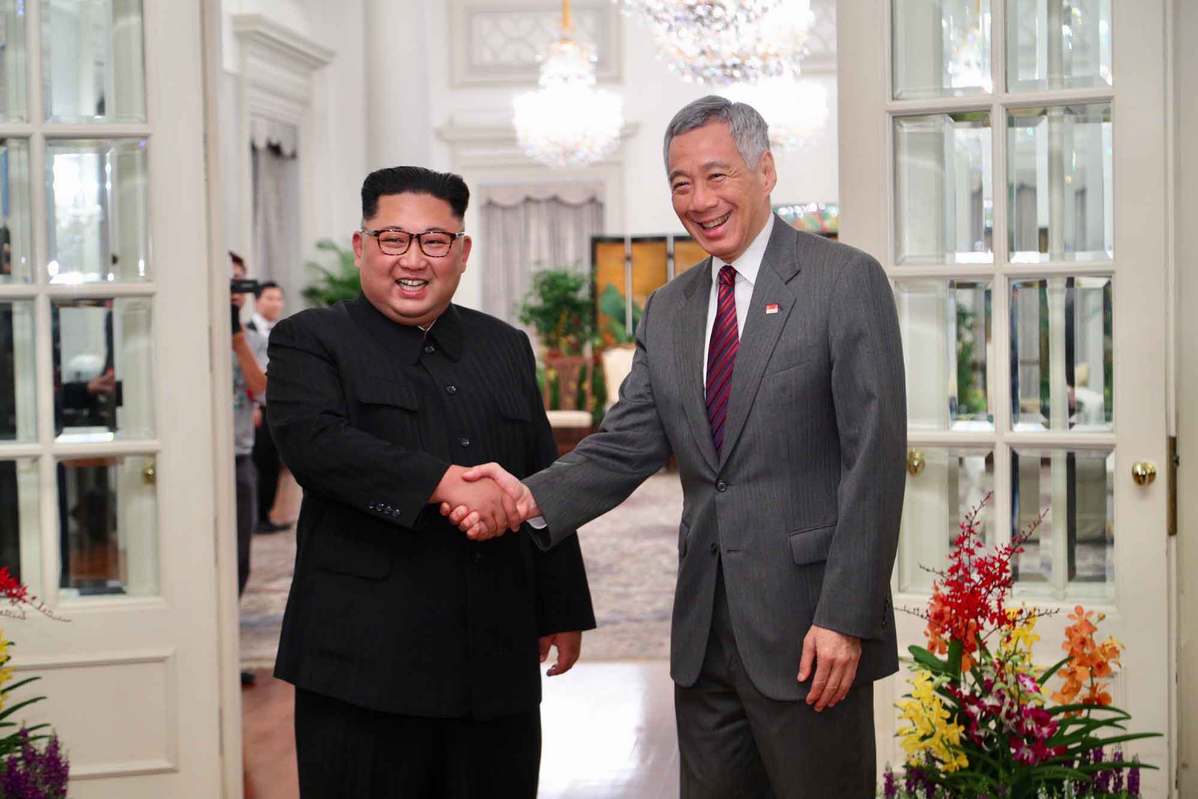 US Secretary of State Mike Pompeo said at a late afternoon news conference that the ultimate objective the US seeks from diplomacy with the DPRK has not changed. "The complete, verifiable and irreversible denuclearization of the Korean Peninsula is the only outcome that the United States will accept," he said.
Chinese Foreign Ministry spokesman Geng Shuang said that China sincerely hopes the summit will be successful and positive results will be achieved.
China, an important neighbor of the Korean Peninsula, is willing to help promote its long-term stability and denuclearization, and hopes the two sides can work together for a political solution on issues of mutual concern, Geng said at a regular briefing.
Leading the Monday preparation talks at the Ritz Carlton hotel in Singapore were Sung Kim, the US ambassador to the Philippines and former US envoy to the Six-Party Talks, and DPRK Vice-Foreign Minister Choe Son-hui.
Pompeo said sanctions will remain until the DPRK completely and verifiably eliminates its weapons of mass destruction programs, adding that those sanctions will increase if diplomacy does not move in the right direction.
Pompeo, who has had two earlier meetings with Kim, said Trump recognizes the DPRK's desire for security and is prepared to ensure that, but he refused to give any details, such as a US troop reduction in the Republic of Korea or withdrawal of the US nuclear umbrella for the ROK and Japan.
"We are hopeful this summit will set the conditions for future productive talks," he said.