Trump gets birthday cake before historic summit with Kim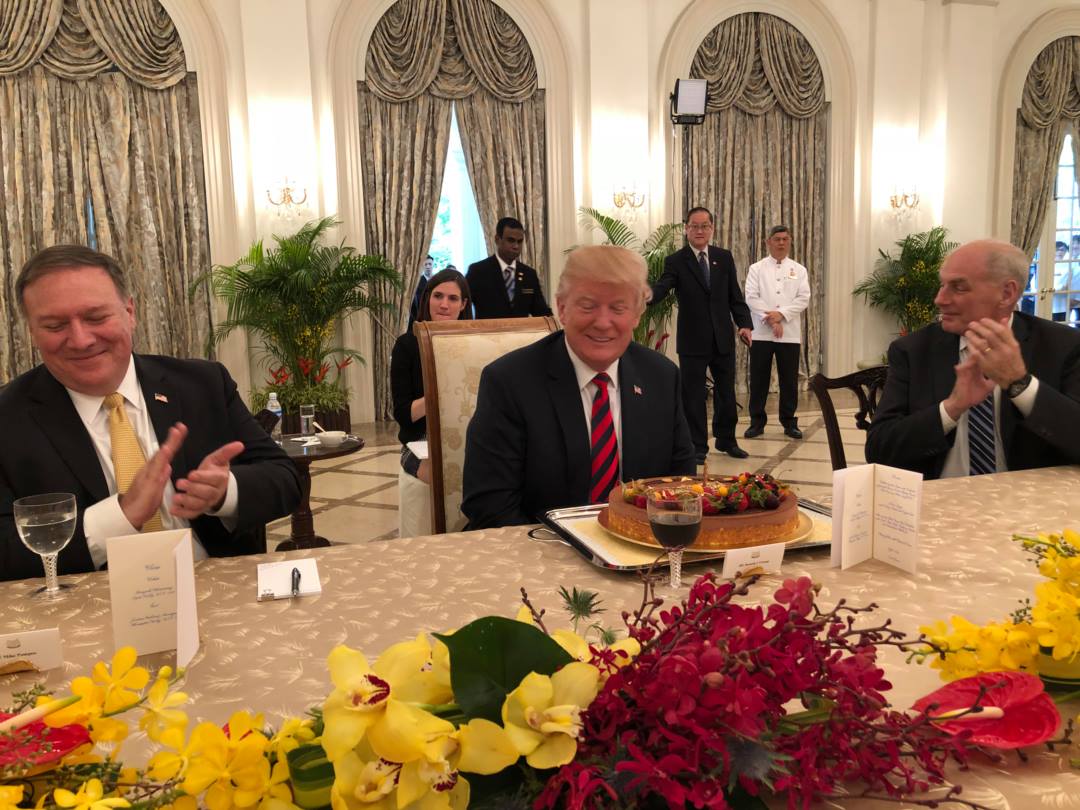 Singapore's Minister of Foreign Affairs Vivian Balakrishnan posted a photo on Twitter of US President Donald Trump with a birthday cake during the working lunch between the US delegation and Singaporean delegation at the Istana on Monday.
Trump will turn on 72 on June 14.
He met Singaporean Prime Minister Lee Hsien Loong on Monday noon and then the two sides held a working lunch. Trump will meet Democratic People's Republic of Korea leader Kim Jong-un for a historic summit in Singapore on Tuesday morning.
On Sunday evening, Kim also met Lee Hsien Loong for about 30 minutes at the Istana and thanked Lee for hosting the summit.
The Trump-Kim summit will cost Singapore about $20 million and Prime Minister Lee has said that "it is a cost we are willing to pay, describing it as a good publicity for Singapore. Security costs will account for half of that spending.
US Secretary of State Mike Pompeo, White House National Security Advisor John Bolton and White House Chief of Staff John Kelly and Press Secretary Sarah Sanders were among the US delegates at the lunch.
On Monday morning, US and DPRK diplomats were still meeting at the Ritz-Carlton hotel in Singapore in a bid to reach a draft agreement ahead of the historic summit and first meeting between a sitting US president and DPRK leader to be held on Tuesday morning.
The DPRK's Korean Central News Agency reported Monday morning that the two leaders will discuss peace and denuclearization of the Korean Peninsula.