Seawater hybrid rice expected to be planted around China by 2020
Share - WeChat Chinese agricultural scientist Yuan Longping announced Saturday that his team has completed detailed plans for seawater hybrid rice's trial planting and promotion.
The new generation hybrid rice will firstly be planted experimentally in six provinces in China and is expected to be promoted to across the country by 2020, said Yuan while receiving an interview from Hunan Satellite TV.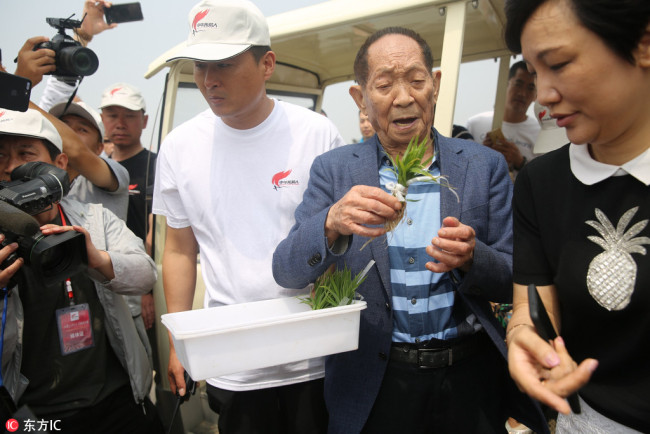 Yuan and his team have successfully planted seawater hybrid rice in east China's Shandong province, setting a record production of 500 kilograms per mu (0.07 hectare).
Recently, the same rice was also successfully planted and harvested a production of 500 kilometers per mu in Dubai, the United Arab Emirates. It was the first time in the world that rice was successfully planted in the tropics.
Molecular technology was used in the breeding of the third generation super hybrid rice, according to Yuan, who is an academician of the Chinese Academy of Engineering.
Statistics show that there is about 200 million mu of saline-alkaline soil in China that is suitable for the newly developed hybrid rice.
Dubbed as China's "father of hybrid rice", Yuan added that he hopes the seawater hybrid rice could be promoted to half of such saline-alkaline soil in the coming 3 years. And this will increase at least 30 billion kilograms of grain output to the country every year.