Violin maker strings success over many years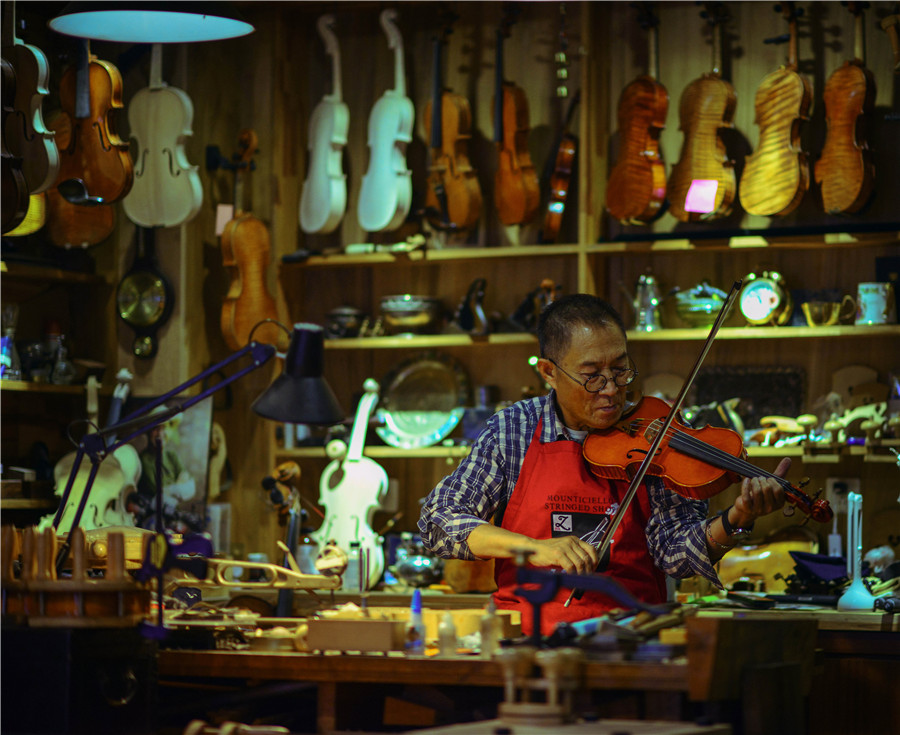 Craftsman's musical instruments are coveted by connoisseurs
Wang Zhenghua, 69, describes himself as a "sound sculptor" who carves melodies out of pieces of wood in Tianjin.
Fashioning finished violins from raw wood is far from easy. But Wang confidently takes charge of every stage of the process-from sourcing materials to molding, varnishing and tuning.
Some of his products use maple and pine imported from Switzerland.
"It takes at least 200 working hours to give life to a violin," he said.
The instruments he makes are worth more than 100,000 yuan ($15,600) each, according to the violin association of China.
Wang was born into a teacher's family in the port city of Tianjin in 1949, when the People's Republic of China was founded.
For 40 years, he has made and repaired countless violins, and has observed many changes in China, including the country's evolving attitudes toward Western music.
Wang has been fond of music since childhood, and during junior high school, he began learning the erhu, a Chinese stringed instrument. During that period, he also noticed a violin for the first time.
"I was immediately stunned by its gorgeous shape and beautiful tone, and decided I had to have one," he recalled.
Few Chinese families had access to musical instruments back then, especially Western instruments like the violin, and Wang's wish did not come true until he was 20. His father bought him his first violin at a pawnshop for 30 yuan-about a month's salary for a teacher at that time.
"I just couldn't hide my excitement and cycled miles from the village where I worked to pick it up," recalled Wang, who had been sent to rural Tianjin as a zhiqing, or "sent-down youth".
At the behest of Mao Zedong, more than 10 million zhiqing were sent to the countryside in the 1950s, '60s and '70s to work on farms. Wang volunteered to deliver fertilizer-a dirty, smelly, night duty that was hated by most, but which granted him free time during the day to practice the violin.
"I kept imitating the violin-playing pose while driving a donkey cart during work. After some sleep in the morning, I had the entire afternoon for practicing," he said. He also turned to a violinist in the city for further instruction.