Neighbors set sights on greater cooperation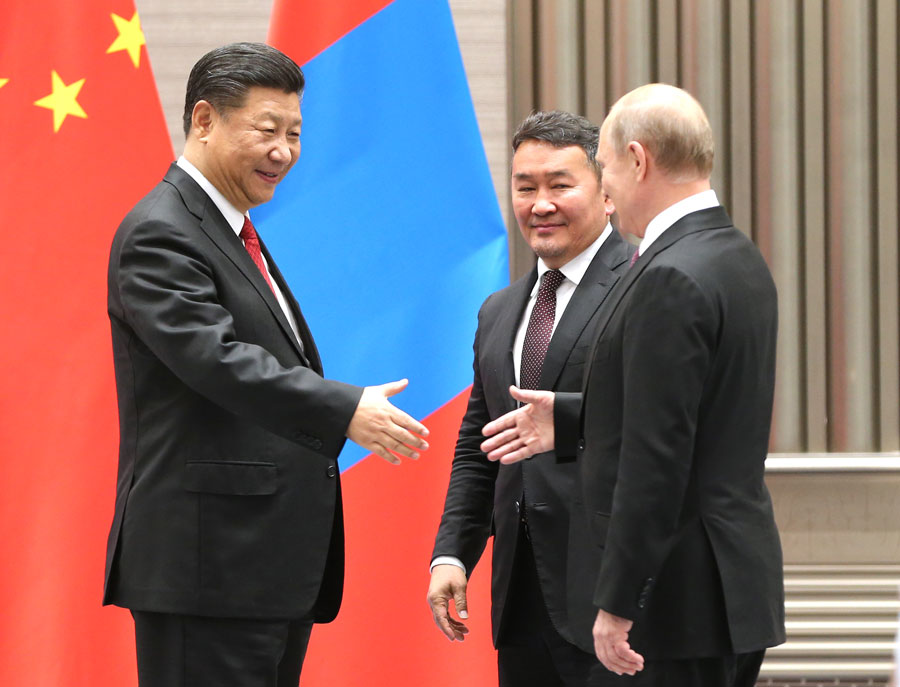 President Xi Jinping has called for joint efforts with Russia and Mongolia to deepen political trust, respect one another's core interests, and enhance coordination in international and regional affairs.
He made the remarks during a trilateral meeting with Russian President Vladimir Putin and Mongolian President Khaltmaa Battulga on the sidelines of the Shanghai Cooperation Organization Summit in Qingdao on Saturday.
The three countries should push forward cooperation on major projects, implement the plan to build the China-Mongolia-Russia Economic Corridor and boost cooperation in infrastructure, Xi said.
He said they should expand coordination under the SCO framework, adding that Mongolia is welcome to participate in more SCO cooperation programs.
In September 2014, the presidents of China, Russia and Mongolia held their first trilateral meeting, laying the foundation for regular dialogue between the three countries.
Noting that the purpose of the trilateral meeting is to promote regional cooperation and common development, Xi said early outcomes have been achieved under the framework.
In the past three years, he said, the countries have focused on supporting the China-proposed Belt and Road Initiative as well as implementing Russia's developmental strategies, such as the Trans-Eurasia Major Passage, and Mongolia's proposal to create a Road for Development.
With the advantage of being neighbors, the countries have deepened cooperation step by step, Xi added.
Xi said the countries have adopted a guiding document for further cooperation and worked out a plan to build the economic corridor.
The central and local government departments have maintained positive contacts and steadily pushed forward cooperation in such areas as the economy, trade, transportation, logistics and customs, Xi said.
After the consensuses reached by the presidents, China, Russia and Mongolia have been dedicated to pushing forward construction of the economic corridor and setting up a joint working mechanism, he said.
Customs authorities in the countries have signed important agreements to recognize each other's qualification results, while tourism bodies have launched colorful events to boost exchanges, Xi added.
Putin said it is important for Russia, China and Mongolia to enhance cooperation, and that it was good to see the countries have steadily pushed forward cooperation.
Russia has agreed to expand cooperation with the other two parties in such areas as transportation, infrastructure, customs and tourism, he said, adding that they should boost people-to-people exchanges.
Battulga said it is Mongolia's top priority to develop friendly cooperation with its two neighbors, China and Russia.
Mongolia wants to work with China and Russia to implement the leaders' consensuses, start construction of the China-Mongolia-Russia Economic Corridor as soon as possible, and push forward cooperation in infrastructure and energy, he said.