Navigating through Fuzhou's famous three lanes and seven alleys for leisure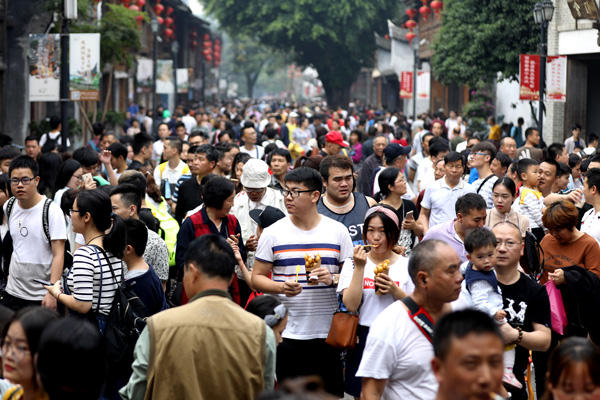 Once described by CNN as "the Beverley Hills of Imperial China", Sanfangqixiang, or Three Lanes and Seven Alleys, is one of Fuzhou's most popular cultural attractions.
According to the Sanfangqixiang management, the tourist spot attracted 437,700 visitors during this year's Labor Day holiday in May.
This charming neighborhood, which has been around since the Tang Dynasty (AD 618-907), made it to the UNESCO World Heritage Tentative List five years ago and was once the place of residence for many prominent Chinese personalities, including scholar and politician Lin Zexu (1785-1850), Qing Dynasty official Shen Baozhen (1820-1879), famous translator Yan Fu (1854-1921) and author Bing Xin (1900-1999).
The main thoroughfare in this 38-hectare area is Nanhoujie and it takes about 30 minutes to walk from one end to the other. The three lanes and seven alleys that branch from this main walkway is what gave Sanfangqixiang its name. Many renovation projects have been carried out to spruce up Sanfangqixiang in recent years, including the upgrading of roads and public toilets.
The most striking thing about this place is its beguiling architecture comprising numerous buildings from the Ming and Qing dynasties (1368-1911) as well as ancestral halls and pagodas. One unique element of these ancient homes is that each of them have wooden doors and windows that are carved with creatures such as dragons, phoenixes, fishes and birds.
Every year during the Lunar New Year period, artists would flood the lanes as they perform lion dances and taiping drum dances. During the Mid-Autumn Festival, staff from the Tien Hau Temple and volunteers would create rice in the shape of rabbits and the moon to worship the Beidou God.
Sanfangqixiang is replete with a variety of retail outlets selling items such as tourist kitsch and hand-painted fans and umbrellas. The food selection is comprehensive too, with food stalls selling snacks such as fish balls, pork wontons, peanut soup and mashed taro.
There are several time-honored stores, such as Yonghe Yuwan (fish balls) and Tongli Rouyan (meat wontons). But there are touches of modernity too, as evidenced by the presence of Starbucks, which is situated in a two-layered wooden chamber, and stalls selling pearl milk tea like Yidiandian and Happy Lemon. Tourists can also buy authentic Fuzhou snacks and desserts from Baibingyuan.
One of the must-try Fuzhou delicacies is the scrumptious fotiaoqiang, or Buddha Jumps Over the Wall, which features a mouthwatering combination of braised seafood such as sea cucumber, sea-ear, dried scallops and fish glue.
Such is the fotiaoqiang's renown that it was even featured in the massively popular television program Bite of China which revealed that this dish requires up to eight hours of preparation time.
Those keen on trying fotiaoqiang should head to the Ju Chun Yuan restaurant, which has a branch at Sanfangqixiang. Founded in 1865, this restaurant serves its fotiaoqiang in a jar made of Chinese porcelain. Each serving costs 398 yuan ($65).
Visitors are spoilt for choice when it comes to accommodation in Fuzhou. Those eager to experience local life could pick from the wide range of Airbnb options available. An apartment near Sanfangqixiang costs between 199 yuan and 500 yuan per night.
Alternatively, those who prefer a more conventional hotel experience can choose from different five-star brands including Shangri-La in Gulou district and Hilton in Taijiang district.
If you go
There are seven high-speed train connections between Beijing and Fuzhou daily. Flights between the two cities would take about three hours. Visitors to Fuzhou can download the app e-Fuzhou to book tickets to Sanfangqixiang and find out parking availability. The app also provides oral and visual presentations of tourist sites.
`