Wuhan's Daijia Lake reborn from decades as ash heap mountain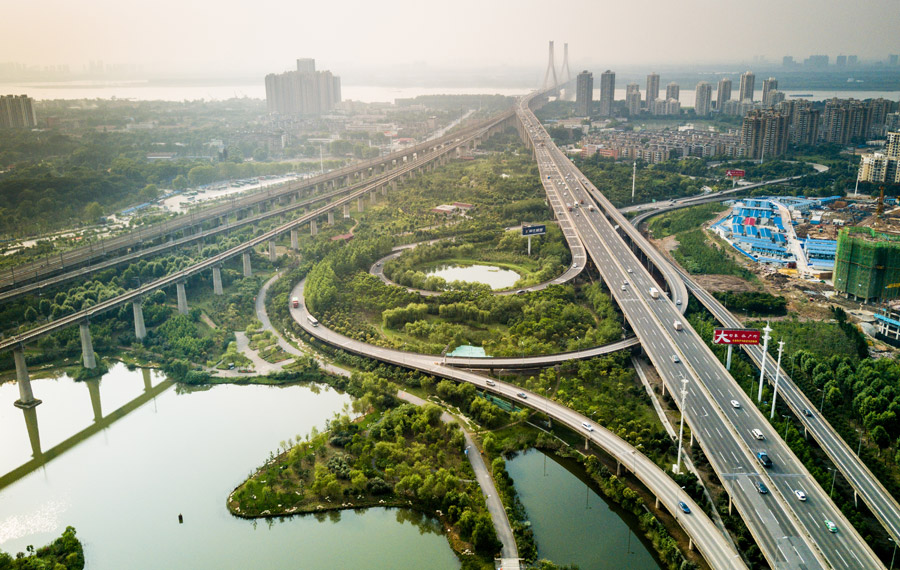 From Hu Sheng's doorstep he can see Daijia Lake, a body of water that brings memories of both childhood joy and misery caused by pollution.
Hu, 71, lives in Wuhan, capital of Central China's Hubei province.
Over the past decades, he has witnessed Daijia's transformation from a beautiful lake to a hill of coal ash, and then back to a fresh water lake again.
In 1955, Hu and his parents moved from their home in Guangxi Zhuang autonomous region to Wuhan's Qingshan district along with tens of thousands of migrant workers arriving to work for Wuhan Iron and Steel.
Back then, the lake, at over 60 hectares, was a paradise for children.
"We often swam in the lake, catching fish and picking lotus root," he recalled.
It was a time when China was implementing its First Five-Year Plan (1953-57), with Wuhan Iron and Steel one of more than 100 industrial projects built across the country. Other plants, such as a thermal power plant and a cement plant were later built nearby.
Some of the coal ash residue from the power plant was used by the cement plant, but the rest was dumped into the lake, according to a manager at a local grid company.
"We were unable to make use of all the ash due to limited technological levels," said the manager, who did not give his name. "We were told to prioritize production at that time, at the cost of the environment."
Waste industrial water mixed with coal ash was discharged directly into the lake around the clock, tainting the water.
Over the following 30 years, the dumped ash exceeded the lake volume, turning it into a hill.
"Ash floated in the air. We had to keep our doors and windows closed," Hu said, adding some of his neighbors suffered respiratory problems.
In the late 1990s, Wuhan banned the use of clay bricks, leaving coal ash the only material available for building construction.
"The waste ash suddenly became treasure, with coal ash factories swarming here to carry it away truck by truck," Hu recalled.
Holes were dug in the ash hill, which were later filled with household garbage and construction waste.
Treatment of the lake pollution started in 2013, one year after the 18th National Congress of Communist Party of China included ecological development as a major task in the country's overall plan and proposed building a "beautiful China" as a grand goal for ecological progress.
More than 30,000 trees were planted in the park, absorbing 18,000 metric tons of carbon dioxide every year. Problems like dust, barren soil and water pollution were also addressed.
Xinhua
(China Daily 06/08/2018 page4)