Qingdao summit will strengthen role of SCO
Share - WeChat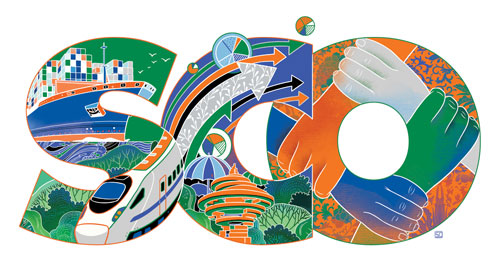 The two-day 18th summit of Shanghai Cooperation Organization, set to start on Saturday in Qingdao, Shandong province, will provide an opportunity for regional leaders to address issues ranging from terrorism to energy security, and from economic globalization to people-to-people exchanges.
Given that the organization's members account for nearly half of the world's population and more than one-fifth of the global GDP, any consensuses reached at the meeting will be consequential for security, peace and prosperity in the region and beyond.
The SCO was established in 2001 to strengthen regional security and stability by fighting the "three evil forces" of terrorism, extremism and separatism, as well as drug trafficking and cross-border organized crimes. Thanks to institutional and policy coordination, the SCO member states foiled more than 600 terrorist crimes and captured 2,000 members of international terrorist organizations from 2013 to 2017. And with India and Pakistan joining the group last year, the potential for anti-terrorism cooperation has been greatly expanded. The Qingdao summit will undoubtedly help the SCO members improve their capacity for joint security operations and build a more efficient law enforcement cooperation mechanism.
However, over the years, besides security, the SCO has evolved to embrace economic cooperation among its members, especially with additional impetus provided by the China-proposed Belt and Road Initiative promoting greater connectivity.
As all the SCO members are located on the Eurasian continent, it is natural that they should seek to explore ways for regional economic integration and shared growth by aligning their development strategies with the framework of the Belt and Road Initiative. And this has become a more pressing need now the world is facing the challenges posed by the unilateralism and protectionism of the United States.
If all members continue to embrace the Shanghai Spirit of mutual trust, mutual benefit, equality, consultation, respect for diverse civilizations and pursuit of common development, as stated in the SCO Charter, the organization can continue to build on its past success.
For while politeness is useful, harmony is precious. That is why, President Xi Jinping has urged all members to work together to further safeguard regional security and stability, and establish institutional arrangements for regional economic cooperation, as well as more exchanges to enhance understanding among peoples. In doing so, the SCO can release the potential of its expansion and give full play to the organization's advantages.
With the participation of its new members, the Qingdao summit is expected to present a broader vision for the organization's role in the region and further boost its influence.
Most Viewed in 24 Hours
China Views